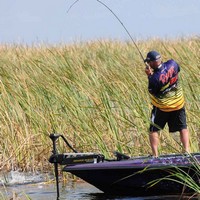 Randall Tharp, Team Evinrude Angler, is no stranger to championship style bass fishing. Starting in 2007 when he put his professional bass fishing career into full swing, Randy has qualified for, and fished, every championship tournament held in the FLW or B.A.S.S. arena. Since competing in both the FLW Cup and the Bassmaster Classic, Randy sets his goals each year to qualify for these two events. "I love tournament bass fishing and enter as many events as I can. However, I fish to make the Forrest Wood Cup and the Bassmaster Classic. So I line my bass tournaments up around what gives me the best shot at qualifying for those."
I was fortunate enough to talk with Randy in detail about how he fishes and some of the things that have helped him along the way. Centering around prefishing and being versatile I questioned Randy about many different things from how many rods he has on the deck of his boat, to some of the different bass catching patterns he has found effective. I discovered that, for Randy, there is a lot of 'gut' calls, based on prior experience. He's quick to change tactics based on a variety of factors.
First off, I wanted to get a feel for how many rods he liked to have on the deck of his boat when he hit the tournament waters to prefish. Randy explained that this can be seasonal, "If I'm catching shallow bass I usually try to keep it to six or eight rods. This would be in the spring or fall, when I can catch bass in less than five feet. However, if it's an off shore pattern, I've had as many as fifteen on deck at one time. There are numerous options available when bass get deep on the points and ledges." He went on to say no matter what time of the year he always tries to find shallow bass, "Even in the dead of summer there will be bass shallow. Take the 2011 Forrest Wood Cup, I was catching bass on top water all day long."
I asked Randy what are his favorite baits, baits he always has on deck. Randy's system to find bass utilizing four basic options. A jig and a square bill crank bait are his two go to baits, following those up with a chatterbait or spinnerbait depending on conditions and cover. Randy stated, "Covering water, flipping a jig to every piece of isolated cover, is how I like to catch bass. It may not always be the best or fastest way to catch bass, but it works. I have been catching a lot of quality fish on a square bill crankbait and have really started enjoying it as well."
Talking to Randy, you quickly learn that he is an angler that likes fishing fast, is target orientated; utilizing every second to put more fish in the boat. He told me that fishing deep is not his favorite way to catch them [bass], but he can do it. He likes to cover a lot of water looking for hungry bass versus trying to finesse one into biting. "If I know there is a fish on a piece of cover or structure but can't get it to strike, I'd rather leave looking for a hungry fish. I'll go back to it later instead of spending a lot of time trying to coax a bite." With that said I tried to pry out of him how many different baits he would give a piece of cover before he moved on. He said, "Depends on the fish, but most times I'll give them multiple choices, if I don't have a strike by then I'm moving to the next piece. If I've been catching them on spinnerbaits on blow downs, and I've run the spinnerbait by it a couple times, I'll hit a couple key spots with the jig and move on." We talked more about different scenarios, but in general they were all the same. He had a reaction bait and the jig. In a couple cases, it was just the jig, swim it down each side of a lay down to learn where the limbs are and then flip the key spots and move on.
We talked some about adjusting a pattern and how often to check for different patterns. Randy said that once you have a good pattern dialed in to make sure you keep your eyes and ears open. Wind changes and sun light being the most obvious yet most over looked key factors. He went on to describe his recent tournament on Lake Ouachita (the Forrest Wood Cup where he placed second). Talking about how the sun required a boat position change, "I was able to catch fish all day on three different styles of top water, however, boat position kept changing. With the clear water, when the sun was out with the wind down, I had to stay way off the key areas and cast long distances to them. This really cut down on my ability to cover water but was the only way to get a bite. Yet, when the wind would blow or if the cloud cover would move in I could move closer to the bank and work parallel, covering much more water. If you didn't adjust, you would spook the fish."
If you follow the winning ways of any of the professional bass tournaments, you quickly notice that more often than not tournament wins incorporate a variety of baits. Occasionally, you hear about the angler that fished a jig all day, or covered water with a spinnerbait. However, if you dig you normally find out there was a couple of follow up baits that produced parts of the stringer. I pried on Randy some to see what his thoughts on this were, "Things change daily, you have to adapt. Especially in the spring or fall, weather changes happen every hour and you have to adjust with them." He went on to tell me about a tournament in the James River where he had been catching fish swimming worms past dock pylons. Later that day the bite slowed down, he switched to a wacky style worm on light line. This move put a 6 pound fish in the boat for him. Randy said, "Even though I was throwing a slow presentation bait I was still working it pretty quick. I would pitch it up under these docks and pull it to a pylon and let it fall to the bottom then pull it to the next pylon. I wasn't really working the water under the docks just the pylons." This brought up the question on how you switch gears and slow yourself down for different presentations. He described another situation where fishing slow isn't necessarily fishing 'slow'. "Carolina rigging shell beds, cast out along the flat and work the bait quickly until you hit the shell bed, then crawl your presentation threw it. Once your past it, bring it in a make another cast." Randy said that switching gears isn't really that hard for him, it's about catching bass and winning tournaments, you do what you have to do. He went on to say, "I don't really have anything that I use to force me to slow down, if that's what the fish want then that's what I do. You do what you have to in this industry or get left behind. Catching bass is my job."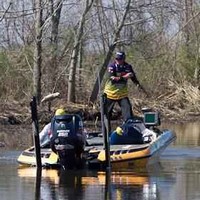 Randy and I talked about how he fine tuned a pattern. Many things go into a pattern, some are very complex, some are very vague. However, with a complex pattern you can cover water quickly. According to Randy you want to look for things such as casting angles on the cover or maybe what part of the dock is holding fish. He said he had been on dock patterns where the biggest bass were hanging around the ladders, using that along with wind and sun direction you can really dial in a pattern. Now you can cover water not wasting time on the other parts of the dock. This gives you a higher percentage of putting quality fish in the boat. Same goes for fishing structure; he cited a recent tournament, "Fishing top water around bream beds, there were bass all over the lake, and catching them wasn't an issue. Catching the winning stringer was a matter of putting yourself in the high-percentage areas. So instead of just fishing a bank line, I looked for areas that had funnels that fish could follow. There were also schooling bass scattered throughout the lake that played into the final equation as well." To increase his percentages he only fished areas during the tournament that had all three, bream beds with a funnel from deep water and school fish in the area. So, not only in tackle do you need to be versatile, but you also need to put yourself in an area that is versatile.
I questioned Randy about how many different baits he might throw in a given hour while prefishing. Randy quickly replied, "That's hard to say, I am the kind of angler that will not hesitate to reach into the rod locker to pull out a rod I had not planned on using. With experience on the water comes instinct and I follow my instincts. I might fish a jig only because of the conditions, or I might try a jig, a crankbait, a spinnerbait, a chatterbait all in just a matter of a few yards". He told me about fishing bank lines that had docks, blow downs, and rocks all in just a few yards and how each one of those might require a different bait, presentation, cast angle. Randy also said that you have to take everything into consideration, "what phase are the fish in (season), water temperature, water clarity, with experience all these conditions mean different things and will cause my instincts to tell me what to throw." Randy also commented on how you have to look for the fastest fish catching pattern, this will up your odds or percentages.
Many anglers get stuck on color, a favorite color that always produces for them. With so many options on the market, Randy and I talked about how color can play into a pattern and how versatile you need to be with colors. According to Randy it's best to keep your color options very basic. His jigs are black, brown or white. Crankbaits are shad patterns in the summer and fall, crawdad in the spring and chartreuse patterns for muddy water. Same goes for soft plastics he talked about four colors, junebug, watermelon, pumpkin and black with blue. Randy went on to say, "keep your color choices basic; there is no way to carry every available option. Many of the options are to catch the fisherman not the fish." This helps us in that if they will not hit a chrome rattle trap with a blue back the prevailing patterns is probably not going to be a chrome rattle trap with a black back. Be versatile and switch to a crank bait in a shad pattern, or spinnerbait, or chatterbait. Randy cautioned that getting stuck on a crank bait bite thinking that a color adjustment is going to turn them on, normally isn't the case. There is probably a better bait choice, one that will trigger strikes because of action.
Versatility comes in many forms from your bait choices to the locations you chose to fish. Randy says that experience, which creates instinct, is what tells you what and where to cast. "Build a personal system and learn to trust your instincts and you'll become a better angler."
Get the Net it's a Hawg
Mike Cork