The Shimano Metanium baitcasting reel retails for $420. When I see prices over $400 for a reel, I get curious if the performance is worth the cost. Because of an unusual set of circumstances, I have ended up with a Shimano Metanium in my possession. Instead of selling it, I decided to see if the Shimano Metanium's performance is worth this much money. With a price tag slightly over $400, this reel has a lot to prove, especially since I believe the Shimano Curado at $179 is the perfect reel for all my bass fishing needs.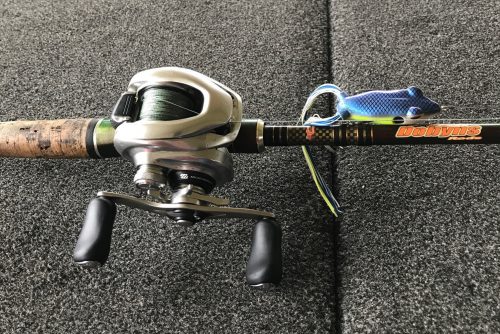 I think of a fishing reel as a tool. Gear ratio, inches per turn and a smooth drag are more important to me than bling, an extra-long handle, or some fancy look. A correctly performing reel is covered in algae, bass slime, and vegetation and I don't care how it looks. The Shimano Metanium doesn't have what I consider bling. However, it's a sharp looking reel and matches well with just about any rod brand.
Personally, I believe two hundred dollars is a lot to spend on a fishing reel. Everything an angler needs can be assembled in a quality reel frame for under two hundred dollars. I've always believed anything above this is just bling or a manufacturer trying to catch the angler with high bearing counts and fancy wording for necessary components. As a fan of Shimano products, I have always been delighted with Shimano's Curado line of reels. Occasionally I have dropped a price point and bought a Shimano Citica when I didn't have the funds for a Curado. I have even stepped up a price point and purchased a Shimano Chronarch, just to see what the fuss is all about.
I purchased the Shimano Metanium MGL150XG, and unboxing was a little intimidating for me. I have never owned a reel worth four hundred and twenty dollars. I didn't want to scratch it before I found my way to the boat. Remember reels are tools, who cares if it has a surface scratch. Four Benjamin's cares. Inside the box was the typical Shimano items. Instructions, a schematic and a tube of oil. Instead of spare brake shoes, the Metanium did come with something different for me, Reel Foot Protective Sheets. These are to put on the rod handle should it be metal. According to the instructions, the protective sheets will protect the reels' special surface-treated layer.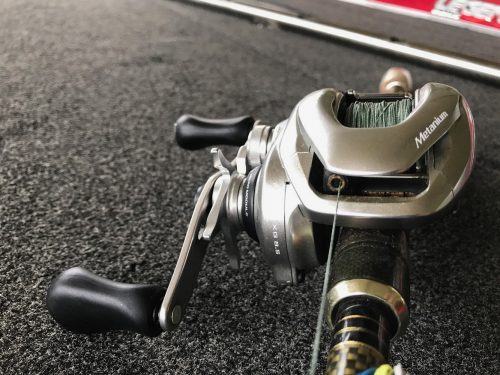 XShip, Micro Module, MGL Spool, Shimano Variable Brake System Infinity, Silent Tune are all names thrown out when reading the instructions on the Shimano Metanium. Most of these are found starting in the Curado line. Instead of breaking each one down, I'll just give my opinion on a couple of them.
Shimano Metanium – XShip
The XShip platform was introduced in Shimano Chronarch models last year, and now it's provided in the Curado and Citica I model. In my opinion, XShip was a much-needed advancement for Shimano to keep up with the smooth performance of their competitors. While there were no defects or breakage issues with the standard Shimano gearing platform of reels before XShip, the addition of the extra bearing keeps gears aligned better and meshing smoother.
Shimano Metanium – Micro Module
Micro Module is the reduction in tooth size on the drive and pinion gear, creating very precise gear meshing; add Micro Module to XShip, and the difference is amazing. The extra support bearing of XShip and Micro Module gearing make for a retrieve experience as smooth as hot butter. I honestly cannot feel any gears what so ever when I turn the handle. In all fairness, I was comparing the Shimano Metanium with a wore out Shimano Curado "E" model, the Curado has neither XShip or Micro Module, and it has thousands of miles on it. This Curado could use a new gear set. I mention this, so everyone knows it was easy for the Metanium to stand out.
Shimano Metanium – MGL Spool
The MGL Spool is lighter which makes it easier to generate initial spin of the reel's spool when casting. I expected a reel in this price range to be incredibly easy to cast, and it did not disappoint. At first, it was almost too easy to cast. I set the brakes similar to all my other Shimano reels but found I had to set the adjustment dial to the max to achieve a backlash free cast. It didn't take long to find a perfect combination of brake shoes and dial adjustment to make casting a breeze with zero backlashing.
Switching from casting to pitching is easily achieved with the brake adjustment dial. This dial is extremely useful for me when fishing baits I might cast and pitch, a hollow body frog for example. I may be in an area where I'm casting long distances over pad fields, but as I near a group of cypress trees I'll want to pitch the frog under the limbs. With a quick slide of my finger, I've made necessary adjustments, and pitching is spot on.
Shimano Metanium – Weight
The Shimano Metanium advertises a weight of 6.2 ounces. I'm not big on the weight of a rod and reel combination. I do like them to be light, but light is relative to each angler, and the rod and reel combination an angler was just holding. It's more about balance for me. I paired the Shimano Metanium with a Dobyns Champion Extreme DX745C. This combination is probably the lightest and most powerful combination I've ever used. With a gear ratio of 8.5:1, retrieving a frog for the next cast is extremely fast. When the 7:1 reels first hit the market, I thought they were quick, but the Shimano Metanium has taken line recovery to the next level at 8.5:1.
Most of my bass fishing is pitching baits to targets. Once a bait is out of a bass's strike zone, the faster I can retrieve the bait and make another pitch, the more pitches I can make on tournament day. More pitches equal more chances to catch a bass. The Shimano Metanium 150XG retrieves 36" of line per turn of the handle. Think about it this way, for every turn of the handle the bait moves a full yard. This gear ratio changes the meaning of burning down a bank line.
Shimano Metanium – Casting
(Note: All casting tests conducted with 7-foot 4-inch Dobyns rods of varying power ratings.)
With the MGL spool, the Shimano Metanium casts light weight lures with ease. I could cast weightless trick worms with a simple flick of the wrist. To test distance with a light weight presentation, I made a few standard over-hand casts with the weightless trick worm and achieved 35-40 yards with minimal effort. Most impressive to me was the zero backlash at the end of the cast.
Pitching Texas rigs and jigs was magical. Distance and accuracy were very fluid and effortless. Changing bait weights between one-quarter and three-quarters of an ounce only required dial adjustments. Once I moved to one ounce baits, I added a brake and reduced the dial adjustment and was quickly pitching smoothly again.
It almost seems like the Shimano Metanium was designed for my specific hollow body frog needs. As I already mentioned, I do a lot of casting and pitching with my frogs. I will side arm, roll cast, pitch, and over-hand cast all in a matter of minutes. For me the Hollow body frog is a very target orientated bait and quietly placing it in the strike zone is vital. The Shimano Metanium allows me to sneak up on bass with every cast.
I am very impressed with the Shimano Metanium. Is it worth $420? This is a question only individual anglers can answer. Yes, the Shimano Metanium performs like I would expect a reel in this price range to perform. Usually, I would not recommend such an expensive reel for beginning anglers, especially those new to baitcasters. However, this reel would be incredibly easy for a beginner to learn how to use a baitcaster. Brake shoes and the brake dial can be set to prevent back lashes with zero thumb control. Then as the angler gains experience, the Shimano Metanium can be adjusted to increase casting distance.
Be sure to check out the rest of the Ultimate Bass Product Reviews in our Product Review Section. We have several reviews on the Dobyns Rods I used for the testing of this reel.
Get the Net It's a Hawg
Mike Cork
Get tips, how-tos, and fun stories visit my blog here Get The Net
It was easy to use

It was very durable

It performed as advertised

It caught bass

Fit and finish was exceptable
Summary
All and all I was very pleased with the Shimano Metanium. I'm still not sure an angler needs to spend over $400 on a reel, however if perfections is desired the Shimano Metanium is that.