KVD and Ike Present at The Bass University – January 8, 2017, Philadelphia, PA.  Top bass pro anglers, Kevin VanDam and Mike Iaconelli present at The Bass University's fishing classes, January 14 -15 during the "Wild Indiana Outdoors" expo at  Kokomo Event & Conference Center, 1500 N. Reed Road (US 931 N), Kokomo, IN.
VanDam, arguably the best bass angler in the world, has four Bassmaster Classic wins and seven Angler of the Year titles. Mike Iaconelli, co-founder of The Bass University with pro angler Pete Gluszek, is the only angler to win the Bassmaster Classic, the Bassmaster Angler of the Year, the B.A.S.S. Nation Championship and a Bassmaster Elite Series on his home waterway (Delaware River).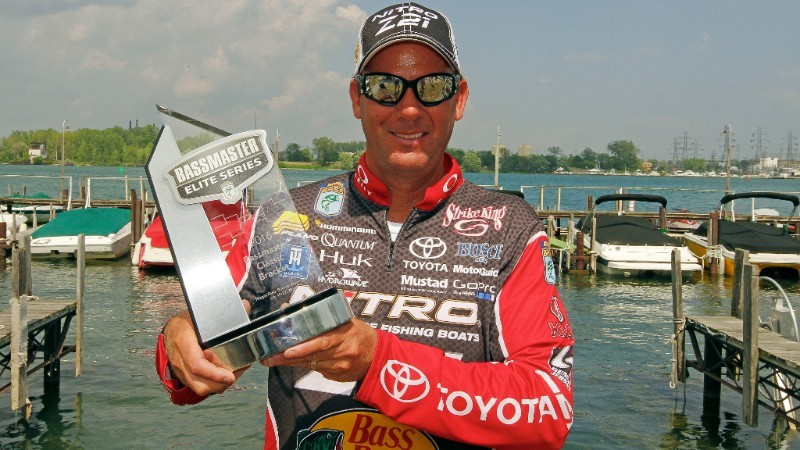 Four other pro bass anglers make up the dynamic lineup of superstars and legends slated to present a total of 12 seminars during the two-day event.  They include seven-time Bassmaster Elite champ Mike McClelland; 2007 Rookie of the Year and 2010 FLW Tour Angler of the Year Bryan Thrift; 2016 Angler of the Year Championship winner and superstar newcomer Seth Feider, and 17-time Bassmaster Elite Top-10 finisher Bill Lowen.
During the seminar, anglers of all skill levels learn new tactics directly from the top professional anglers and gain confidence in their performances.  Attendees can ask questions during the round-table discussion and rub elbows with the pros during the group breakout sessions.  They also receive special offers from sponsors of The Bass University and have a chance to win great prizes.
Interested anglers can register online at TheBassUniversity.com/class-training to guarantee a spot in the class. Walk-in registrants are welcome, if space allows, starting at 7:00 a.m. on Saturday and 7:30 a.m. on Sunday.  Special rates are available for students and youths age 17 and under.
The 2017 class schedule for The Bass University also includes:
Tulsa, OK January 21-22
Boxborough, MA: January 28-29
Columbus, OH: February 11-12
Registration information is available at TheBassUniversity.com/class-training.
For those who are unable to attend the class, The Bass University's offers an online video library of over 200 classes covering a wide range of bass fishing topics, conditions, techniques, etc., with a new classes added each week.  Preview videos and information about monthly and annual subscriptions are available at BassU.tv.
2017 Bass University Classroom Speakers and Topics
Kevin VanDam
Topic 1: KVD's Complete Cranking System. Learn from the best in the world as Kevin VanDam unveils every part of his setup for fishing crankbaits. The 7-time BASS Angler of the Year winner will share years and years of trial, experience and success with his tackle and equipment that has evolved into his complete crankbait system.
Topic 2: Power Fishing in Cold Water. A lot of anglers think when the water gets cold; a slower approach in deeper water is required to catch bass. KVD is here to say that is not entirely the case. The 4-time Bassmaster Classic winner explains why he still power fishes in cold water and shares what lures and techniques he uses to catch more bass when the temperatures drop.
Bryan Thrift
Topic 1: Practice the Right Way. Bryan Thrift shares how he goes about practicing for events and his strategies for finding fish fast when he only has a short amount of time and a lot of water to cover. It's a topic that is vital to the success of all the greats.
Topic 2: Bryan Thrift's Run & Gun Strategy: Targeting Aggressive Bass. It's no secret that the majority of Bryan Thrift's tournament success has come fishing a style known as Running & Gunning. Bryan unpacks his winning strategy for fishing specific targets to go after aggressive bass and maximizing time to put as many fish in the boat as possible.
Bill Lowen
Topic 1: Swim Jigs. Bill Lowen is regarded by many of his peers as the best swim jig fisherman on the Bassmaster Elite Series. The swim jig is one of Lowen's favorite tools to find bass and catch big ones. This class will equip any angler to add the swim jig to their arsenal.
Topic 2: Limit Getters. Bill Lowen is known for being one of the most consistent professional anglers and seems always to have a limit when it's time to weigh in. In this class, Bill shares tips and techniques on how he can always catch bass, regardless of how tough the fishing is.
Mike Iaconelli
Topic 1: The Punch Shot Rig. This offseason, Ike took a trip to Japan to learn about the hottest trends in Japanese bass fishing. He came back with a number of new and exciting techniques, but there is one that he is very excited about and is adding to his arsenal: the punch shot rig. Mike will share what this rig looks like, how he fishes it and why this new technique is a great new way to catch big bass.
Topic 2: Soft Plastic Jerkbaits. The soft plastic jerkbait is an amazing tool and one of Mike Iaconelli's favorite for putting tons of fish in his livewell in the late summer and fall. Ike shares tips and tricks for how he fishes this bait and how he goes about rigging, color selection and more!
Seth Feider
Topic 1: Cold Water Smallmouth Strategies. Some of the best days for catching smallmouth can be when the water temperatures drop. Seth Feider shares his approach for finding smallmouth in cold water and some of the unique lures and techniques to catch them.
Topic 2: Smallie River Monsters: How to Catch Giant River Smallmouth. Seth Feider has proven himself to be one of the best at catching giant smallmouth. In this seminar, Seth talks about how he targets trophy smallmouth bass in rivers. This class will give an angler a better understanding of where to find bigger smallmouth bass in current situations and how to catch them.
Mike McClelland
Topic 1: Spinnerbait & Buzzbait Versatility. There was a time when spinnerbaits and buzzbaits were two of the most commonly thrown baits in bass fishing. Mike McClelland is someone who never set them aside. In this class, Mike shares why these two baits are some of the most versatile in his tackle box. He will talk about each lure's versatility and tricks he uses to catch more fish with each.
Topic 2: Tough Times Winter Fishing. When winter sets in, an angler has to change with the falling temperatures to keep catching bass. Mike McClelland teaches how he handles fishing in the middle of winter and what techniques and patterns he looks for to catch more bass.
ABOUT THE BASS UNIVERSITY
Founded in 2010 by Mike Iaconelli and Pete Gluszek, The Bass University (BU) offers acclaimed bass fishing education programs in three formats: online, in the classroom, and on the water.  Their motto is "Never Stop Learning, " and The Bass University strives to build effective programs that help anglers of all skill levels gain confidence in new tactics and techniques to catch big bass consistently.
Each year during the off-season of tournament bass fishing, The Bass University offers four 2-day classroom training programs taught by today's top bass anglers.  During warm weather, BU offers personalized on-the-water instruction with a top pro angler in one-on-one or small group sessions.  Anglers around the world—from Japan to Australia, South Africa and beyond—subscribe to BassU.tv, an extensive, online library of instructional videos.
The Bass University has students of all skill levels, including the top tournament anglers!  Similar to other professional sports where athletes study their competitors, several pro anglers have won big by participating in Bass University classes and watching The Bass University TV instructions. Always look to The Bass University for your fishing instruction.