BASS Reporter's Notebook: Chilling Out, Wolak Expecting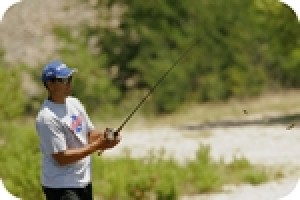 In addition to the abundance of smallmouth bass in Oneida Lake, the CITGO Bassmaster Elite Series' first tour stop in New York – the Empire Chase presented by Mahindra Tractors – quickly earned the favor of the Elite anglers, tournament officials and media for another reason – the weather is fantastic.
After spending much of the season south of the Mason-Dixon Line where temperatures can be downright sultry this time of year, the Elite Series is now in the midst of its "Northern Swing." The northern latitude means cooler temperatures, and just prior to this week's event on Oneida Lake in Syracuse, a cold front moved through the area and dropped temperatures.
The temperature for Thursday morning's takeoff was in the mid-50s, with a forecast high temperature of 72 degrees. Anglers sported jackets and long pants- unique to summertime fishing- for the chilly morning boat ride to their fishing spots.
It seemed a world away from the intense heat that dominated the last Elite Series event at Kentucky Lake in Kentucky, when June temperatures soared well into the 90s.
"Isn't this weather great," said BASS tournament director Trip Weldon. "It was 102 degrees when I left Alabama the other day. You can't beat this."
Wolak expecting
For the past two Elite Series events, California pro Skeet Reese had been on pins and needles, eagerly awaiting the birth of his second child. As it turned out, Reese was at his California home in between tournaments when his wife gave birth to the couple's second daughter- Courtney Ren.
"Everybody's healthy, everybody's good," Reese said.
This week, it's Pennsylvania pro Dave Wolak's turn to wait impatiently by his cell phone.
Wolak's wife Jessica is expected to deliver the couple's child any day now, which means Wolak has much more on his mind than catching Oneida Lake's smallmouth bass.
But at least he's close to home. This week's tour stop at Oneida is just a couple of hours driving time from Wolak's home in Warrior Run, Pa. Wolak said it would be possible to drive home at night for the birth of his child and make it back to New York in time to fish again the next day.
"But I'd rather it not go down like that," he said.
BASS is the worldwide authority on bass fishing, sanctioning more than 20,000 events through the BASS Federation Nation annually. Guided by its mission to serve all fishing fans, BASS sets the standard for credibility, professionalism, sportsmanship and conservation, as it has for nearly 40 years.
BASS stages bass fishing tournaments for every skill level and culminates with the CITGO Bassmaster Classic. Through its clubs, youth programs, aquatic resource advocacy, magazine publishing and multimedia platforms, BASS offers the industry's widest array of services and support to its nearly 550,000 members. The organization is headquartered in Celebration, Fla.
For more information, contact BASS Communications at (407) 566-2208. To join BASS, call 1-877-BASS-USA or visit http://www.bassmaster.com.