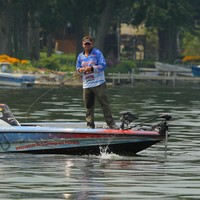 In 2007, Alabama angler Boyd Duckett busted the myth that a Bassmaster Classic can't be won at home. So, thanks to Duckett, no one can hang that old "home-state curse" on 2011 Classic qualifier Greg Hackney of Gonzales, La.
Hackney will be the sole representative of his state when he competes in the Feb. 18-20 Classic on the Louisiana Delta out of New Orleans.
Well-known nationally as well as at home, Hackney, 37, has racked up more than $1.2 million in B.A.S.S. earnings, won three Bassmaster pro events, and earned the trophy in a big-money FLW championship in 2009. But the closest he's come to a Classic win in his eight tries was a fifth-place finish in 2008 on Lake Hartwell in South Carolina.
In the four previous Classic competitions in Louisiana — 1999, 2001, 2003 and 2009 — an out-of-state pro took the crown.
For all those reasons and more, Louisiana is looking to Hackney to bring it home in 2011.
For the record, he is not a native son, but an adopted one. He was born in Star City, Ark., and cut his fishing teeth on the Arkansas River. He wasn't lured to Louisiana by the good fishing (although the prospect of living in "Sportsman's Paradise" had to be enticing), he moved for the love of a good woman.
"My wife is from New Orleans; she's my connection to this part of the world," Hackney said. "I've been coming here since 1997, and have lived in Gonzales for the past eight years. I feel like I'm a native of this area. Everyone treats me like I've been here my whole life."
His home is just minutes from the delta fishery. He worked that advantage by practicing more for this Classic than for any of the other eight he's been in.
"I came from Birmingham in February last year (from the 2010 Classic), stayed at home one day, then was on the water practicing for this year's Bassmaster Classic, just in case I qualified," he said.
He qualified, no sweat, in June for his ninth consecutive Classic through the 2010 Bassmaster Elite Series. He kept at the delta bass until close to Thanksgiving. That's when other Classic qualifiers began to show up. Hackney decided to go deer hunting and relax.
On Dec. 13, the off-limits period began, so Hackney hasn't been on the delta since. Yet not much could have changed, he said. Barring a big storm, a Mississippi River flood or a stunning cold snap, he expects a good bite.
"The bass are in really good shape now, probably the best shape they've been in since 1998's severe drought," he said. "That really hurt the fishing; it had been incredible earlier in the '90s. It's actually working back to that quality now. And Katrina was in '05, so that's five years of growing time.
"Storm or drought — one's as bad as the other here. With both you get saltwater intrusion, and that's what kills the fish. So now we're on the upswing and fishing's good. I expect that, if the weather's decent, it's going to be a fun Classic with a lot of fish caught."
He is quick to say that his considerable scouting time is not a guaranteed advantage. He contends that the official practice days of Feb. 11-13 and Feb. 16 are enough to serve any of his fellow Bassmaster Elite Series pros.
"They are that good. One thing I will have over a bunch of them is I can fish my areas and never look at a GPS because I know my way around so well. I also know how to do things a little differently. But it goes back to the fact that all these guys are so stinkin' good. Any one of them could do it — but of course I pick me to win."
About B.A.S.S.
For more than 40 years, B.A.S.S. has served as the authority on bass fishing. The organization advances the sport through advocacy, outreach and an expansive tournament structure while connecting directly with the passionate community of bass anglers through its Bassmaster media vehicles.
The Bassmaster brand and its multimedia platforms are guided by a mission to serve all fishing fans. Through its industry-leading publications — Bassmaster Magazine and B.A.S.S. Times — comprehensive website Bassmaster.com, and ESPN2 television programming, Bassmaster provides rich, leading-edge content true to the lifestyle.
The Bassmaster Tournament Trail includes the Bassmaster Elite Series, Bass Pro Shops Bassmaster Open Series, B.A.S.S. Federation Nation events presented by Yamaha and Skeeter Boats and the ultimate celebration of competitive fishing, the Bassmaster Classic.
B.A.S.S. offers an array of services to its more than 500,000 members and remains focused on issues related to conservation and water access. The organization is headquartered in Celebration, Fla