Episode 8 "Lost"
Stories from a Game Warden
 Disclaimer: All names have been intentionally changed.
It was the coldest night of the year, and I was on land patrol in south Lake County in Central Florida. My plan for the night was to conduct a hidden surveillance of an open field in a wooded area of the county. The field was a perfect place for illegal night hunters to target as deer and wild hogs were known to venture out into the field. Poachers were known to drive down a desolate dirt road and shine a spotlight into the field. If they saw a deer or hog and the believed that the coast was clear, they would fire a shot at the animal(s).
I arrived at the field about 9:00 PM and hid my patrol truck. I settled in for a long night of surveillance with a thermos full of hot chocolate and a bag of Famous Amos chocolate chip cookies. I was close enough to the nearby Walt Disney World in Orlando to enjoy their nightly 9 PM fireworks show. I was "good to go" for the night and happy to be a Florida Game Warden.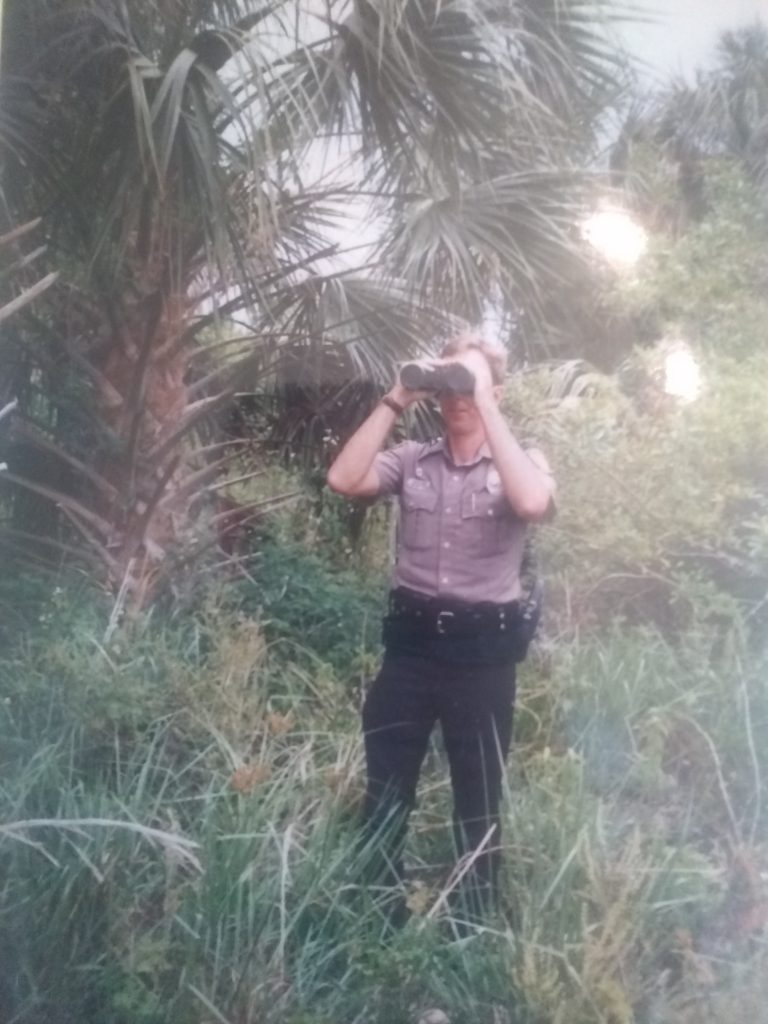 After only a short wait, I could feel my body coming down with something. I was getting sick from the onset of the flu, and I was really feeling bad. I couldn't take it any longer and left to go home to get some well needed rest and to use some sick leave. On the way home, I heard a call come out on my Sherriff's Office radio channel about 2 canoes full of scouts who did not return home as planned. They were lost! Their location was on a creek which bordered the property that I lived on in North Lake County. Being sick with the flu didn't stop me. I had to respond!
I arrived at the scene of the lost scouts at around 11:00 PM and went to the Sheriff's Office Command Center bus which happened to be only 100 yards from the backdoor of my house. Fortunately, I had an intimate knowledge and access to all the private properties along both sides of the creek. For hours, I helped direct search parties and helicopters to the area in hopes of finding the lost scouts. I was running on adrenaline for hours with the hope that we could locate the scouts. I felt worse and worse with the passing of each minute as the flu was wearing me down.
It was closing in on 4:00 AM and the decision was made to suspend the search a few hours until daylight. The woods along the creek were so dense that searchers were having an impossible time of seeing anything. I notified my dispatch, and the plan was to resume with a fresh set of Wildlife Officers, Deputy Sheriffs, and searchers at sunrise. I was exhausted, I had come down with the full-blown flu. I asked the Command Center to knock on the door of my house to wake me up if there were any changes. I collapsed into bed with the flu and passed out.
I heard a loud noise that broke me out of a dead sleep. My phone was ringing. I answered the phone which was Lt. David White from my agency. He was rather upset with me about going home instead of searching for the lost scouts. I did my best to explain to him that the search was suspended until daylight and that I was only 100 yards from the command center. I also tried explaining that I was deathly sick, and Lt. White wasn't hearing any of that. He ordered me back on scene and I walked back to the command center.
We waited until sunrise and was back in action searching for the lost canoes full of scouts. I was waiting to be relieved by my partner when one of the search helicopters spotted a red object deep down in the swamp. I knew the exact location, so I responded immediately to private property which surrounded the impenetrable area. I drove my patrol truck as far as I could go then set out on foot to the reported area. In short order I located 2 canoes full of cold and wet scouts. I loaded the boys up in the back of my truck and headed out of the property to several ambulances that were waiting to treat the boys for possible hypothermia. Just as I met the ambulances, I was inundated with news crews and cameras from the top 3 major news networks from the Orlando area.
I dropped the kids off at the ambulances and headed home for a much-needed rest and recovery from the flu. I was glad that we found the kids and that I was able to help. More importantly all the children were treated and released back to their families without serious injury.  
A few weeks later, I bumped into Lt. White while at our office. He told me that he saw me on the news and then went on to lecture me about going home during the search. I tried to once again explain that the search was suspended, that I was sick with the flu, and that I only lived steps from the search command center bus. He didn't want to hear anything that I wanted to say and continued to lecture me about going home "during the search".
I never did my job for praise or for the money. I always did my best. This was one of those times when I didn't have anything left in the tank and I came up with a plan to press on while being sick. Fortunately, I was able to help, and the boys were successfully rescued without incident, and all were brought back to the safety of their waiting parents. That was good enough for me!
By Steve Wayne
About the Author:
Steve Wayne has spent 30 years as a Fish and Wildlife Officer in the state of Florida. Steve has worked in various roles and locations throughout the state and has promoted to the level of Area Captain supervising 30 officers in 3 counties. During his career, Steve was selected as the State Wildlife Officer of the Year and 16 years later was selected as the Statewide Investigator of the Year by both his agency and from the State Law Enforcement Chief's Association. In 2019, Steve was part of the Florida Fish and Wildlife Port Investigations team which received national honors as Team of the Year.