Cliff Crochet Cajun Baby is a patrol officer as well as a football coach and soon to be the father. To top it all off, Cliff fishes the Bassmaster Elite Series. Imagine looking in the rearview mirror and seeing a flashing blue light and the approaching officer looks familiar. Imagine taking your son to football practice and the volunteer coach also looks familiar. Yes! It hits you, is that Cliff Crochet Cajun Baby? If you are in Assumption Parish, Louisiana, chances are it could be Cliff Crochet as this is what the Cajun Baby does when he isn't fishing the Bassmaster Elite Series. Cliff is a uniform patrol officer as well as a volunteer football coach and soon to be the father, of Ben, Ben "Cajun Baby Jr." Crochet.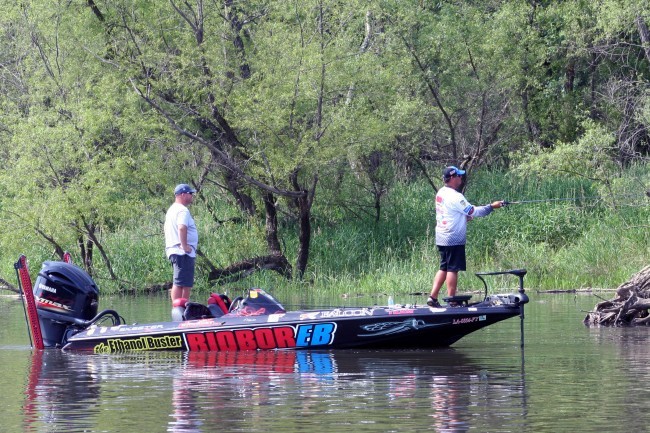 When Cliff was younger he loved playing sports. Football was his passion, but in high school, his passion for sports turned into a passion for fishing. According to Cajun Baby, if he were not an Elite fisherman, he would be a fulltime football coach. Cliff commented that, "Coaching football fulltime would leave little time for fishing." Leaving law enforcement as the next best thing; it would allow him
to fish more and have time off to fish competitively. From the age of around 12/13, Cliff knew his dream was to fish, he just had to figure out a plan to get there. In 2010, Cliff fished in his first Bassmaster Classic and was invited to fish the Elites; he has had some really good seasons. This season wasn't as kind to the Cajun Baby, but as he always says "Life is good." Cliff left after completing day one on Lake St. Clair because Sara (Cliff's wife) was expecting their son any day and Cliff didn't want to miss a second of that journey.
Cliff described his year as disappointing and frustrating, only cashing one check in eight tournaments, not something Cliff likes or used to by any means. Cliff defined disappointed and frustrating as we discussed the 2015 Elite tour; which officially ended for him after day one of the St. Clair event. "Disappointment, it hurts deep down inside, and frustration is when stuff just doesn't go your way, no matter what you try." Cliff said he had a lot of pressure on him this season with Sara being pregnant, "…that makes me nervous, and it weighs on my mind". Cliff describes his biggest obstacle, "Lack of confidence. The lack of confidence led to bad decisions, which led to changes I wasn't confident in. When those decisions were not good, I lost more confidence. Successful fishing is great and a lot of fun, but the alternative is not fun at all." This year's season opened on the Sabine River, which was like fishing home water for Cliff. Cliff explained, "The first day, I had four fish, the second day, I had two bites, lost two and missed 3, which hurt bad." He continued talking about his season, "Then on Guntersville, I found the fish but just couldn't get them to bite my chatter bait. Man, The Delta, you know I missed the cut by one ounce and that really hurt my confidence."
This year's Elite schedule had several tidal water fisheries, and tidal water can be very intimidating to anglers. One good thing for Cliff this year, he is used to fishing tidal waters. I asked Cliff to give up the secret to fishing tidal water; he said "There are two ways to fish in tidal waters; scary fishing. You must know the fishery you are on, and you run the tide up and down, but you have to know the area, or it can get you into trouble. The other way is to find a good area and ride it out. You will have one or two windows a day to fish the area with the best conditions; you just stay there and ride it out." He also added, "Lowering tide, you fish the outside and when it is rising you fish the inside waters."
According to Cliff, his favorite fishery is the Atchafalaya Basin in Louisiana [which is his home lake]. His second favorite fishery is the Mississippi River in La Crosse, Wisconsin. Cliff says, "It has lots of fish, awesome setup (grass and back water which reminds me of Louisiana), and the current down river sets up great. A current from a river forces bass to bite; even if it is a reaction bite. This lake has the best set up for my fishing style." We talked about lakes posing a challenge to Cliff, "Lake Havasu in Arizona was the worst lake this year; it is really clear, has heavy cover, and is shallow. Normally those three do not go together, so it really screwed me up fishing there".
We talked about the upcoming season for Cliff, Sara, and baby Ben; "We will travel as a family and that in itself will be a lot off my mind. Having them with me will lessen my pressure of worrying about them while I am gone. Having a healthy baby and wife, will alleviate the pressure I felt most of this season." Practicing for a tournament can be as stressful as the events itself. I asked Cliff how he approaches the official practice period. Cliff said, "Practices for me is not like it is for a lot of people, I don't catch a lot of fish during practice. Instead, I just look at the area, look around, and find key bites; the ones to help me win." Continuing my questioning, I asked Cliff what he plans to change for next year to improve his 2016 season. He said, "I will stick to the basics and what got me here; I will turn up the intensity." I wondered about Cliff's mental game, and he gave me some insight into his preparation. "When my equipment is at 100%, I decide before I even get to the tournament 'I WILL' catch the bass. I don't care if the world blows up because no matter what I will catch those bass. When practice is tough, I start thinking and asking myself, why can't I find four pounders because I know the lake is full of them. I decide ok, they are there, and this is what I am going to do to catch those four-pound bass. The night before and even the morning on the way to the ramp, I like silence, I just drive to the ramp in silence, and I chill. Sometimes if I am pumped up because I love the lake, I might listen to Hank Williams Jr, Garth or even Metallica, depending on my mood."
Cliff Crochet Cajun Baby Talks About His Sons Future
I asked Cliff is Ben, his son, would be a fisherman. He said, "He will start out on the back of the boat so I could keep an eye on him, but ultimately I want Ben to do what makes him happy. I just hope its football and he can play in the NFL until he is 30, retire and then fish for a living. That would be my dream for him, but it's ultimately up to Ben." Cliff and I share a mutual friend, Brian Robison, defensive end for the Minnesota Vikings; I suggested that Brian could help out with the football and Ben. Cliff said, "Do you know my deal with B-Rob (Brian's nickname)?" Cliff continued, "I ask him as many questions as I want about football (Cliff's favorite sport); in return, Brian asks me as many questions as he wants about fishing (Brian's passion off the field)." The two share football and fishing banter on a consistent basis, sharing the same likes are why they make such good friends.
As most people know, the professional fisherman would have a really hard time making their fishing dream possible without sponsors. Cliff has a really good support system of sponsors. Sponsors include: K2 Coolers, BioBor EB, Power Pole, Falcon Rods, HUK clothing, Skeeter Boats, Yamaha, Honey Bunny Baits, Rat-L-Trap, Luck-E-Strike, Humdinger Spinner baits (Humdinga as Cliff says), and Action Industries. Cliff said, "I try to use as many Louisiana based sponsors as I can. I love my home state and am proud to use their products; like K2 Coolers, K2 is Real Value and Real Cool. They have a great price point, and they are tough coolers and you have to have tough when you spend as much time on the water as I do." I asked Cliff to tell me about BioBor EB; he explained "It is a fuel additive that treats engines for the harmful effects of ethanol in the gas we buy. BioBor coats the rubber gaskets, fuel lines, has cleaners, and stabilizes the fuel all in one. Many other brands require different bottles to treat everything BioBor treats in one bottle. I believe in BioBor so much I use it in my mower, gas engines, 4-wheelers, and weed eaters. If I run out of BioBor and can't order any right away, I go buy it. I have so much trust in BioBor fuel additive I won't use anything else.
Cliff described his longtime relationship with Falcon rods and his four signature rods; three in the Lowrider20 series and one in the BuCoo series. Cliff's signature rods; "The #7 (7'2 pitching rod) is a light rod, almost a finesse rod, I throw a ½ or 3/8 jig on it. The #5 (7'0) Shake Rattle and Roll rod, an all around rod, is great for top water, spinnerbait or even a square bill. The #7 (6'10) Flippin' Stick is the "old school" type rod. Finally the BuCoo #7 (6'10) is for tight quarters, docks, etc., it is more of a tactical rod." Without skipping a beat he continues, "Of course this is a business deal, but I have been using Falcon since I was 13 years old. I would get one at Christmas and at the end of the school year starting in 8th grade. I believe in these rods and why I choose to stay loyal to the brand. Cliff also explained why his sponsor, Luck-E-Strike, is the most fun, "…because I get to work with the legend, Rick Clunn, who has been with the company for over 20 years. Rick Clunn wrote part of the book on tournament fishing, and it is a very cool perk to get to hang out with him. Rick Clunn is like the "godfather" of fishing. I ask him every question I can possibly think of when it comes to fishing."
I am always curious, as are many of you, who do professional anglers look up to, who are their mentors, and who has the most influence on their fishing. Of course, I couldn't pass up asking Cliff Crochet this question. His response, "For me, I have a huge respect for Rick Clunn of course. Dean Rojas is another; he is a frogger, a well-rounded, successful guy on and off the water. Greg Hackney is another; I like the way he fishes, Greg fishes physical; big rods, braid, and grass. Hackney straight up fishes cover, gets the bite and sets the hook; I admire that type of fishing. Finally, Gerald Swindle, I think he broke the mold in fishing; he made it acceptable to be who you are and be funny while being yourself. Like Gerald, I enjoy joking around, and I like his personality a lot."
It will be interesting to watch Cliff next year on the Elite tour and watch his little family grow with his fishing career. Cliff has the most positive outlook and is really a good guy in my book. I wish him the best being a dad and on the 2016 tour and the Central Opens.
(Editorial Note: Ben Michael Crochet was born on 9/04/2015 weighing in at 7 pounds 13 ounces and 20 inches long, looks like Cliff has a keeper! Congrats to the Crochets!)
Cliff and Sara, congrats on your new bundle of joy, Ben!
Betsy Steele
Ultimate Bass