Ronad Scott Fogelson
6 Aug 1969
116 Brownstone Road
Doyline LA 71023
Fishing is a family tradition my three brothers and I learned from Dad while we were kids and now it's something we can share with our own children.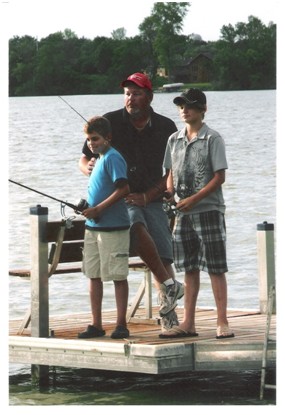 I'll be 42 this year and feel very blessed to have shared the last 17 of those years with my wife Danielle. As the proud parents of two boys Damon (15) & Aarian (11) we do our best to raise them as independent young men who loves the outdoors as much as we do. Being born and raised in Minnesota I was first taken fishing by my Dad around the age of three during the season walleye opener and must admit bass fishing is a whole new world to the sport yet I see the love of country here in the small community of Doyline LA. where we now call home.
I joined the Air Force in Jun of 1988 and fishing took a back sit in life for the first few years I was in, just not much time to wet a hook while deployed around the world but moving here to Louisiana in 1998 gave me the chance to rekindle the passion I have always had for fishing.
Now after 21 years of service my tour of duty is over; diagnosed with Multiple Sclerosis, PTSD and plagued by a broken ankle & bad back from Iraq medical retirement as a Master Sergeant was the start of my second childhood. The last trip to the sand found me working for the Army in Iraq as a gun truck convoy commander providing security for the supply convoys. During my tour I was awarded the Bronze Star but must admit a piece of tin isn't worth the blood of the friends lost in combat.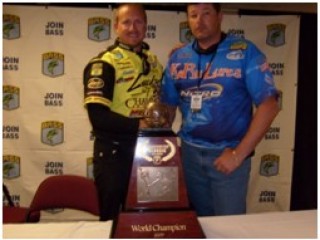 I started out as a lurker like most members do back when this place wasn't anything more than a couple folks talking about some local lakes and club activities. Once Ultimatebass.com took off under the new format I was the 15th member to join, was used as a contact for Lake Bistineau information, moved up to a Louisiana State Moderator, than asked to become a Community Diplomat as the team leader for the site's moderators, and eventually the site grew to new heights and was promoted to become one of the Forum Administrators but I've never forgotten how I felt as the new guy on the bock just learning about bass fishing and being excepted here as part of the group.
| | | |
| --- | --- | --- |
| | | |
I continue to fish even though I know the best catch I'll ever have is my wife standing by my side at I'm 6'3 285lbs I've been told that I'm lovable like a grizzly. I don't believe in pulling punches just to in tip-toeing around a topic and for that I've never been known as the one guy you just can't figure out. Sometimes one just has to realize that people have different views and that's O.K. you don't have to see eye to eye on everything to meet new friends. I'm looking forward to continue my work here on UltimateBass.Com; along with all the new members to keep this place growing and continue to develop into the best Bass fish site we can make.
See You On the Water
Ron "Fogy" Fogelson
Site Administrator