Welcome to Ultimate Bass. I am Mike Cork, I joined the military in 1988 and was medically retired in October 2007. Not only has the A.F. taught me how to work on aircraft but they have also provided training in Professional Leadership Skills, speech, writing, communications, psychology and personnel management. During my career I have been stationed in many places and was able to visit faraway lands that allowed me to fish some untapped resources! I have three wonderful daughters and a very understanding wonderful wife that you might know as Laurie!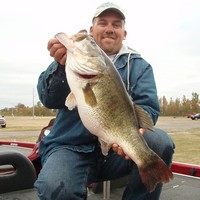 Home City/State: Benton, Louisiana
Home Lake: Cross Lake Reservoir, Shreveport LA
Days on the Water: 200 plus days a year
Years Fishing Experience: Since the beginning, 30 years Tournament Angling
I have been an avid bass angler since I can remember, and family members have photo's of me holding a rod, reel and fish at ages I think no one could remember. I started competitive bass fishing when I was 13 with my father in a team circuit and have been hooked every since. I currently can be found on the water 3-5 days a week.
Over the years I have filled my off duty time with every aspect of bass fishing that I could. I love fishing club tournaments for the camaraderie, circuit fishing for the intensity, and fun fishing for the relaxation. When I am not on the water or working the administration side of Ultimate Bass, you can always find me in the UB Forum trying to learn and share every detail I can about bass fishing as a whole.
In the beginning I started fishing from a 10′ aluminum john boat that I had decked out with swivel seats on storage boxes, trolling motor and carpeted floors; fishing small ponds and the bays of reservoirs that I could get the truck too. I still believe I caught more fish out of that boat than any other that I have owned. I have been fortunate enough to fish in many states from Florida to California and many points in-between. The lessons I have learned threw out my travels have definitely improved my fishing and taught me things that make me appreciate and love this fantastic sport we call Bass Fishing!
Associations
UltimateBass.com
B.A.S.S.
American Bass Anglers
Twin Cities Team Club
Ultimate Bass Staff Position Held: Tag along!
SPONSORS: