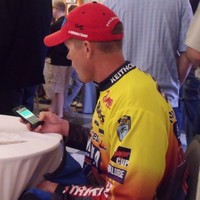 During the 2009 Bass Master Classic held on the Red River, I spent the majority of the time fishing with Karl the Ka of KaRu Lures; 2012 held little fishing time for me, but the trade off was to visit with some of the best folks you would ever want to meet.
Those that know me know my aversion to crowds. At the start of the media event, in a room way to small and about 200 more folks than I wanted to be around packed into it, I took a bit of time to look around and feel out the place. As Pros and media people started to pair off, I found myself sitting next to Mr. Combs. He looked over nodded and said "Hi"; thus he became my first interview for the event.
I asked how comfortable Kieth was on the Red River and how many times if any had he fished our water way. Keith wasn't sure but guessed it was 6 to 8 events; however, the last time was in 2010 and noted the Red had changed a good bit since then. Keith was determined to focus on the clear back waters he had found, and was the only angler who was comfortable to say he would be fishing pool 4. Keith went on to say he had a hard practice by not finding the fish he needed there yet. He believed this location would garner him the best shot baring the front that was moving in wasn't too bad, and the location could withstand the pressure of other anglers over the course of three days.
I asked him about the records set back in 2009 and if he felt the 2012 Classic could bust a 60lbs stringer. Keith said he believed it was possible but after all the dock talk going around he thought it would be about 52lbs. Keith felt his location had the potential but was going over and running plans 2,3,4-6-10 if he found the area to be heavily pressured or if the weather turned colder than expected. Keith was fishing a little deeper than he thought others had been, and felt it was key to finding water that would replenish enough for three days of tournament fishing.
I asked Keith point blank questions and found him to be very open and honest with his answers, the time spent at that small table with a room full of people went way to fast. Mr. Combs is a very personable individual and was a joy to talk with. I closed with a candid thought from him as to what winning the Bass Master Classic would mean to him, and I swear you could see the dreams of a child in his eyes while he paused for a moment and then stated "To win would mean everything to me, it would be such a major change,,,, I mean wow a classic champion, it would just be everything!"
I shook Keith's hand and wished him luck, thanked him for his time and was very rewarded with the realization that no matter what level we the angler is at there is a true love for the sport for those that continue to get our fix from a little tap on the end of our line. Just doesn't seem to matter if it's a person trying to bank fish from a local pond, a father and son out for a day on the lake, local tournament angler or one of the professional anglers on tour in the end it's still just fishing.
See You On the Water!
Ronald S. Fogelson
Administrator Ultimatebass.com