Paul Mueller on his rookie season describes the experience. Paul is just about to close his rookie season on the Bassmaster Elite Series tournament trail. I caught up with Paul to find out how he felt about his first year as an Elite Pro. Paul describing his inaugural season said, "It was a year of learning curves; I was able to see what it takes to compete against these guys [Elite Anglers]. This is the highest level of competition; you must catch fish every day. There is more preparation to fishing. There is no room for error because one big fish can give or cost you three places in an event." Paul continued, "The weights are always really tight, and there is just no room to have a bad day on the water when you fish the Elite tour." Paul added that fishing the Classic was much less stressful than fishing the Elites.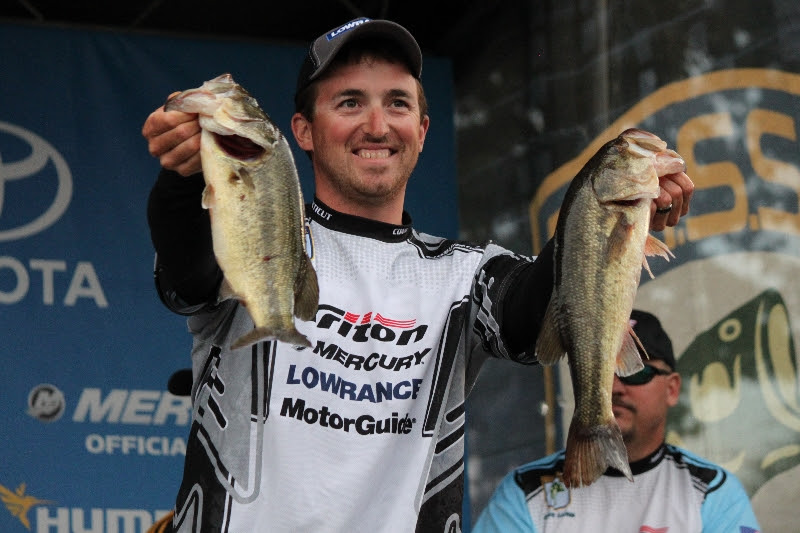 I asked Paul how he mentally prepared for an Elite event, he quickly replied, "I pray first thing in the morning and ask God to guide me. I ask for his help and his wisdom to know what to do on the water. I always fall back on the fact that God has a plan for me, and I trust him with blind faith." Paul finds solace in listening to the musical group 'Third Day' and many times the lyrics are just what he needs to get his mindset in tournament mode.
I asked Paul, which fisheries have proven to be the biggest battles for him this season. He explained, "Kentucky Lake was the toughest so far. Getting in tune with the ledges was a real eye opener, but luckily, I came in 10th on the second chance day. The Delta was also hard for me, I was late by 12 minutes on day two, and that hurt really bad." Paul admitted, "Between the Delta and Sabine, I think those two bad tournaments will cost me the Classic."
Paul Mueller on His Rookie Season Kimber His Biggest Fan
On the upside of Paul's Elite Rookie year, his wife and biggest fan, Kimber, has traveled with him to the events. While she doesn't work a regular 8–5 job, she is still pushing full-time hours making things work on the road. Paul says, "Having Kimber helps a lot, she is there for moral support, and I don't have to worry about her while I am gone like I did before she traveled with me." I asked Kimber what she did while on the road to support Paul.. She explained her duties as, "I make travel reservations, answer emails, take calls, keep up laundry, and I'm the photographer and videographer for Paul on the water."
I've known Paul a while, and I can honestly say Paul Mueller knows more about Lowrance electronics than most of the technicians working for Lowrance. When I heard he moved to Garmin, I was a bit surprised and wanted to talk with him about the move. Paul's first reason for the move, Garmin is more user-friendly than other companies. Paul now uses Garmin 76-10's, and 76-12's on his rig. Paul is so excited when explaining that the 2D side imaging goes way past the 100-foot mark and with Garmin's mapping and contouring it is just a better fit for him. Paul said, "Garmin's pan-optics show live-time with no delays like with other electronics companies, and I can say, for sure, it has improved my fishing this year."
Paul is preparing for his next events – Lake St. Clair, Michigan and Sturgeon Bay, Wisconsin for the Angler of the Year tournament. Paul is currently sitting in 85th place for the Angler of the Year points and 10th in the Rookie of the year standings. Paul has had some really good finishes this season and has cashed five checks in his Rookie Season fishing the BASS Elite Tour.
Paul, a Dobyns Rod pro staffer, is currently working with Gary Dobyns, owner of Dobyns Rod Company out of Yuba City, California, on a Paul Mueller Signature Series Rod. I asked Paul what sets Dobyns Rods apart from other rods on the market? He said, "Dobyns rods are more balanced and lighter than any other rod I have ever tried." Paul explained that his signature rod would be an 805CB glass cranking rod and that the prototypes are still being tested to perfection. Paul explained, "I am a really technical guy, so the right rod matters, I may try five different rods before I narrow it down to the one that fits me perfect. Dobyns makes a ton of models, so the perfect rod for your technique is out there. Gary Dobyns uses a material in building rods that is spot on for any technique you might use on the water."
I asked Paul, "What's your favorite rod both casting and spinning." He stated, "For spinning, I love the Champion Extreme DX764SF, it is a must in my fishing, it has the perfect balance. It is really in a league of its own. In casting, I love the Champion 765CB glass rod, it is the best crankbait rod I have ever used, and it totally takes away any resistance." Paul continued, "With a Dobyns rod in my hand, I can load and release long casts; the longer the cast, the longer the bait will stay in the strike zone. For me, Dobyns is really the only rod choice out there."
A little additional plug, I also use Dobyns rods and believe they are truly the most sensitive rods on the market. I'm with Paul; Dobyns is the only choice of rods out there. If you have never tried a Dobyns Rod, please check one out soon; you won't regret it. Gary has designed a new series called the Fury. It's a great rod and starts out at $109.99. Sensitive, light, strong and balanced at an exceptional value! Dobyns Rod's new Fury Series boasts those essential features that anglers demand: high modulus graphite blank, Fuji reel seat, Kevlar wrapping and AA grade cork grip with hi-density Hypalon butt. A total of 11 technique-specific rods, including popular crankbait, flipping, swim bait, spinning and casting models. Find a dealer near you and try out the Fury series, you won't be sorry. Check out the Ultimate Bass Dobyns Fury Rod Review
Good luck to Paul as he finishes his first season on the Elite trail, we look forward to doing more with Paul and watching him continue to grow as an angler in the Elites.
Betsy Steele, Ultimate Bass