I had the pleasure of interviewing Pam Martin-Wells. Many of you probably know her from the Woman's Bassmaster Tour;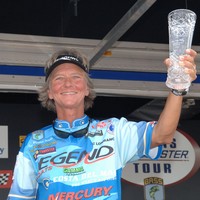 I had the pleasure of interviewing Pam Martin-Wells. Many of you probably know her from the Woman's Bassmaster Tour; however did you know that she is also fishing the Southern Bassmaster Opens? Her first event was on the Harris Chain of Lakes in Florida where she caught 31 pounds even and placed 23rd cashing a check for $1,857.00 giving her a great start to the season.
Pam fished the second Bassmaster Southern open on Wheeler Lake, Alabama on the heals of the Woman's Bassmaster Event on the Ouachita River in Louisiana. Pam said "I didn't get to pre-fish much, we left Louisiana after the WBT weigh-in and drove as far as we could, then got up Sunday Morning and drove the rest of the way into Wheeler Lake." I asked if she was familiar with the lake and if that helped, "I had fished it about 10 years ago during an FLW event but it was from a location farther up river, so the area we were leaving from was completely new to me."
Without being on the lake in 10 years and fishing a completely new part of the lake; I was curious as to how she approached it. So with it being the first part of May and the lake being so big, I asked her what kind of structure did she look for and why? Pam said "I tried to target points and post spawn drops. I knew there were still plenty of fish on the banks but also plenty of anglers targeting them, so I was trying to find areas that might be less pressured."
Fishing offshore structure like that what is your favorite search bait and why? Her reply, "Since I was trying to target post spawn fish I fished Carolina rigs and crank baits mainly. I can cover a lot of water faster with these baits and learn a lot about the structure as I am fishing them."
With hardly any pre-fish time, of that how much of it was spend with a lure in the water versus using electronics and surveying potential fishing waters/patterns? I honestly figured that she would have answered that she spent the majority of the time with her electronics trying to find water that would fit her pattern, however she said, "I probably spent 60-70% of the time fishing and the rest looking." With such little pre-fish time she needed to dial in a pattern as fast as she could and even though you can see fish on your electronics it doesn't tell you how to catch them. Pam said that she only got two days to pre-fish on a lake that was completely new too her! I asked her "with such little time to pre-fish were you able to find fish quickly? If not what adjustments did you make to find them?" Pam said "I just covered a lot of water looking for a few quick bites."
The pre-fish is over it's time to blast off, "how strong was your confidence going into the first morning of the tournament?" Pam's reply, "I felt pretty good about this event, the fish I was getting on the points were quality." Knowing the majority of the anglers were beating the banks for spawners and fishing on top of each other, she had a post spawn pattern going and probably had the majority of that pattern to herself. This is a way to build-in confidence to your pattern, find a pattern not everyone is using, something definitely to keep in the backs of our minds next time we are out looking for that hot pattern (notice it's not a spot but a pattern). Pam went on to say, that her confidence was pretty high "but then in the tournament it seemed as though every where I went they were all 1 1/4 pound fish. I'm not sure what happened to the better fish?"
"Pam, on day one you came to the scale with 9-10 which at that point was only 2 pounds from the 30 boat cut sitting at 11-13 so you are just one good fish from the cut. Payne, who eventually wins this event, is sitting at 18-8 with a sizeable lead from the rest of the tournament. At this point what is your goal for the next day, are you going to swing for the fences or continue with your pattern and make the cut." Her thoughts were, "I was hoping to make the cut because the fishing was tough and the weights were tight with only ounces separating people, I thought I could make the cut and then make more aggressive moves."
"You had a top 30 finish in the first Bassmasters Southern open which gave you a great start in the points run on the Harris Chain of Lakes. Now you have a top 100, what are your thoughts on qualifying for the classic through the opens?" Pam said that at this point it would be difficult, with only one tournament left, however "I will still do the best I can and give it 110 percent."
With the next and final Bassmaster Southern Open on Santee Cooper Lake; I asked her what her experience was there? "I've fished Santee a lot but it is always in the spring. This tournament is in October and should have a typical fall pattern." So again, the final tournament of the season will be a new experience for her. I asked Pam if she felt that the fall patterns would fit her fishing style and she replied that she has some ideas of where to start and what to do, however "I have too wait until I get there and see what the water conditions are."
As most of you know Pam Martin-Wells is an outstanding angler and has many titles to her name. One I would like to add is personable, I have had the opportunity to speak with her several times and she and her husband are just like us, they love to fish and enjoy a good conversation. I look forward to seeing her when the WBT comes to the Red River in October for the Championship and if I had a few dollars to bet I would put my money on her.
In closing I would like to thank Pam for taking the time to answer our questions and give us some input on how to approach a tournament that is on water we are not familiar with. Her approach was to find fish that would separate her from the crowds, although it didn't work out this time her experience and winnings prove that it works most of the time!
Get the Net, it's a Hawg
Mike Cork
Ultimate Bass