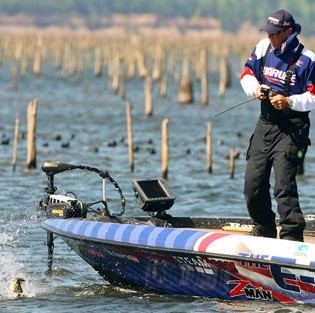 To give you a quick idea of what a fantastic person David Walker is and how much he enjoys sharing his message… 7 PM Wednesday 4 May 2011 my phone rings and it's Bassmaster Elite series pro David Walker.
Slightly surprised I said, "Hello Mr. Walker, how was your pre fishing?"
Mr. Walker said, "It was fishing, just got done with the meeting and have to gas up the boat and do it for real tomorrow for day 1 of the West Point Lake Elite Series Event."
Even though it is late on the evening prior to the next Elite event, he still took the time to give me a call so we could do this interview. So up front I'd like to thank David Walker for his time.
With 13 Bassmaster event top 10 finishes, David Walker has the hunger for the win! The recent Bassmaster Elite tournament on Toledo Bend Reservoir once again had him gunning for the trophy. After a 24-0 pound stringer on day two, he was in great position. On the last day of competition, just a few casts into the day, David Walker sets the hook on a three to four pound class fish. Fighting it to the boat, everything is under control, "I go to swing it in the boat and she comes unbuttoned."
We've all had that fish, the one that when we lost it, we just knew that it cost us the tournament! I asked Mr. Walker what went through his head at that moment? He quickly responded, "I was upset and MAD". For me personally, Mike Cork, when this happens I can't help but throw my hat in the bottom of the boat!! I've tried to act like nothing happened and keep chunking but it just builds up and wears on me. David and I talked about this for a few minutes and come to find out he is just like me. He says, for him, it's best to release it, take a second and let it out. "Yes, there is nothing you can do, that fish isn't coming back, so throw your hat if that's what it takes (it can't hurt anything), get it out of your system and then get back to fishing". Mr. Walker did say that about five casts later he caught the biggest fish of his final stringer and that helps get you back in the game. So, "Do what you have to and shake it, then forget it and get back to fishing," he said.
While some anglers were fishing spawning bass on the southern half of the lake David Walker's fish were mid lake post spawn bass around the area known as "1215" (named after the old highway that ran throw the huge flat prior to the lake being flooded).
Water Temperature: 68-70 degrees
Water Clarity: 2 ft plus, except where wave action was heavy
Lake Level: several feet below normal pool
Weather Conditions: Varied extremely from cloudy days to partly cloudy, with the last two days being fairly clear. Wind was a huge factor with gusts over 40 mph on the second day. Wind direction stayed mostly west and northwest throughout the event.
David Walker's approach to Toledo Bend was made up of a threefold arsenal. When the condition were windy he used a Z-Man Chatterbait with a steady retrieve fan casting the flats covering water, opting for a half ounce homemade jig when specific cover didn't produce a strike. On the final day, the wind had calmed and the Chatterbait quit producing, Walker had to switch to a more subtle presentation and this is when a Kopper's Swimbait put bass in the livewell.
UB: Many anglers were fishing spawning bass, what stage do you feel your bass were in?
Mr. Walker: I caught most of my bass in 3 to 6 feet of water. I honestly believe that these fish were already in their summer pattern and had the lake been at normal pool this water would have been 8-10 feet deep. It was their normal summer home, it just didn't have as much water right now.
UB: Chatterbaits hit the bass fishing scene hard and heavy with a couple wins in the Elite's but yet they still remain a mystery to the average angler. What's the secret with these baits? Retrieve, trailer?
Mr. Walker: There's no secret to these baits. When I fish a Chatterbait I use a simple steady retrieve. Just let the bait do the work. As far as a trailer, I generally use the one that comes with it in the package, a twin tail. But I have used many different things, swimbaits, grubs, jig trailers, and craws.
UB: Homemade Jig? Is there a reason for making your own jigs? Secret design, can't find a market one you like, secret color or strand count? What was the secret jig for this event?
Mr. Walker: I like to make my own for several reasons. The biggest is the satisfaction of catching bass on something you created. There really isn't a secret color, I stick with the basics most of the time. I have played with the color aspect and before you know it you have hundreds of skirts and can drive yourself crazy tying to pick the right one, I just keep it simple now. On Toledo I caught my jig bass on brown with a green pumpkin z-man claw trailer.
If you have ever been on a large impoundment in high winds, Toledo Bend is no different. High winds mean giant waves. Three to four feet are not uncommon and were the norm for this event.
UB: What would be the best advice you could give someone to help them fish in the wind?
Mr. Walker: Power Poles!!! Without the power poles it was impossible to effectively fish water. When catching a bass, when retying a bait, or if you took your mind off the trolling motor for even a second, in winds like this you end up quickly blown into stumps or away from your targets. Power Poles allowed me to stay in position and work the water I wanted too.
After telling me about the power poles, Mr. Walker chuckled and told me that on Saturday the wind was so bad that in the area he was fishing there were dry island humps and the wind was kicking up sand storms off of these islands. He chuckled because he said that his marshal that day was taking pictures of them.
UB: What about traveling the lake? Your location was at least 15 miles away from the launch site. Were you concerned about this distance with the wind and waves having the lake in such miserable driving conditions?
Mr. Walker: Not at all, just like with a lure, you got to have confidence in your equipment or your're limiting yourself. I have been running Evinrude outboards my entire career. I know them, I trust them, and they have never let me down. The power and reliability of the Evinrude E-TEC is key – I have total confidence that when I turn the key it's going to start, simple as that, turn the key and go. In today's tournament bass fishing, you have got to beat the other 100 guys to survive and having the best equipment is a must in order to win. That's why I use Evinrude Outboards, put it in and go, it's a vital part of what allows me to compete.
UB: According to the weights on the final day fishing was pretty tough. You said that at 1 pm you only had one good fish and the rest were just keepers. You've been fishing the same water for several days now. Does it go through your mind that maybe you have milked this spot for all it's worth? You stayed put and ended up culling a couple fish, how do you know when to stay and when to go?
Mr. Walker: It does weigh on you, whether to stay or go. However if at this point you start jumping around the lake you'll start thinking you should have stayed.
UB: So does your gut tell you to stay, or is it that experience of having moved and wished you hadn't?
Mr. Walker: Both, in the bass fishing world you have to learn everyday you're on the water. This also sharpens your instincts and when it's crunch time you have to go with your gut.
David Walker has become a very active personality on the World Wide Web. He does blogs with the Evinrude team sharing tips about all aspects of tournament bass fishing. We talked a little bit about what he enjoys most with the blogs.
He said, "It's been great to get involved in the social media, I'm having a lot of fun with it."
UB: What's the best part for you?
Mr. Walker: I get to put my message out there, I get to share tips and ideas, I get to tell my story. If you wait for the media, when they do come around it's usually the following week and they have their own topics and agenda, which is fine but rarely is it the story you want to talk about. With the blogs I get to talk about what I want and it's just been a lot of fun. Probably the best part for me is that this kind of social media is reaching so many people and if I can draw and introduce more people to the sport of bass fishing, that's just fantastic.
If you want to hear more from David Walker, make sure to visit Evinrude E Team and David Walker Fishing .
Thank You Mr. Walker for taking the time to speak with me. I really enjoyed our conversation and look forward to speaking with you again. Good Luck on West Point Lake. At the time this was published David Walker is in third place by only a few ounces!!!
Get the Net it's a Hawg
Mike Cork