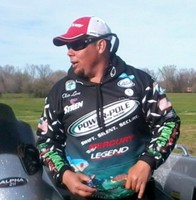 Throughout the 2012 Bassmaster Classic on the Red River in Shreveport, I had many opportunities to speak with the professional anglers of our beloved sport. Ranging from pre tournament meetings to press interviews after each day. I have yet to meet an angler that wasn't personable, and fun to talk too. Each is just like you and I; they love to fish and after all the hype about bass knowledge, location, spawn or pre spawn, it boils down to their gut decisions. Some of these decisions may seem extreme to us; while others might seem a little on the casual side.
Prior to the tournament, I was able to sit down with Steve Kennedy. Great guy and very fun to talk too. He caught my eye because he was smacking his cell phone. I asked him if his reception was bad and maybe he needed to borrow a phone. Steve replied "Not really, mine's dead. I've been checking the weather too much and run the battery dead." Kennedy says he lives by the weather. He bases all his decisions for the day on the weather; what it's doing or what it's about to do. Kennedy continued, "Even on the water I'm looking at the hourly forecast. This helps me decide to stay, go, or come back later." Steve was full of information, and I'm looking forward to future interviews with him.
"Winners take chances!" I know many of you can probably guess the origin of this quote. Mike Iaconelli is a fantastic angler and a great interview. Iaconelli is always pushing the limits of his equipment, his body, and his time on the water. It's not uncommon to see Ike run areas of the Red River that locals wouldn't try with a trolling motor. "I've tested my equipment to the extreme. You have to know what it can do and what it can't do, and then have faith in it." Ike believes in fishing to the last minute no matter the conditions, getting to weigh-in five minutes early just to make sure, is not an option. "I've caught way too many 5 pound fish in the last minute to play it safe. Winners take chances!"
All through the Bassmaster Classic I had to the opportunity to speak with David Walker many times. Pre tournament and after each weigh-in. He was very calm, cool and collected even going into the final day. David mentioned that he was fishing some pretty shallow water, and it was very tough to get too. Somehow I got on the subject that some anglers will bring an aluminum boat to make life easier on the Red River. David shook his head no and explained, "an aluminum boat hurts you here, it really limits you more than it helps". He went on to explain that there is a lot of water on the Red River to fish; however, it's miles apart. "With an aluminum boat, you limit yourself to one, possibly two, areas. "That's just not going to cut in on a tournament like this." While some anglers did spend the entire tournament in one or two areas, getting to those areas quickly was a matter of running the main river as fast as possible. Having a smaller aluminum boat may have helped once you got to an oxbow; however, you would have been 30 minutes to an hour behind the rest of the field who was already there fishing.
Dustin Wilks, first let me say Dusting was a fantastic to talk too, full of information. At one point, I thought he was going to take it. He was in an oxbow called McDade. To be honest, I made pre tournament predictions that this particular oxbow didn't hold enough quality bass to win. While that turned out to be true, Dustin had me believing I was wrong. Going into the final day, he was near the top and had stumbled onto something that might put it away. My questions for Dustin were revolved around why he kept going back to an area that was getting tremendous pressure. "I don't know the river well, and I liked that area." He's fishing the Bassmaster Classic, and he liked that area! Not the bites, not that he seen big fish in there, but he liked the area. Dustin said, "I know there are big bass in McDade. There has to be; it has everything they need. I kept going back for two reasons, one I liked the area and two, we hadn't seen any big bags come from there yet. That told me that it was just a matter of being there at the right moment. Yesterday, I stumbled onto something that I thought would really produce today, so I went back." Dustin told me that, on day two, there was a point where he was frustrated watching Aaron Martins catch bass. He fired up and left only to turn around and go right back. "It was driving me crazy to watch him catch bass. My crank bait bite had died, and I didn't know what to adjust too. I knew I needed to adjust, but to what I didn't know. That little drive out and back, settled me down and I went to catching fish."
There are numerous quotes and decisions the professional bass anglers made, I simply can't put them all in one article. So watch for more interesting behind the scenes thoughts from the professional anglers that fished the 2012 Bassmaster Classic on the Red River. The biggest thing this writer and angler took away from every conversation I had is that they are fisherman just like you and I. Go with your gut!!
Get the Net it's a Hawg
Mike Cork
Ultimate Bass