When we were kids, school seemed like an eternity. I can remember thinking when I started 2nd grade that my senior year was never going to get here; it was ten years from now. Time went by slowly back then or at least that was the perception made by kids. Now that I'm older, married, and have kids of my own; time seems to fly by in a simple blink of the eye. My son is now in the sixth grade, and my daughter is a sophomore in high school. It truly hit me when I went and bought her a car a couple of weeks ago, man how time flies.
A good friend and I were discussing how time has slipped away, and we both realized there was a special event that has been around now for a decade. A decade, that is almost as old as my son. It is hard to believe that the Lock Jaw Bass Club and The Twin Cities Team Club have been battling it out in the "Ultimate Bass Club Shootout" for ten years now. Early morning on March 2nd, 2013 we blasted off and started the 10th annual UBCS. Who would have thought this tournament would last a decade.
This year, Twin Cities Team Club was the Ultimate Bass Club Shootout host, and as usual they did a terrific job of getting everything together and putting on a fantastic tournament. Teams started arriving at North Toledo Bend State Park Thursday, to get in some early prefishing. The weather was uncooperative as usual and made it rough to navigate around Toledo Bend. Even with the weather being stubborn, anglers reported catching good numbers and quality of bass. Thursday night brought on some good fellowship and good food. It was BYOF (bring your own food) night, and everybody brought something to grilled up on the pit. Friday morning we all headed out to do more prefishing with a friendly wager on who could catch the biggest bass of the day. The Lock Jaw team of DJ and Johnny brought in the big bass, just over five pounds taking the cash for their efforts. Friday night, the Lock Jaw Bass Club provided dinner consisting of fried fish, a fish coubillion, and a deer and pork gravy. We all had a good time sharing stories and talking smack about the days to come.
Saturday morning arrived, and it was tournament time. TCTC won the coin toss, and they were the first to leave out that morning. Winds had picked up quite a bit and made for some rough traveling on the Bend. All boats made it back to weigh in safely, and we were ready to see who was top dog for the day. For the individual teams, Jared LeBlue and Tony Hayden of the Lock Jaw Bass Club were leading day one with just over 20lbs. Tony Hayden also took big bass with a nice bass weighing in just over 8 pounds. On the club side of the event, the Lock Jaw Bass Club was leading by a narrow margin. We all went back to our cabins and relaxed before meeting back up later that evening for supper and door prizes provided by the Twin Cities Team Club. A chicken gumbo and a seafood gumbo, courtesy of Gumbo to Greaux, awaited the hungry anglers as they arrived at the TCTC cabin. Adult beverages, provided by Southwest Beverage, were chilled and ready for the thirsty anglers. Once again everyone ate a well prepared meal and shared the secrets that got them in the standings. Chip Harmeson from TCTC gathered everyone around and started pulling tickets for door prizes. Everyone walked away with multiple prizes some of which included Kistler rods, BPS reels, a multitude of baits, and bags of accessories from Barksdale Federal Credit Union.. Of course, the normal chants of "Lock Jaw" were heard throughout the camp ground as Lock Jaw members won prizes.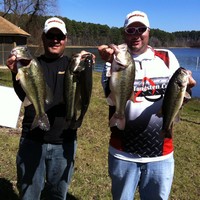 Sunday brought on a very cold but calm morning., During the livewell check some anglers found unusual surprises in their livewells. After some cleaning, the anglers were off and ready for the final day.. The fishing was tough and showed at the scales. The winning team for the two day event was Brent Glover and John Gullo from TCTC with a combined two day total weight of 28lbs and some change. John LeDoux of the Lock Jaw Bass Club took big bass with a fish going over 4lbs. The Club taking home the 2013 UBCS title was Twin Cities Team Club. This victory for TCTC tied up the score with both clubs taking home the title 5 times.
As always, this event was a blast and memorable for all that attended. 10 years of outstanding fellowship, good food, and fierce competition, who would have thought?
Jared LeBlue