The Fourth Annual Ultimate Bass Club Shootout will be held June 16-17, 2007 at the Lake Bistineau State Park in Louisiana hosted by the Twin Cities Team Club "TCTC".
RULES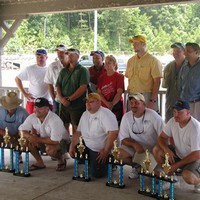 1. All State, Coast Guard, Federal, Parks and Wildlife Regulations shall apply at all times. Violations of the above regulations will be grounds for disqualification.
2. Only Largemouth, and Kentucky spotted bass (black bass) will be weighed in. No slot or minimum required for Lake Bistineau – However Bass must be at least 12 inches for this tournament and fish must be caught on the tournament waters.
3. No more then 5 fish per team will be weighed, when a 6th fish is caught one must be culled immediately. At no time can a dead fish be culled.
4. You must personally weigh-in your own fish as a team or individually.
5. This is a two-day tournament fish must be weighed on the day they are caught no exceptions.
6. Fish must be kept in a live well or equally suitable conditions. Do not transport fish to weigh-in on ice, every effort must be made to keep fish alive. There will be a 4oz. penalty for every dead fish brought to the scales.
7. The Launch and weigh-in will be held at the Lake Bistineau State Park and Trailering will not be allowed.
8. All contestants must wear a Coast Guard approved life vest when the boat is on plane. If boat is equipped with a kill switch, it must be attached to driver while boat is on plane.
9. No wake allowed at the launch area to include the swim beach.
10. A contestant is not permitted to fish within 50 yards from another tournament boat which is anchored, or tied unless permission is granted. Good Sportsmenship is required at all times.
11. You may obtain a refund of your entry fee up to 15 days before 16 June 2007. There will be a $5.00 fee assessed any refund requested.
12. Entry fee MUST be paid by deadline; deadline for the 2007 UBCS is 10 June, 2006. All fees must be received by midnight. There will be a late fee applied for any participants paying after the deadline of 10 June 2006. No entries will be accepted after Launch on 16 June 2007.
13. Tournament hours are from safe light until 3pm Saturday the 16th and safe light until 1200/noon Sunday the 17th. Launch should be 30 min before sun rise each day based on weather. Saturday and Sunday sunrise is forcasted to be 6:06 am
14. The tournament will be held regardless of weather conditions.
15. Fishing will be done with a rod and reel and artificial lures only (pork rind is acceptable). Each angler my only use one rod/reel at a time.
16. Contestants must be checked in 30 minutes prior to the tournament on both days. Failing to check in will disqualify that team.
17. All applications for entry in the Ultimate Bass Club Shoot Out and the determination of winners and right to awards are subject to the sole approval and discretion of the Tournament Committee whose decision thereon is FINAL. "Committee consists of Fogy/Mike & Laurie Cork/Mike Noble and James Tear
Questions should be directed to Ronald Fogelson / Fogy, TCTC President.