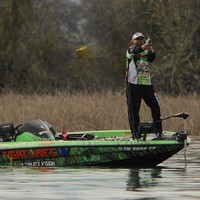 Considered a pioneer of the swimbait craze, Byron Velvick, a West Coast transplant, furthered his legacy with the bait Sunday at Clear Lake, taking the Golden State Shootout, the second event of the 2010 Bassmaster Elite Series, on the shoulders of the revolutionary lure.
It was nearly ten years ago when Velvick, who now resides in Del Rio, Texas, ushered the swimbait to the front and center of the fishing world. Then, he established the BASS' three-day tournament record with 83 pounds, 5 ounces. This week, he toted 98 pounds, 6 ounces to the scales over four days earning $100,000, his first career Elite Series win and a whole bunch of momentum heading into the meat of the Elite season.
"I love Clear Lake," said Velvick, 45. "Ten years ago, I knew this place was special. This lake is just phenomenal and it feels great to get this in front of family and friends."
Bassmaster.com will cover the 2010 Elites throughout the season with daily analysis, photo galleries, standings and a real-time leaderboard. ESPN360.com will offer live, streaming video. ESPN2 will recap this competition on The Bassmasters at 9 a.m. ET, Sunday, April 4, and again at 11 a.m. ET, Saturday, April 17.
Velvick attributed the victory to both his primary area – a shallow, warm bay that contained grass, rock and hitch, a rare bait fish found in California – and his bait choice – a Rago BV 3D swimbait. Earlier in the week, Velvick had noted that versatility was key, a ploy to throw his competitors off of his real strategy. Instead, he decided early in the competition he would either sink of swim with the 7-inch lure.
The key to success, he said, was to work it slowly and deliberately. The bait was created in such a fashion where it is essentially weedless but the hooks are exposed and Velvick said that allowed him to easily crawl through it grass. He knew he was successfully casting when the belly of the swimbait would turn green from its exposure to the grass.
And to entice the bigger bites, he would position himself in the grass, casting out to the deeper water and entice the hitch back towards the boat. The bass would then strike on the retrieve. His method – he labeled it pulse and hoover – had to be precise. The two-time Classic qualifier said if he fished just a hair fast, he wouldn't get a bite.
"A lot of guys came in that area and they just didn't know how to fish it correctly," said Velvick. "The bait allowed me to work the structure the correct way. Things had to line up perfect but I had a great combination of spot and bait this week."
The win comes at what appears to be an arc in Velvick's career. He has qualified for the past two Bassmaster Classics but he started this year with a debacle at the California Delta (83rd). Things can change quickly on the Elite Series, however, and Velvick made his California trip count with the win. He moved up to 23rd in the Toyota Tundra Bassmaster Angler of the Year standings.
With Velvick not letting up Sunday, the most intriguing battle was for second place. Bill Lowen of North Bend, Ohio, took those honors over Guy Eaker of Cherryville, N.C. The two were fishing with casting distance of each other and the area yielded a bevy of bass over the course of the tournament. Lowen finished while 92 pounds, 9 ounces, while Eaker, the 70-year-old sentimental favorite, took third with 90 pounds, 11 ounces.
Lowen decided during practice to fish to his strengths and that didn't include anything to do with a swimbait. An Ohio River rat, Lowen felt more comfortable working a black-and-blue chatterbait and a black-and-blue swimjig in the staging area shared with Eaker. The finish was Lowen's best in his five-year Elite Series career.
"Most of the guys in the field were thinking that you had to throw a swimbait to win and they were right," said Lowen, 35. "But I had to fish to my strengths and I'm pleased with the outcome."
Like Lowen, Eaker earned his career-best Elite finish this week. In the end, the shared spot – while productive – didn't hold the bigger fish that were needed for the victory.
In fourth was Randy Howell of Springville, Ala., with 86 pounds, 2 ounces. In fifth was Skeet Reese of Auburn, Calif., with 85-3. Reese took back-to-back top five finishes on the California swing to open the season. And that puts him at the top of the 2010 Toyota Tundra Bassmaster Angler of the Year standings, the main qualifying route into the Bassmaster Classic. The full standings can be found below.
Reese, the 2007 AOY, missed out by one ounce at the Delta tournament last week and while he didn't get total redemption, he has his eyes on a larger prize.
"I'll take second place finishes all year as long as I come out first in the Angler of the Year race," said Reese, also the 2009 Classic champion. "That's what I'm really focused on."
Only the top 12 fished Sunday and that included 19-year-old Elite Series rookie Bradley Roy of Lancaster, Ky. Roy, the youngest competitor to fish an Elite event, finished eighth.
Clear Lake is the largest natural lake to lie entirely within California. In sharp contrast to the sprawling, shallow Delta system – where last week's Elite event was held — Clear Lake is 19 miles long, measures eight miles wide at its widest point, and has an average depth of 27 feet.
All events are free and open to the public.
Bassmaster Elite Series Official Sponsors: Toyota, Berkley, Evan Williams Bourbon, Humminbird, Mercury, Minn Kota, Skeeter and Yamaha.
Bassmaster Elite Series Supporting Sponsors: Lowrance and Triton Boats
DAY 3 GOLDEN STATE SHOOTOUT FINAL STANDINGS
2010 Golden State Shootout 03/18-03/21
Clear Lake, Lakeport Calif.
(PRO Division) Standings Day 4
Angler Hometown No./lbs-oz Pts Total $$$
1. Byron Velvick Del Rio, Texas 20 98-06 320 $100,500.00
Day 1: 5 29-00 Day 2: 5 22-00 Day 3: 5 24-08 Day 4: 5 22-14
2. Bill Lowen North Bend, Ohio 20 92-09 295 $25,000.00
Day 1: 5 22-14 Day 2: 5 22-09 Day 3: 5 24-02 Day 4: 5 23-00
3. Guy Eaker Cherryville, N.C. 20 90-11 290 $20,000.00
Day 1: 5 21-14 Day 2: 5 22-06 Day 3: 5 24-00 Day 4: 5 22-07
4. Randy Howell Springville, Ala. 20 86-02 285 $15,000.00
Day 1: 5 23-03 Day 2: 5 23-07 Day 3: 5 20-10 Day 4: 5 18-14
5. Skeet Reese Auburn, Calif. 20 85-03 280 $15,000.00
Day 1: 5 20-04 Day 2: 5 18-12 Day 3: 5 21-02 Day 4: 5 25-01
6. Tommy Biffle Wagoner, Okla. 20 81-14 276 $13,500.00
Day 1: 5 16-08 Day 2: 5 21-13 Day 3: 5 20-10 Day 4: 5 22-15
7. Terry Butcher Talala, Okla. 20 80-08 272 $13,000.00
Day 1: 5 18-03 Day 2: 5 21-13 Day 3: 5 22-12 Day 4: 5 17-12
8. Bradley Roy Lancaster, Ky. 20 79-11 268 $12,500.00
Day 1: 5 19-08 Day 2: 5 22-01 Day 3: 5 22-09 Day 4: 5 15-09
9. Boyd Duckett Demopolis, Ala. 20 79-08 264 $12,000.00
Day 1: 5 17-14 Day 2: 5 20-14 Day 3: 5 22-15 Day 4: 5 17-13
10. Jared Lintner Arroyo Grande, Calif. 20 78-09 260 $11,500.00
Day 1: 5 23-04 Day 2: 5 17-14 Day 3: 5 21-06 Day 4: 5 16-01
11. Brian Snowden Reeds Spring, Mo. 19 76-00 257 $11,000.00
Day 1: 5 17-06 Day 2: 5 21-03 Day 3: 5 22-12 Day 4: 4 14-11
12. Matt Herren Trussville, Ala. 20 75-13 254 $10,500.00
Day 1: 5 21-13 Day 2: 5 18-06 Day 3: 5 21-12 Day 4: 5 13-14
About BASS For more than 40 years, BASS has served as the authority on bass fishing. The organization advances the sport through advocacy, outreach and its expansive tournament structure while championing efforts to connect directly with the passionate community of bass anglers through its Bassmaster media vehicles. As the flagship offering of ESPN Outdoors, the Bassmaster brand and its considerable multimedia platforms are guided by a mission to serve all fishing fans. Through its industry-leading publications Bassmaster Magazine, BASS Times and Fishing Tackle Retailer; comprehensive Web properties in Bassmaster.com, BASSInsider.com, ESPNOutdoors.com and ESPN360.com, and ESPN2 television programming, Bassmaster provides rich, leading-edge content true to the lifestyle. BASS oversees the prestigious Bassmaster Tournament Trail, which includes the Bassmaster Elite Series, Bassmaster Opens, BASS Federation Nation and the ultimate celebration of competitive fishing, the Bassmaster Classic. BASS offers an array of services to its more than 500,000 members while spearheading progressive, positive change on issues related to conservation and water access. The organization is headquartered in Celebration, Fla.