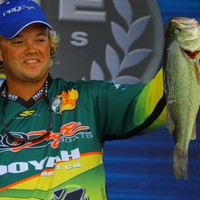 PLATTSBURGH, N.Y. – With a 24-pound, 12-ounce limit of largemouth bass, Timmy Horton of Muscle Shoals, Ala., took over the lead Friday in the Bassmaster Elite Series Champion's Choice presented by Toyota Tundra on Lake Champlain. With a two-day total of 45 pounds, 14 ounces, Horton was ahead by more than 6 pounds, surpassing first-day leader Steve Kennedy of Auburn, Ala., who had 39 pounds, 4 ounces.
The Champion's Choice presented by Toyota Tundra will be aired on The Bassmasters at 9 a.m. ET July 21 on ESPN2. The eighth event of the Elite Series season will end Sunday with a $100,000 prize for the winner.
Horton, who had been 4 ounces behind Kennedy after the first day of competition, said he boated most of his Friday weight by 9:30 a.m., then spent the rest of the day locating fish that may help him over the final two days of the tournament as he seeks his first BASS win since 2004.
"It went really well and I hope it will last until Sunday," said Horton, the 2000 Toyota Tundra Bassmaster Angler of the Year. "What a lake. That's the most fun I've had in a very long time. I went to my first spot and caught about 20 pounds. Then I hit one area that was really better than it had been the first day. It had big ones.
"I kind of practiced after that, which made for a long day, but still you just don't go fish places when you've got a good bag."
Horton said a Booyah jig was his primary lure on Friday.
Kennedy, who boated 17 pounds, 14 ounces Friday, fell short of his Day 1 bag of 21 pounds, 6 ounces. "I fished a little bit differently (Friday) and maybe that's why I had a little less weight," he said.
The 2006 Toyota Rookie of the Year, Kennedy again traveled to the far southern end of Lake Champlain in search of largemouth bass. He caught most of his weight in South Bay, the same place he caught a 5-pound, 5-ounce largemouth on Thursday.
"I'm committed to that (area) because I can't catch one up north," Kennedy said.
A 5-pound, 7-ounce bass helped Fred Roumbanis of Auburn, Calif., move into third place with 37 pounds, 4 ounces, while Steve Daniel of Clewiston, Fla., was fourth with 35 pounds, 1 ounce. Four-time Bassmaster Classic champion Rick Clunn of Ava, Mo., was fifth with 34 pounds, 4 ounces.
Kevin VanDam, leader of the Toyota Tundra Bassmaster Angler of the Year race, was 18th with 32 pounds, while Skeet Reese, who is in second place in the AOY standings, moved from 21st to a tie for 10th Friday with 33 pounds, 1 ounce.
The top 50 anglers compete Saturday. The field cuts to 12 for the final day.
In the co-angler division, Marc Lamphier of Vermont led the field competing for a Triton/Mercury boat package valued at $50,000 with 28 pounds, 2 ounces. Trailing were George Fiorille of New York with 25 pounds, 1 ounce; and Joel Etheredge of Alabama with 24 pounds, 14 ounces.
Fishing fans can watch live, streaming video of the daily weigh-ins of the Champion's Choice presented by Toyota Tundra at http://www.ESPNOutdoors.com beginning at 3 p.m. ET. On Sunday, fans can also monitor http://www.ESPNOutdoors.com throughout the day for live updates and Hooked Up with Tommy Sanders and ESPN Outdoors personality Mark Zona.
Purolator Big Bass
Pro: Fred Roumbanis, Auburn, Calif., 5-7
Co-angler: Bill Johnson, Grayling, Mich., 5-11
Location and Field
Champion's Choice presented by Toyota Tundra – Bassmaster Elite Series
Lake Champlain
Plattsburgh, N.Y.
July 12-15
Field
108 pros, 108 co-anglers
Cut to top 50 after Day 2
Cut to top 12 pro anglers after Day 3
Launch
Plattsburgh Boat Basin
5 Dock Street
Plattsburgh, N.Y.
5:30 a.m. ET
Weigh-in
Plattsburgh Boat Basin
5 Dock Street
Plattsburgh, N.Y 3 p.m. ET
Local sponsors: Local sponsors include city of Plattsburgh
Bassmaster Elite Series sponsors: Sponsors of the Bassmaster Elite Series include Toyota Tundra, Purolator, Triton Boats, Mercury Marine, Berkley, Advance Auto Parts, Lowrance Electronics, MotorGuide, Evan Williams Bourbon, Ramada Worldwide and Costa Del Mar.
For more information, contact BASS Communications at (407) 566-2208 or visit http://www.bassmaster.com. Visit http://www.espnmediazone.com for ESPN's latest releases, schedules and other news, plus photos, video and audio clips and more.
BASS is the worldwide authority on bass fishing, sanctioning more than 20,000 events through the BASS Federation Nation annually. Guided by its mission to serve all fishing fans, BASS sets the standard for credibility, professionalism, sportsmanship and conservation, as it has for nearly 40 years.
BASS stages bass fishing tournaments for every skill level and culminates with the Bassmaster Classic. Through its clubs, youth programs, aquatic resource advocacy, magazine publishing and multimedia platforms, BASS offers the industry's widest array of services and support to its nearly 530,000 members. The organization is headquartered in Celebration, Fla.
2007 Champion's Choice 7/12-7/15
Lake Champlain, Plattsburgh NY.
(PROFESSIONAL) Standings Day 2
Angler Hometown No./lbs-oz Pts Total $$$
1. Timmy Horton Muscle Shoals, AL 10 45-14 305 $1,000.00
Day 1: 5 21-02 Day 2: 5 24-12
2. Steve Kennedy Auburn, AL 10 39-04 300 $1,000.00
Day 1: 5 21-06 Day 2: 5 17-14
3. Fred Roumbanis Auburn, CA 10 37-04 290 $1,000.00
Day 1: 5 17-01 Day 2: 5 20-03
4. Steve Daniel Clewiston, FL 10 35-01 285
Day 1: 5 16-15 Day 2: 5 18-02
5. Rick Clunn Ava, MO 10 34-04 280
Day 1: 5 15-10 Day 2: 5 18-10
6. Scott Rook Little Rock, AR 10 34-00 276
Day 1: 5 19-06 Day 2: 5 14-10
7. Paul Hirosky Guys Mills, PA 10 33-15 272
Day 1: 5 14-14 Day 2: 5 19-01
8. Brent Chapman Lake Quivira, KS 10 33-14 268
Day 1: 5 14-14 Day 2: 5 19-00
9. Yusuke Miyazaki Mineola, TX 10 33-07 264
Day 1: 5 13-00 Day 2: 5 20-07
10. Britt Myers Lake Wylie, NC 10 33-01258.5
Day 1: 5 14-10 Day 2: 5 18-07
10. Skeet Reese Auburn, CA 10 33-01258.5
Day 1: 5 16-04 Day 2: 5 16-13
12. Tommy Biffle Wagoner, OK 10 32-14 254
Day 1: 5 15-14 Day 2: 5 17-00
13. Edwin Evers Talala, OK 10 32-10 251
Day 1: 5 17-10 Day 2: 5 15-00
14. Kenyon Hill Norman, OK 10 32-06 248
Day 1: 5 15-08 Day 2: 5 16-14
15. Kotaro Kiriyama Moody, AL 10 32-05 245
Day 1: 5 15-07 Day 2: 5 16-14
16. Dave Wolak Wake Forest, NC 10 32-02 243
Day 1: 5 14-15 Day 2: 5 17-03
17. Ken D Cook Lawton, OK 10 32-01 241
Day 1: 5 13-10 Day 2: 5 18-07
18. Kevin VanDam Kalamazoo, MI 10 32-00 239
Day 1: 5 16-03 Day 2: 5 15-13
19. Stephen Browning Hot Springs, AR 10 31-14 236
Day 1: 5 16-01 Day 2: 5 15-13
19. Bradley Hallman Norman, OK 10 31-14 236
Day 1: 5 15-14 Day 2: 5 16-00
21. Dean Rojas Grand Saline, TX 10 31-13 233
Day 1: 5 16-11 Day 2: 5 15-02
22. Peter E Thliveros Jacksonville, FL 10 31-11 231
Day 1: 5 17-04 Day 2: 5 14-07
23. Bernie Schultz Gainesville, FL 10 31-08 228
Day 1: 5 15-02 Day 2: 5 16-06
23. Jared Lintner Arroyo Grande, CA 10 31-08 228
Day 1: 5 15-11 Day 2: 5 15-13
25. John Murray Phoenix, AZ 10 31-07 225
Day 1: 5 14-15 Day 2: 5 16-08
26. Cliff Pace Petal, MS 10 31-00 223
Day 1: 5 15-00 Day 2: 5 16-00
27. Shaw E Grigsby, Jr Gainesville, FL 10 30-14 221
Day 1: 5 16-11 Day 2: 5 14-03
28. Matthew Sphar Pavilion, NY 10 30-13 219
Day 1: 5 16-05 Day 2: 5 14-08
29. Kevin Wirth Crestwood, KY 10 30-06 215
Day 1: 5 17-11 Day 2: 5 12-11
29. Aaron Martens Leeds, AL 10 30-06 215
Day 1: 5 15-14 Day 2: 5 14-08
29. Ray Sedgwick Cross, SC 10 30-06 215
Day 1: 5 15-09 Day 2: 5 14-13
32. Takahiro Omori Emory, TX 10 30-00 210
Day 1: 5 17-09 Day 2: 5 12-07
32. Alton Jones Waco, TX 10 30-00 210
Day 1: 5 12-12 Day 2: 5 17-04
34. Todd Faircloth Jasper, TX 10 29-14 207
Day 1: 5 14-14 Day 2: 5 15-00
35. Kelly Jordon Mineola, TX 10 29-12 205
Day 1: 5 16-00 Day 2: 5 13-12
36. Preston Clark Palatka, FL 10 29-08 202
Day 1: 5 13-03 Day 2: 5 16-05
36. Jami Fralick Martin, SD 10 29-08 202
Day 1: 5 14-10 Day 2: 5 14-14
38. Davy Hite Ninety Six, SC 10 29-06 198 $1,000.00
Day 1: 5 18-02 Day 2: 5 11-04
38. Greg Hackney Gonzales, LA 10 29-06 198
Day 1: 5 15-10 Day 2: 5 13-12
40. Grant Goldbeck Gaithersburg, MD 10 29-04 195
Day 1: 5 14-00 Day 2: 5 15-04
41. Jason Quinn Lake Wylie, SC 10 29-03 193
Day 1: 5 16-02 Day 2: 5 13-01
42. James Kennedy Lacombe, LA 10 29-01 191
Day 1: 5 13-08 Day 2: 5 15-09
43. Denny Brauer Camdenton, MO 10 28-14 189
Day 1: 5 17-14 Day 2: 5 11-00
44. Kurt Dove Fairfax, VA 10 28-12 185
Day 1: 5 16-12 Day 2: 5 12-00
44. Scott Campbell Springfield, MO 10 28-12 185
Day 1: 5 16-00 Day 2: 5 12-12
44. James Niggemeyer Van, TX 10 28-12 185
Day 1: 5 15-01 Day 2: 5 13-11
47. Terry Scroggins San Mateo, FL 10 28-10 181
Day 1: 5 11-15 Day 2: 5 16-11
48. Rick Morris Virginia Beach, VA 10 28-06 179
Day 1: 5 16-02 Day 2: 5 12-04
49. Marty Stone Fayetteville, NC 10 28-05 177
Day 1: 5 14-09 Day 2: 5 13-12
50. Jason Williamson Aiken, SC 10 28-03 175
Day 1: 5 16-10 Day 2: 5 11-09
51. Marty Robinson Landrum, SC 10 28-02 172
Day 1: 5 11-12 Day 2: 5 16-06
51. Matt Amedeo Clinton, OH 10 28-02 172
Day 1: 5 14-07 Day 2: 5 13-11
53. Mark Rogers Naples, FL 10 28-01 169
Day 1: 5 15-09 Day 2: 5 12-08
54. Gary Klein Weatherford, TX 10 27-15 167
Day 1: 5 14-05 Day 2: 5 13-10
55. Jim Murray Arabi, GA 10 27-12 165
Day 1: 5 16-02 Day 2: 5 11-10
56. Boyd Duckett Demopolis, AL 10 27-10 163
Day 1: 5 11-10 Day 2: 5 16-00
57. Bryan Hudgins Orange Park, FL 10 27-08 161
Day 1: 5 18-02 Day 2: 5 09-06
58. Keith Phillips Calera, AL 10 27-05 159
Day 1: 5 16-12 Day 2: 5 10-09
59. John Crews Salem, VA 10 27-03 156
Day 1: 5 11-01 Day 2: 5 16-02
59. Chris Lane Winter Haven, FL 10 27-03 156
Day 1: 5 13-11 Day 2: 5 13-08
61. Kevin Short Mayflower, AR 10 27-01 153
Day 1: 5 15-03 Day 2: 5 11-14
62. Michael Iaconelli Runnemede, NJ 10 27-00 150
Day 1: 5 15-02 Day 2: 5 11-14
62. Mark Tucker Saint Louis, MO 10 27-00 150
Day 1: 5 13-05 Day 2: 5 13-11
64. Bradley Stringer Huntington, TX 10 26-15 146
Day 1: 5 15-05 Day 2: 5 11-10
64. Mike Wurm Hot Springs, AR 10 26-15 146
Day 1: 5 12-00 Day 2: 5 14-15
66. Frank Scalish Cleveland Heights, OH 10 26-06 143
Day 1: 5 12-08 Day 2: 5 13-14
67. Mike McClelland Bella Vista, AR 10 26-05 141
Day 1: 5 13-14 Day 2: 5 12-07
68. Lee Bailey Boaz, AL 10 26-02 139
Day 1: 5 13-15 Day 2: 5 12-03
69. Jeremy Starks Charleston, WV 10 25-15 137
Day 1: 5 16-10 Day 2: 5 09-05
70. Paul Elias Laurel, MS 10 25-07 135
Day 1: 5 14-12 Day 2: 5 10-11
71. Greg Gutierrez Red Bluff, CA 10 25-06 133
Day 1: 5 12-07 Day 2: 5 12-15
72. Darrin Schwenkbeck Varysburg, MD 10 25-03 131
Day 1: 5 16-09 Day 2: 5 08-10
73. Russ Lane Prattville, AL 10 24-15 128
Day 1: 5 10-00 Day 2: 5 14-15
73. Mark Menendez Paducah, KY 10 24-15 128
Day 1: 5 12-15 Day 2: 5 12-00
75. Jeff Reynolds Idabel, OK 10 24-14 125
Day 1: 5 12-05 Day 2: 5 12-09
76. Jeff Connella Bentley, LA 10 24-10 123
Day 1: 5 14-06 Day 2: 5 10-04
77. Ishama Monroe Hughson, CA 10 24-09 121
Day 1: 5 11-13 Day 2: 5 12-12
78. Jon Bondy Windsor CANADA 10 24-08 119
Day 1: 5 12-01 Day 2: 5 12-07
79. Eric Nethery Acworth, GA 10 24-07 117
Day 1: 5 12-15 Day 2: 5 11-08
80. Morizo Shimizu Murrieta, CA 10 24-06 115
Day 1: 5 12-05 Day 2: 5 12-01
81. Jimmy Mize Ben Lomond, AR 10 24-05 113
Day 1: 5 11-00 Day 2: 5 13-05
82. Mark Tyler Vian, OK 10 24-04 110
Day 1: 5 12-03 Day 2: 5 12-01
82. Casey Ashley Donalds, SC 9 24-04 110
Day 1: 4 09-09 Day 2: 5 14-11
84. Kevin Langill Terrell, NC 10 23-11 107
Day 1: 5 15-05 Day 2: 5 08-06
85. Charlie Hartley Grove City, OH 10 23-04 105
Day 1: 5 10-09 Day 2: 5 12-11
86. William Smith Jr. Somerset, KY 10 22-14 103
Day 1: 5 10-15 Day 2: 5 11-15
87. James Charlesworth Saint Cloud, FL 10 22-13 101
Day 1: 5 12-07 Day 2: 5 10-06
88. Pete Ponds Madison, MS 10 22-08 99
Day 1: 5 12-04 Day 2: 5 10-04
89. Gerald Swindle Warrior, AL 10 22-06 97
Day 1: 5 14-03 Day 2: 5 08-03
90. Bill Lowen North Bend, OH 10 22-05 95
Day 1: 5 12-00 Day 2: 5 10-05
91. Doc Merkin Downers Grove, IL 10 22-04 93
Day 1: 5 12-10 Day 2: 5 09-10
92. Terry Butcher Talala, OK 9 22-03 91
Day 1: 4 07-15 Day 2: 5 14-04
93. Zell Rowland Montgomery, TX 10 22-01 89
Day 1: 5 09-13 Day 2: 5 12-04
94. Randy Howell Springville, AL 10 21-10 87
Day 1: 5 11-00 Day 2: 5 10-10
95. Dave Smith Del City, OK 10 21-05 85
Day 1: 5 08-03 Day 2: 5 13-02
96. Glenn Delong Bellville, OH 10 21-04 83
Day 1: 5 12-13 Day 2: 5 08-07
97. Matt Reed Madisonville, TX 10 21-00 81
Day 1: 5 13-05 Day 2: 5 07-11
98. Ken Brodeur Niantic, CT 10 20-15 79
Day 1: 5 11-15 Day 2: 5 09-00
99. Jeff Kriet Ardmore, OK 10 20-10 77
Day 1: 5 11-04 Day 2: 5 09-06
100. Charlie Youngers Geneva, FL 8 19-06 76
Day 1: 3 06-04 Day 2: 5 13-02
101. Byron Velvick Del Rio, TX 7 18-11 75
Day 1: 5 14-02 Day 2: 2 04-09
102. Brian Snowden Reeds Spring, MO 10 18-10 74
Day 1: 5 08-13 Day 2: 5 09-13
103. Rick Ash Pottstown, PA 8 18-08 73
Day 1: 5 12-14 Day 2: 3 05-10
104. Derek Remitz Hemphill, TX 10 18-06 72
Day 1: 5 11-02 Day 2: 5 07-04
105. Ben Matsubu Hemphill, TX 10 18-03 71
Day 1: 5 10-07 Day 2: 5 07-12
106. Elton Luce Jr Brookeland, TX 10 17-06 70
Day 1: 5 11-03 Day 2: 5 06-03
107. Jimmy Mason Rogersville, AL 7 17-01 69
Day 1: 3 03-07 Day 2: 4 13-10
108. Guy Eaker Cherryville, NC 4 08-02 68
Day 1: 1 04-02 Day 2: 3 04-00
———————————————————————–
PUROLATOR BIG BASS
Day
1 Davy Hite Ninety Six, SC 05-08 $1,000.00
2 Fred Roumbanis Auburn, CA 05-07 $1,000.00
BERKLEY HEAVYWEIGHT
Day
1 Steve Kennedy Auburn, AL 21-06 $1,000.00
2 Timmy Horton Muscle Shoals, AL 24-12 $1,000.00
———————————————————————–
Totals
Day #Limits #Fish Weight
1 103 530 1509-14
2 104 532 1438-08
———————————-
207 1062 2948-06
2007 Champion's Choice 7/12-7/15
Lake Champlain, Plattsburgh NY.
(NON_BOATER) Standings Day 2
Angler Hometown No./lbs-oz Pts Total $$$
1. Marc Lamphier Burlington, VT 10 28-02 0
Day 1: 5 14-07 Day 2: 5 13-11
2. George Fiorille Moravia, NY 10 25-01 0
Day 1: 5 11-02 Day 2: 5 13-15
3. Joel Etheredge Springville, AL 10 24-14 0
Day 1: 5 12-11 Day 2: 5 12-03
4. Larry Triplett Parker, CO 10 24-13 0
Day 1: 5 14-04 Day 2: 5 10-09
5. James Hill Ozark, AL 10 24-10 0
Day 1: 5 09-12 Day 2: 5 14-14
6. Michael Burchett Pulaski, VA 10 24-05 0
Day 1: 5 12-01 Day 2: 5 12-04
7. Todd Winters Troy, NY 10 24-04 0
Day 1: 5 11-07 Day 2: 5 12-13
8. Joe Lucarelli New Hampton, NH 9 23-15 0 $500.00
Day 1: 5 14-08 Day 2: 4 09-07
9. Brandon Pedigo Lawton, OK 9 23-14 0
Day 1: 5 15-12 Day 2: 4 08-02
10. John Voyles Petersburg, IN 10 23-11 0
Day 1: 5 07-08 Day 2: 5 16-03
11. Frank Mealer Irondale, AL 10 23-02 0
Day 1: 5 09-09 Day 2: 5 13-09
11. Ronald Belanger Newton, MA 10 23-02 0
Day 1: 5 13-04 Day 2: 5 09-14
13. Thomas Haley Rochester, NY 10 23-00 0
Day 1: 5 10-12 Day 2: 5 12-04
14. Jimmy Sparks Tuscumbia, AL 10 22-09 0
Day 1: 5 13-09 Day 2: 5 09-00
15. Clint Cowan Chateaugay, NY 10 22-04 0
Day 1: 5 09-00 Day 2: 5 13-04
16. Thomas Monica Bridgeport, NY 9 21-13 0
Day 1: 5 13-03 Day 2: 4 08-10
17. Marty Scoggins Trion, GA 10 21-12 0
Day 1: 5 08-07 Day 2: 5 13-05
18. Craig Daino Central Square, NY 8 21-06 0
Day 1: 5 16-09 Day 2: 3 04-13
19. Stephen Gould Kalamazoo, MI 10 21-04 0
Day 1: 5 09-01 Day 2: 5 12-03
20. Jonathon Vandam Kalamazoo, MI 10 20-08 0
Day 1: 5 06-07 Day 2: 5 14-01
21. Steve Lucarelli Meredith, NH 10 20-06 0
Day 1: 5 10-10 Day 2: 5 09-12
22. Matthew Jones Spokane, MO 8 20-00 0
Day 1: 3 06-01 Day 2: 5 13-15
23. Tom Booth Lima, NY 7 19-09 0
Day 1: 5 15-09 Day 2: 2 04-00
24. Mike Desforges Burlington CANADA 10 19-06 0
Day 1: 5 09-11 Day 2: 5 09-11
25. Eric Sertl Pittsford, NY 8 19-05 0
Day 1: 3 07-07 Day 2: 5 11-14
26. Rich Bizzari Flanders, NJ 10 19-04 0
Day 1: 5 09-07 Day 2: 5 09-13
26. Jay Van Reed Grandville, MI 9 19-04 0
Day 1: 4 08-09 Day 2: 5 10-11
26. Lawrence Laclair Hannibal, NY 7 19-04 0
Day 1: 5 15-15 Day 2: 2 03-05
29. William Clute Hogansburg, NY 10 19-00 0
Day 1: 5 08-09 Day 2: 5 10-07
30. Lutz Spika Stamford, CT 9 18-13 0
Day 1: 5 11-00 Day 2: 4 07-13
31. David Lane Saint Johnsbury, VT 9 18-05 0
Day 1: 4 10-07 Day 2: 5 07-14
32. John Vanderwerf Atlantic Beach, FL 10 18-02 0
Day 1: 5 09-06 Day 2: 5 08-12
33. Bill Johnson Grayling, MI 7 18-01 0 $500.00
Day 1: 5 11-05 Day 2: 2 06-12
34. Peter Typer Pt Colborne CANADA 6 17-12 0
Day 1: 5 14-14 Day 2: 1 02-14
35. Wes Hood Annandale, VA 9 17-08 0
Day 1: 4 07-04 Day 2: 5 10-04
36. Michael Hollinhead Crestview, FL 9 17-07 0
Day 1: 4 09-01 Day 2: 5 08-06
37. Harry Potts Ozark, AL 10 17-04 0
Day 1: 5 07-08 Day 2: 5 09-12
38. Eric Peck Williamsburg, MI 7 17-03 0
Day 1: 3 06-08 Day 2: 4 10-11
39. Michael Neal Dexter, KS 10 17-02 0
Day 1: 5 09-04 Day 2: 5 07-14
39. Frank Tully St Albans, VT 7 17-02 0
Day 1: 5 13-02 Day 2: 2 04-00
41. John Imbesi Cairo, NY 9 17-00 0
Day 1: 4 08-01 Day 2: 5 08-15
42. Andrew Dick Wilmington, DE 9 16-13 0
Day 1: 4 04-09 Day 2: 5 12-04
43. Seiji Kato Outsu JAPAN 10 16-08 0
Day 1: 5 09-12 Day 2: 5 06-12
44. Victor Walker Nashua, NH 7 16-06 0
Day 1: 2 04-01 Day 2: 5 12-05
45. Abe Street Pulaski, VA 8 16-05 0
Day 1: 3 05-01 Day 2: 5 11-04
46. Douglas Hammond South Westerlo, NY 8 16-04 0
Day 1: 3 03-07 Day 2: 5 12-13
47. Michael Drew West Burke, VT 8 16-02 0
Day 1: 5 11-15 Day 2: 3 04-03
47. Robert Suhr Roscommon, MI 7 16-02 0
Day 1: 5 12-08 Day 2: 2 03-10
49. Jeff Tolle Jenks, OK 9 16-00 0
Day 1: 4 07-00 Day 2: 5 09-00
50. Doug Kirkbride Beaver Falls, NY 8 15-14 0
Day 1: 3 05-03 Day 2: 5 10-11
51. Albert Hudson Austin, TX 9 15-08 0
Day 1: 5 06-11 Day 2: 4 08-13
52. Michael O'Rourke Curtice, OH 10 15-07 0
Day 1: 5 08-15 Day 2: 5 06-08
52. Ian Renfrew Phoenix, NY 8 15-07 0
Day 1: 5 11-03 Day 2: 3 04-04
52. Lawrence Sifert Scottsdale, AZ 7 15-07 0
Day 1: 2 04-00 Day 2: 5 11-07
55. Cliff Howland Valley Falls, NY 8 15-05 0
Day 1: 5 08-11 Day 2: 3 06-10
56. Kevin Cunningham Farmingdale, NY 9 15-03 0
Day 1: 4 04-12 Day 2: 5 10-07
57. Rick Sweadner Woodsboro, MD 8 15-02 0
Day 1: 5 10-14 Day 2: 3 04-04
57. Lane Wright Loganville, GA 8 15-02 0
Day 1: 5 10-04 Day 2: 3 04-14
59. James Jones Pinson, AL 8 14-15 0
Day 1: 5 09-00 Day 2: 3 05-15
60. Keith Hutto Augusta, GA 7 14-12 0
Day 1: 4 09-02 Day 2: 3 05-10
61. Jim McDevitt Eldon, MO 8 14-11 0
Day 1: 5 10-14 Day 2: 3 03-13
62. Jim Neils Holland, MA 9 13-15 0
Day 1: 4 05-05 Day 2: 5 08-10
62. Ed Pitlak Norwood, NJ 8 13-15 0
Day 1: 3 05-12 Day 2: 5 08-03
62. Jim Jeffries Rouses Point, NY 7 13-15 0
Day 1: 5 08-13 Day 2: 2 05-02
65. Trey Luce Munising, MI 10 13-14 0
Day 1: 5 07-10 Day 2: 5 06-04
66. James Whitman Ozark, AL 9 13-13 0
Day 1: 5 06-15 Day 2: 4 06-14
67. Michael Hammer Greenpond, NJ 9 13-12 0
Day 1: 4 06-01 Day 2: 5 07-11
68. Jim Staszewski West Gardiner, ME 9 13-05 0
Day 1: 4 04-14 Day 2: 5 08-07
69. Gregg Lindblom North Branch, MN 8 13-03 0
Day 1: 5 09-10 Day 2: 3 03-09
69. Eulon Lee Jr. Montgomery, AL 5 13-03 0
Day 1: 1 03-02 Day 2: 4 10-01
71. Bill Knapp Lee Center, NY 6 13-01 0
Day 1: 2 03-08 Day 2: 4 09-09
72. Mike Frazier Clermont, FL 7 12-14 0
Day 1: 3 06-01 Day 2: 4 06-13
73. Harold Chapman Greenville, SC 8 12-09 0
Day 1: 5 08-08 Day 2: 3 04-01
74. Raymond Grafton Swanton, VT 8 12-04 0
Day 1: 5 07-12 Day 2: 3 04-08
75. Michael Carl Bethlehem, PA 4 12-00 0
Day 1: 4 12-00 Day 2: 0 00-00
76. Bob Seelley Saugus, MA 8 11-05 0
Day 1: 3 03-10 Day 2: 5 07-11
77. Ronald L. Bergman Phoenix, NY 7 10-13 0
Day 1: 5 06-12 Day 2: 2 04-01
78. Joseph Pacholec Moosic, PA 6 10-10 0
Day 1: 5 08-08 Day 2: 1 02-02
79. Otto David Jefferson Valley, NY 7 10-01 0
Day 1: 4 05-04 Day 2: 3 04-13
79. Robert Pelletier Nassau, NY 6 10-01 0
Day 1: 5 09-02 Day 2: 1 00-15
81. Ron Chapman Lake Quivira, KS 6 09-14 0
Day 1: 4 06-04 Day 2: 2 03-10
82. Mary Delgado Tampa, FL 5 09-12 0
Day 1: 5 09-12 Day 2: 0 00-00
83. Mark Banks West Falls, NY 6 09-08 0
Day 1: 1 01-13 Day 2: 5 07-11
84. John Wentzell Columbia, SC 5 09-06 0
Day 1: 4 08-10 Day 2: 1 00-12
85. Allyn Belair Gonic, NH 5 09-05 0
Day 1: 4 08-06 Day 2: 1 00-15
85. Shawn Maynor Talala, OK 5 09-05 0
Day 1: 5 09-05 Day 2: 0 00-00
87. Robert Bates Stony Point, NY 5 09-04 0
Day 1: 1 02-04 Day 2: 4 07-00
88. Walter Stringer Jr. Tallassee, AL 6 09-01 0
Day 1: 2 02-01 Day 2: 4 07-00
89. Matthew Hamlette Altavista, VA 4 08-15 0
Day 1: 2 04-02 Day 2: 2 04-13
90. Jon Curry Bristol, RI 5 08-14 0
Day 1: 2 02-02 Day 2: 3 06-12
91. Steve Pratt Corfu, NY 4 08-13 0
Day 1: 2 03-04 Day 2: 2 05-09
92. Alan Nute Meredith, NH 5 08-04 0
Day 1: 2 03-06 Day 2: 3 04-14
93. Edward Morgan Oneida, NY 5 08-03 0
Day 1: 2 03-04 Day 2: 3 04-15
94. Jonathan Else Elysburg, PA 5 08-01 0
Day 1: 0 00-00 Day 2: 5 08-01
95. Tim Miles Frederick, MD 5 07-06 0
Day 1: 3 04-13 Day 2: 2 02-09
96. Tony Faraci Troy, NY 5 07-04 0
Day 1: 2 02-05 Day 2: 3 04-15
97. Sean Alvarez Rutland, VT 5 06-10 0
Day 1: 1 01-00 Day 2: 4 05-10
98. Warren Mills Manchester, MA 5 06-02 0
Day 1: 4 05-06 Day 2: 1 00-12
99. Richard Hyde Fulton, NY 4 05-15 0
Day 1: 4 05-15 Day 2: 0 00-00
100. Jonathan Lee Cambridge, MA 3 04-15 0
Day 1: 2 03-02 Day 2: 1 01-13
101. Jimmy Swindle Gardendale, AL 2 04-12 0
Day 1: 2 04-12 Day 2: 0 00-00
102. Robert Hamila Oxford, CT 4 04-07 0
Day 1: 0 00-00 Day 2: 4 04-07
103. Glenn Barberee Crestview, FL 3 04-05 0
Day 1: 3 04-05 Day 2: 0 00-00
104. Pete Baumgartner King George, VA 2 03-10 0
Day 1: 2 03-10 Day 2: 0 00-00
105. Tommy Swindle Cleveland, AL 1 01-07 0
Day 1: 1 01-07 Day 2: 0 00-00
106. Don Stehle Dover, NH 0 00-00 0
Day 1: 0 00-00 Day 2: 0 00-00
106. Bill Spence St Albans, VT 0 00-00 0
Day 1: 0 00-00 Day 2: 0 00-00
106. Don Barone Farmington, CT 0 00-00 0
Day 1: 0 00-00 Day 2: 0 00-00
———————————————————————–
PUROLATOR BIG BASS
Day
1 Joe Lucarelli New Hampton, NH 04-13 $500.00
2 Bill Johnson Grayling, MI 05-11 $500.00
———————————————————————–
Totals
Day #Limits #Fish Weight
1 55 415 831-04
2 48 376 759-06
———————————-
103 791 1590-10