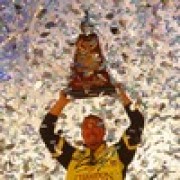 As the 2007 Toyota Tundra Bassmaster Angler of the Year and a four-time BASS event winner, Skeet Reese was a household name among sportfishing…
As the 2007 Toyota Tundra Bassmaster Angler of the Year and a four-time BASS event winner, Skeet Reese was a household name among sportfishing fans before he won the 2009 Bassmaster Classic last month in Louisiana.
In the few weeks since his Feb. 22 victory on the Red River in Shreveport-Bossier City, La., where he claimed his first trophy in front of record-breaking crowds, the famous pro from Auburn, Calif., has been getting even more attention.
"My phone has blown up. I've done interview after interview, whether for radio, print or Internet, or whatever it might be. It's been a very busy time," said Reese, of Auburn, Calif.
His media appearances include ESPN's First Take the morning after his victory, but it's the fan response that has impressed him the most.
"Everywhere I've been, there's been an influx of fans who recognize me and want my autograph and want to talk about the Classic," Reese said. "That's a good thing. It's exciting to have been part of what fans are telling me was one of the best tournaments they've watched and followed in recent years. They're telling me the drama was pretty intense."
He said he doesn't need to watch recordings of the 2009 Classic to recall the details of his victory.
"Everything about the day is vivid for me," he said. "I remember everything about the fishing, weighing in, reading the scales and getting excited. I knew the weight I needed, and saw the scales and that's the moment I remember.
"What's really interesting to me is I see it all like a video in my head. But I don't hear the crowd, I don't hear anything. No audio, just video. It's a weird deal. I guess I was so in my own world by then — so focused, I wasn't hearing anything. It was a great world to be in."
As the 2009 Classic champ, Reese is guaranteed a spot in the 2010 Classic, set for Lay Lake in Shelby County, Ala.
"It feels good to be the first qualifier," Reese said, laughing. "I like to be the first in anything I do."
He said he has not been to Lay since the 2007 Classic. He certainly hasn't forgotten his loss by 6 ounces to Elite pro Boyd Duckett of Demopolis, Ala.
Reese said he will be on Lay Lake in early May for the Mark's Outdoor Sports tournament. He's slated to appear at the Alabama retailer's tournament along with several other Elite pros, including Duckett.
LUCK O' THE IRISH: Bassmaster Elite Series pro John Murray of Phoenix was lucky to be at home for the March 15 birth of his son, Thomas John "TJ" Murray.
He and his wife, Amy, brought their new 7-pound, 9-ounce baby home March 17.
"I knew he was going to be a St. Paddy's Day baby somehow," Murray said. "He was two weeks early, but he had really good timing, that's for sure."
Saturday, March 14, Murray weighed in at the OPTIMA Batteries Battle on the Border on Lake Amistad in Del Rio, Texas. He finished in 17th place, missing the cut to fish the final day.
"I was a little despondent when I realized I hadn't made the final cut. Then I checked my (cell phone) messages. I stood there in shock, telling people about the baby coming, and they all said, 'Hey, what are you standing here for?' " Murray said.
His fellow Elite pro and friend, Skeet Reese, tried to book a flight for Murray to get home. Nothing was available that night, so the father-to-be decided to make the 12-hour drive from Del Rio to Phoenix.
"I drove straight through, went right to the hospital with my boat in tow, pulled up in front of the birthing area and parked my truck and ran inside," he said.
He made it in time. John and Amy's first child was born early that evening.
For once, missing out on the final round of an Elite event was a good thing.
"I was really glad. I pretty much knew I would not have stayed, but I didn't have to make the decision," he said.
By Monday, Murray was back at work, practicing for the Toyota Trucks Diamond Drive on Lake Dardanelle, where he will be competing for a $100,000 first-place prize. Details of the March 26-29 Elite event out of Russellville, Ark., are available at Bassmaster.com.
SWEET DEAL: Jon Bondy of Windsor, Ontario, has one of the sweetest deals in the Bassmaster Elite Series: a Denali Moose Tracks Ice Cream boat-wrap sponsorship.
The Elite pro's new wrap for his Champion-Mercury boat rig features the Denali moose character, moose footprints and Moose Tracks logo.
Denali, based in Wayland, Mich., is an inventor and marketer of premium ice cream flavors. The company's signature creation is Moose Tracks, now available in eight variations on the base recipe of peanut-butter cups and fudgy swirls (see http://www.moosetracks.com for more information).
Company founder Wally Blume happens to be a BASS member. As an avid angler, he follows the Elite trail.
"Just as this group of 100 anglers is recognized as the best in the world, Moose Tracks Ice Cream is recognized as a leader in the ice cream industry," Blume said.
Bondy, the only Canadian on the Elite tour, is beginning his fourth season. Fans can spot his new wrap at the Toyota Trucks Diamond Drive, March 26-29 on Lake Dardanelle out of Russellville, Ark.
NINTH CROWN — AND A BABY: A pro on the Academy Sports + Outdoors Women's Bassmaster Tour, Audrey McQueen of Eager, Ariz., claimed her ninth World Elk Calling Championship at the Leupold/Rocky Mountain Elk Foundation event March 7 in Fort Worth, Texas.
A week later, she became a first-time mother.
Baby girl Taylor Lynn McQueen was born Saturday, March 14. Her arrival was about six weeks early, but she's healthy and growing, said her mother.
Audrey said she will sit out this week's WBT season opener on Neely Henry Lake in northeastern Alabama out of Gadsden. Had the baby not made her surprise entry into the world, Audrey said she would have fished the March 26-28 tournament.
"March 14, I went to the doctor because I wanted to go to Neely Henry," she said. "He (the doctor) said everything was fine, that there was no way I was going to have the baby for four or five weeks. So we planned to leave. Then I got home and at 10:30 that night my water broke, and I was air-evac'ed to Phoenix, and we had her that night."
The helicopter transport was necessary because the hospital in her small town isn't equipped to handle a premature birth, and Phoenix is a four-hour trip by car.
Meanwhile, her husband, Roger, was in Denver, having Audrey's new boat wrapped (clothing maker She Safari is Audrey's new boat-wrap sponsor) so it would be ready to debut at the Neely Henry tournament. He hopped a flight to Phoenix to be with his family.
Taylor Lynn, who at nine days old weighs 5 pounds, 3 ounces, soon will be introduced to the tournament trail. Audrey said she plans to fish in the April 23-25 WBT event on the Ouachita River. She said her husband and sister will accompany her to the site, West Monroe, La., to care for Taylor Lynn while Mom competes.
McQueen has been a regular on the WBT circuit for two seasons. After a strong season last year, she finished second at the 2008 Academy Sports + Outdoors WBT Championship, taking home a boat as her prize.
She'll be able to follow this week's WBT tournament online at Bassmaster.com, which will provide live, streaming video of the Thursday-Saturday weigh-ins at 2:30 p.m. CT, as well as photo galleries and daily standings.
About BASS
For more than 40 years, BASS has served as the authority on bass fishing. With its considerable multi-media platforms and expansive tournament trail, BASS is guided by its mission to serve all fishing fans. Through its industry-leading publications Bassmaster Magazine, BASS Times and Fishing Tackle Retailer and comprehensive Web properties in ESPN360.com, ESPN's sports broadband network, Bassmaster.com, BASSInsider.com and ESPNOutdoors.com, the organization is committed to delivering content true to the lifestyle. Additionally, television programming on ESPN2 continues to provide relevant content – from tips and techniques to in-depth tournament coverage – to passionate audiences.
The organization oversees the prestigious Bassmaster tournament trail, which includes the Bassmaster Elite Series, Bassmaster Opens, Women's Bassmaster Tour and the Bassmaster Classic, the ultimate celebration of competitive fishing. Through its grassroots network, the BASS Federation Nation, BASS sanctions more than 20,000 events annually.
BASS also offers an array of services to its more than 500,000 members while spearheading progressive, positive change on issues related to conservation and water access. The organization is headquartered in Celebration, Fla.