Murray Earns First Elite Win at Toledo Bend – MANY, La. — After spending 11 seasons on the Bassmaster Elite Series without a victory, John Murray was starting to think his window of opportunity might have already closed.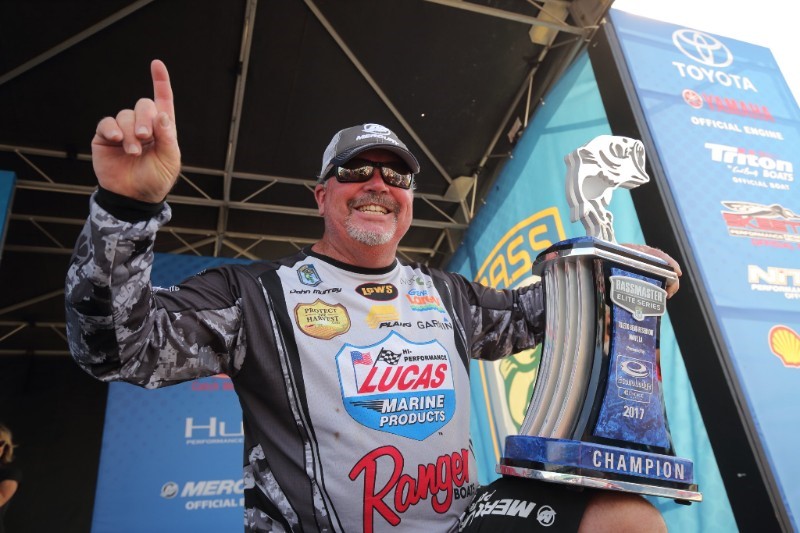 Now, he knows better.
The West Coast native was in 34th place after Friday's second round and in danger of missing the final cut. But he made an enormous recovery with 23 pounds, 7 ounces Saturday and then slammed the door with 24-15 Sunday to win the Bassmaster Elite at Toledo Bend presented by Econo Lodge.
His final four-day total was 77-10.
"I've been on the Elite Series since its inception (in 2006)," said Murray, who earned $100,000 for the victory. "All that time I've been trying to win one, and I always thought I would. But as the years went by and the competition kept getting better and better, I was starting to think maybe it wasn't going to happen.
"To finally really do it … It just feels like a dream."
Murray's week certainly started out like a dream.
He had one spot on the south end of the lake where he knew there were some big fish — and he found those fish. But when he wasn't able to put them in the boat, he decided to rely more on a spot back near the launch site at Cypress Bend Park that's been good to him through the years.
"I lost a couple of big ones the first two days that cost me a lot," said Murray, who had two wins with B.A.S.S. before the creation of the Elite Series, including a 2003 Open Championship on Toledo Bend. "The third day, I just finally decided I wasn't going south.
"I decided I was going to stay up here. I know they're big up here."
Murray's comeback really took off Saturday in a spot he said was only 200 yards from where he won the Open Championship in 2003.
He used large jerkbaits and a crankbait to target big largemouth bass that were feeding on small white bass along a ridge. He said the spot had about 4 or 5 feet of water on top and some type of old housing foundation that was holding fish.
"I think they were feeding on little baby white bass," Murray said. "I think the white bass were in there feeding on shad, and then the bigger bass were feeding on the white bass.
"Throwing a shad-sized bait worked earlier in the day. But once the sun got up, you needed something bigger. So, I went to the bigger sized jerkbait."
Murray's lures of choice were two 30-year-old Smithwick Rogues, a Strike King 5XD crankbait and a Lucky Craft 128 Pointer jerkbait that was given to him by his friend and fellow Elite Series angler, Skeet Reese.
On Sunday, it was the crankbait that worked best.
"I didn't even have the 5XD crankbait out of my rod box," Murray said. "I just saw the conditions and picked it out. It was sort of neat that they just switched.
"I think maybe the wind all night kind of brought them out a little deeper."
Murray had two giants in his bag Sunday that weighed 7-9 and 7-7. He thought for a while the larger of the two might be a catfish until he finally got a look at it.
"It never jumped," he said. "It just fought so hard and pulled my rod straight down. There's big stumps here, and you can't just let them go down or you'll never get them out. I knew I had to pull hard.
"Once it came up and jumped, I knew it really was a bass."
Oklahoma angler Jason Christie finished second with 72-11 and earned $2,500 dollars as the winner of the Phoenix Boats Big Bass award. He had the largest fish of the tournament with a 9-12 on Day 1.
The amazing comeback by Murray overshadowed a great week by Elite Series rookie Jamie Hartman. After leading the event on Days 2 and 3, Hartman caught another solid bag of 15-8 on Day 4. But that left him in third place with a total of 72-7.
Many Elite Series pros who didn't make Sunday's final cut gathered around the weigh-in stand to watch Murray finally raise the trophy.
"With all of the stars that have won tournaments here, for me to come back and win again here is a dream come true," Murray said. "I keep expecting my alarm to go off in a minute and wake me up."
DeFoe was awarded $1,000 for the leading the Toyota Bassmaster Angler of the Year points race at the end of the event.
Christie also won the Toyota Bonus Bucks Award of $3,000 for being the highest-placing eligible entrant in the program. The second-highest-placing eligible entrant, Jamie Hartman, received $2,000.
Christie also earned the Power-Pole Captain's Cash Award of $1,000 for being the highest-placing angler who is registered and eligible and uses a client-approved product on his boat.
Christie earned $500 as the recipient of the Livingston Lures Day 2 Leader Award.
The event is hosted by Toledo Bend Lake Country.
2017 Bassmaster Elite Series Platinum Sponsor: Toyota
2017 Bassmaster Elite Series Premier Sponsors: Power-Pole, Yamaha, Berkley, Huk, Triton Boats, Shell Rotella, Humminbird, Nitro Boats, Mercury, Skeeter Boats, Minn Kota
2017 Bassmaster Elite Series Supporting Sponsors: Phoenix Boats, T-H Marine, Shimano, Advance Auto Parts, Livingston Lures, Academy Sports + Outdoors, Carhartt, Dick Cepek Tires & Wheels, Lowrance
About B.A.S.S.
B.A.S.S. is the worldwide authority on bass fishing and keeper of the culture of the sport, providing cutting edge content on bass fishing whenever, wherever and however bass fishing fans want to use it. Headquartered in Birmingham, Ala., the 500,000-member organization's fully integrated media platforms include the industry's leading magazines (Bassmaster and B.A.S.S. Times), website (Bassmaster.com), television show (The Bassmasters on ESPN2), social media programs and events. For more than 45 years, B.A.S.S. has been dedicated to access, conservation and youth fishing.
The Bassmaster Tournament Trail includes the most prestigious events at each level of competition, including the Bassmaster Elite Series, Bass Pro Shops Bassmaster Open Series, Academy Sports + Outdoors B.A.S.S. Nation presented by Magellan, Carhartt Bassmaster College Series presented by Bass Pro Shops, Costa Bassmaster High School Series presented by DICK'S Sporting Goods, Toyota Bonus Bucks Bassmaster Team Championship and the ultimate celebration of competitive fishing, the GEICO Bassmaster Classic presented by DICK'S Sporting Goods.