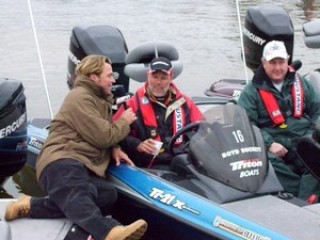 The big buzz word among classic anglers this morning of day 2 was "cloud cover".
While most anglers said they didn't feel like it would be much of a factor, just the simple fact that everyone was talking about it means that it is on their minds.
Timmy Horton, "I don't think the cloud cover is going to affect my pattern all that much and won't be a factor for me today I don't think".
With severe weather being in the forecast for day 3 of this event, those I spoke with used phrases such as, "swinging for the fences" when asked what their game plan would be for today.
The overall mood of the anglers this morning was one of anticipation to what this day would be and for some it was just another day at the office. Kelly Jordon sat comfortably in his boat retying today's assortment of lures, while the likes of Rick Clunn sat silently behind the wheel with his jacket hood pulled down in what seemed like deep meditation in this his 31st Bass Master Classic appearance.
Only time will tell what we'll see in today's weigh in, scheduled for 3:30pm CST and what effects, if any, today's cloud cover had on fishing.