This year at the 2013 Bassmaster Classic we picked up some new products to try out and do some reviews on. Here is a quick preview of these fantastic new products and a sampling of what we are looking forward to. After we get to put these items to the test, I'll be back with my thoughts on how well they performed as advertised.
Reel Girls Fish
ReelGirlsFish.net
This is an apparel line that was designed by LBAA (Lady Bass Anglers Association) touring professional angler, Denise Sustaita. She came up with the idea for the line when she got sick and tired of not being able to find apparel for women who fish bass tournaments. She said she was fed up with having to shop in the men's department for shirts that didn't fit and caps she didn't like. She decided the only way to get the products she wanted was to create them. Reel Girls Fish put an end to all the searching. Now, women bass anglers can find shirts and other apparel that are designed to fit women. My wife has been wearing the Reel Girls Fish products since the classic and so far has been extremely impressed and is looking forward to putting them to the test in an actual tournament environment.
Gamma Line
www.Blackknightindustries.com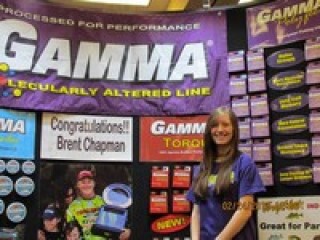 We will be testing three different Gamma Lines. The Gamma Torque Braid is a 16 carrier braid that is extremely limp and manageable, even in the higher pound test strengths. I picked up the 60 pound Gamma Torque Hollow core, which if it performs as I think, will remove the question of knot failure when using leaders with braid. I also expect it to remove any problems you might have had with the knot for a line to braid connection flowing through Micro Guides. I was also intrigued with the Gamma Edge Fluorocarbon, both as a leader and for crankbait applications, so I had to grab some. I'm looking forward to the possibilities.
I will also be testing the Molecularly Altered Copolymer lines in which a proprietary process is used to induce long chain molecules into many molecular bonds. This new bonding process makes the line much stronger, along with making it easier to cast. This is a test I am truly going to enjoy! I have heard nothing but great things about these lines, and I am anxious to see if these lines will be the only ones on my reels in the near future.
Having met Dale (owner of Gamma Line) and his daughter at the classic and spending some time with them I can tell you that they are very passionate about providing the best product and customer service available.
Next up is Kistler Rods. Since I'm on the National Pro Staff for Kistler Rods, I have been anxiously awaiting my chance to get my hands on the new KLX Rod. (www.Kistlerrods.com)
KLX stands for "Kistler Loomis Experience". These Blanks were created from a collaborative effort between Trey Kistler and Gary Loomis' North Fork Composites. The KLX is a first, in that it's the first truly technique specific American made rod blank designed by Gary Loomis. These blanks are truly specific in design, as opposed to the cookie cutter imports that use only a few blank designs and then try to change the action with guide placement.
This is a quote from the Kistler website, "The handcrafted KLX is anchored by a 42.7 Million Modulus blank with fiberglass scrim designed and built by Gary Loomis in his North Fork Composites LLC plant. Gary's goal was a light and nimble blank that retains the sensitivity that sets NFC blanks apart from a crowded field of cookie cutter imports."
Trey Kistler said, "The sensitivity of the KLX is achieved by combining Gary's revolutionary blank, the most advanced components and Kistler's technique-specific build configurations. We have a rod that brings much of the experience of our $500 plus custom Z-Bones to a price that anyone can afford, and it's made in America."
This next product is one I am very excited about.
Magnetic Marine Products (magneticmarineproducts.com)
The Gear Grabber is a product I know many of us can use. You start with a galvanized plate that is mounted to your rod lockers, and then add the Gear Grabber Strips, which are built with extremely strong rare earth magnets. The owner is quoted as saying, "Our philosophy here at Magnetic Marine Products is to go beyond the norm and create new, innovative products with fishermen and their families in mind."
Magnetic Marine Products was founded in the winter of 2010 by John Gesik, inventor of the original Gear Grabber line of boat accessories. The launch of this new company originated in Grand Rapids, Michigan, an area rich with some of the best fishing in the Midwest. It was right here that the idea of the lure and tool holder boat accessory was stumbled upon when John left his magnetic name badge in his boat before a fishing trip. John always had lures and gear lying all over his boat. By chance, the magnetic name badge found its way to a hook and there it was!
HydroWave KVD Model and Upgrade Module
(www.hydrowave.com)
HydroWave was the brainchild of successful Dallas businessman and competitive bass angler Gene Eisenmann. He introduced the concept to Robert Palmer, an engineer with extensive background in electronic product and development, and owner of RHP Industries located in Aubrey, Texas. Together they designed and built the HydroWave. Eisenmann contacted Jeff Kriet, a longtime fishing friend with electronics savvy, and Kevin VanDam, who has a known history of how fish react to sound, to team up on the venture.
While the original version of the Hydrowave works great, it still requires users to experiment to find the best loops and combinations for every set of bass fishing conditions. With a constant request for simplification, Hydrowave came up with the KVD model and Expansion module for older units. This new unit features the sounds and loops that KVD relies on every time he is on the water.
These are the new sounds and why Kevin chose them.
Power Pattern – I use this loop when I am covering a lot of water. The key to this loop is the delays in activity. These delays allow for a less saturating sound as you cover water yet it still creates a natural feeding activity with precise timing. Best results are when using a spinner bait, crank bait, top water or swimming a jig down a bank or isolated cover.
Feeding Frenzy – This loop should be used when the fish are in an aggressive mood and a feeding mood but not actively schooling. This is the loop that truly "Ignites a Feeding Frenzy". It takes fish that are "on the edge" of feeding and gets them fired up and looking for bait. This loop is also very disruptive to normal baitfish activity. It takes a calm group of bait and makes them nervous because of the feeding activity and sounds. Get the bait nervous and the fish start feeding.
Delayed Schooling – This loop was designed to imitate intermittent schooling activity. Schools that I like to call a "Wolf Pack" that is constantly on the move. This loop is best used at times when you see a large or small school briefly pop up and then go down. It is also very effective in situations when single bass are sporadically feeding on top.
Finesse – This loop is used as simply as it sounds. I use it when fish are not actively feeding due to moon phase, time of day, barometric pressure or other influences. This loop mimics the current environment that the fish are in. Sounds in this loop are active bait swimming in a natural environment. A lot of time I notice this pattern getting schools of bait balled up or swimming beside my boat. Typically, when using this pattern I am fishing with a spinning rod casting or vertically fishing a drop shot or shaky head worm. Remember, when using sound, sometimes "Less is More".
Ultra Finesse – This sound loop was developed for the toughest of finesse conditions a fisherman can face. Postfrontal, high skies with no wind are a perfect example. These are times that I want sound introduced, but I want it in the subtlest way possible. These are situations where the phrase "Less is More" is true.
Schooling Blitz – This sound loop is absolutely the most aggressive sounds available. This loop is the actual sound of schooling fish. These sounds include both surface and subsurface schooling. I use this loop simply when "The fish are Schooling". These sounds will keep the schools fired up and closer to your boat. This loop eliminates the need for "Chasing the School" and hoping to get within casting distance.
Remember, "Mimic Your Environment" and don't be afraid to "Change it Up", Kevin VanDam.
I think this addition to the HydroWave will make the units much more user friendly, and I can't wait to get home and start a little experimenting with it myself!
I am very excited to start experimenting and putting these new found items to the test. I am demanding of my equipment and expect the best. I'll be publishing follow up articles here on Ultimate Bass with my results and findings. I hope you'll stay tuned for what I'm sure will be some great additions to everyone's fishing arsenal. If you have any particular questions you would like answered in the reviews, please message me on the Ultimate Bass Forum, my user name is –Shawn-.
See you on the water!
Shawn Grant
Kistler
Elite Tungsten
Pro Reel