With a field of 51 of the world's most accomplished anglers, the Feb. 20-22 Bassmaster Classic out of Shreveport-Bossier City, La., comes with only one guarantee: three days of drama as the competitors battle for the coveted Classic crown and $500,000 first-place prize.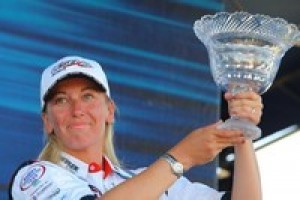 Fifty-One Competitors, 51 Potential Victors: The 2009 Bassmaster Classic Shapes Up as Anyone's Game
With a field of 51 of the world's most accomplished anglers, the Feb. 20-22 Bassmaster Classic out of Shreveport-Bossier City, La., comes with only one guarantee: three days of drama as the competitors battle for the coveted Classic crown and $500,000 first-place prize.
The competition water is the Red River, known as a challenging fishery full of bass. Who will catch them three days in a row, amass the most weight and go home as victor of the 39th Classic?
The fact is any one of the 51 anglers is more than capable of winning. That's one reason the Classic is the most talked-about, most anticipated competition in the sport.
The field is diverse: 50 men, 1 woman; six past Classic champions and 12 Classic rookies; nine with at least one Toyota Tundra Bassmaster Angler of the Year title to their names; and representatives of 23 states, with Alabama topping the list with nine anglers (see list below).
Each competitor possesses fishing skills and accomplishments that make him or her unique, yet several stand out for possessing traits no other 2009 Classic contender can claim. Among the unique qualifiers are:
— Kim Bain-Moore of Alabaster, Ala.: As the first woman to compete in a Bassmaster Classic, Bain-Moore will command the spotlight. She qualified by winning the 2008 Toyota Tundra Women's Bassmaster Tour Angler of the Year title. She also won the 2008 WBT Championship presented by Academy Sports + Outdoors.
— Alton Jones of Waco, Texas: He's the defending champion, but he said he's not feeling the pressure to repeat — at least not yet.
"There's always pressure associated with the Classic," said Jones, a Bassmaster Elite Series pro. "Having won it, I understand better than ever the importance of winning a Bassmaster Classic. It heightens your drive to achieve something as lofty as a Classic win. It's every fisherman's dream.
"Back-to-backs is an extremely difficult feat. It is kind of cool to be the only one in the field who has the chance to do that this year."
— Rick Clunn of Ava, Mo., on three counts: He'll be fishing a record 32nd Classic, he holds four Classic titles and he has achieved back-to-back Classic wins (1976, 1977). On all three points, Clunn, an Elite Series pro, stands far above any other angler in BASS history.
— Kevin VanDam of Kalamazoo, Mich., on two counts: He is the reigning Toyota Tundra Bassmaster AOY and holds a total of four AOY titles, more than any other Classic angler. VanDam, with two Classic victories (2001 and 2005) and Clunn are the only 2009 crown contenders with multiple Classic wins to their names.
— Timmy Horton of Muscle Shoals, Ala.: Along with five other contenders, he will compete in his 10th Classic, but along with VanDam, the consistent Elite pro is the one of two anglers to string 10 Classic appearances in a row.
"It's the biggest event of the year. You really start getting ramped up as it starts getting close, and it's close now. I'm looking forward to the Red River. It's a place I've struggled on in the past, but I've had some really good practice days, so hopefully I can put it together this year."
— Greg Hackney of Gonzales, La.: Another Elite pro, he's the only home-state competitor.
"I don't think that really gives me an advantage, but I am a river fisherman — I grew up fishing the Arkansas and Mississippi rivers," Hackney said. "The Red River is my favorite body of water in the state of Louisiana. It changes daily, there's plenty of water for anglers to fish and there are a lot of variables.
"For many reasons, the Classic is different than any other tournament. It should be the easiest tournament to win. It only lasts for three days, there are only 51 competitors, but for some reason it's the hardest."
The public is invited to daily launches presented by the Red River Waterway Commission at 7:15 a.m. CT, Feb. 20-22, at the Red River South Marina, Highway 71 South in Bossier City. Also free and open to the public, the daily weigh-ins will be at the CenturyTel Center, 2000 CenturyTel Center Drive, Bossier City. Doors will open each day at 3:30 p.m.
About BASS For 40 years, BASS has served as the authority on bass fishing. With its considerable multi-media platforms and expansive tournament trail, BASS is guided by its mission to serve all fishing fans. Through its industry-leading publications Bassmaster Magazine, BASS Times and Fishing Tackle Retailer and comprehensive Web properties in Bassmaster.com and ESPNOutdoors.com, the organization is committed to delivering content true to the lifestyle. Additionally, television programming on ESPN2 continues to provide relevant content – from tips and techniques to in-depth tournament coverage – to passionate audiences.
The organization oversees the prestigious Bassmaster tournament trail, which includes the Bassmaster Elite Series, Bassmaster Opens, Women's Bassmaster Tour and the Bassmaster Classic, the ultimate celebration of competitive fishing. Through its grassroots network, the BASS Federation Nation, BASS sanctions more than 20,000 events annually.
BASS also offers an array of services to its more than 500,000 members while spearheading progressive, positive change on issues related to conservation and water access. The organization is headquartered in Celebration, Fla.
Media contact: Doug Grassian, (407) 566-2216 or doug.grassian@espn.com
2009 Bassmaster Classic Field (alphabetical by state)
Alabama
Kim Bain-Moore, Alabaster
Boyd Duckett, Demopolis
Matt Herren, Trussville
Timmy Horton, Muscle Shoals
Randy Howell, Springville
Steve Kennedy, Auburn
Kotaro Kiriyama, Moody
Aaron Martens, Leeds
Greg Pugh, Cullman
Arizona
Dean Rojas, Lake Havasu City
Arkansas
Mark Davis, Mount Ida
Mike McClelland, Bella Vista
Scott Rook, Little Rock
California
Ish Monroe, Hughson
Skeet Reese, Auburn
Florida
Shaw Grigsby, Gainesville
Bryan Hudgins, Orange Park
Bobby Lane, Lakeland
Bernie Schultz, Gainesville
Terry Scroggins, San Mateo
Peter Thliveros, St. Augustine
Georgia
Waine Pittman, Villa Rica
Iowa
Terry Fitzpatrick, Waukon
Kansas
Brent Chapman, Lake Quivira
Kentucky
Kevin Wirth, Crestwood
Louisiana
Greg Hackney, Gonzales
Michigan
Kevin VanDam, Kalamazoo
Missouri
Rick Clunn, Ava
Brian Snowden, Reeds Spring
Montana
Jay Evans, Corvallis
New Hampshire
Scott Parker, Londonderry
New Jersey
Michael Iaconelli, Runnemede
North Carolina
Dustin Wilks, Rocky Mount
Dave Wolak, Wake Forest
Ohio
Bill Lowen, North Bend
Oklahoma
Edwin Evers, Talala
Kenyon Hill, Norman
Fred Roumbanis, Bixby
Pennsylvania
Ken Baumgardner, Monongahela
South Carolina
Casey Ashley, Donalds
Davy Hite, Ninety Six
South Dakota
Jami Fralick, Martin
Texas
Michael Burns, Plano
Todd Faircloth, Jasper
Alton Jones, Waco
Kelly Jordon, Mineola
Gary Klein, Weatherford
Bryan Schmidt, Olney
Byron Velvick, Del Rio
Virginia
Rick Morris, Lake Gaston