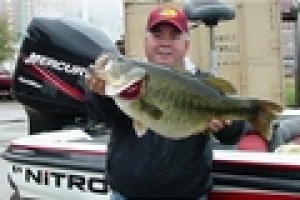 Red River's Largest Bass to date…"NITRO"
Red River's Record Bass, NITRO, is Coming Back to Bass Pro Shops, Bossier City. To be released into the Bass Pro Shops' 13,000 gallon Aquarium.
When: Thursday, March 30, 2006 at 6:00 pm
Russ McVey, Bass Pro Staffer & Record Holder will be on hand to answer any questions.
NITRO is now on the Louisiana State Record Books as follows:
• The largest Large-Mouth Bass Caught on the Red River
• The 21st largest Large-Mouth Bass Caught in Louisiana.
For more information go to our website at www.basspro.com., or call David Gray-Promotions (318) 549-8800.