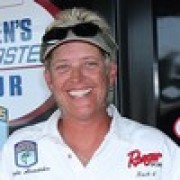 LITTLE ROCK, Ark. — Two big bass taken on back-to-back casts into Lake Maumelle grass sealed the deal Saturday for Paula Alexander in the Academy Sports + Outdoors Women's Bassmaster Tour event on Lake Maumelle.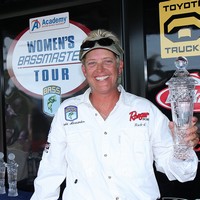 LITTLE ROCK, Ark. — Two big bass taken on back-to-back casts into Lake Maumelle grass sealed the deal Saturday for Paula Alexander in the Academy Sports + Outdoors Women's Bassmaster Tour event on Lake Maumelle.
The Lincolnton, Ga., pro took her first BASS career win with 27 pounds, 5 ounces, to take the top prize of a $55,000 Skeeter/Yamaha boat rig. Starting the final day in fourth place, she easily cleared her nearest challenger, Secret York of Benton, Ky., by 5 pounds, 11 ounces.
York, the Day One leader, finished in second with 21-10, and Lisa Sternard of Clarksville, Tenn., finished third with 21-8.
Alexander's winning pattern was hitting grass in 4 to 6 feet of water on secondary points. She said she had three primary spots.
As she weighed in her winning limit, Alexander told three stories of good luck. Two involved encounters with skunks on the highway, nose-jarring incidents she took as good omens. The other story was about stumbling onto one shopworn pack of smoke-purple worms she then used to take many of her keepers.
But on Saturday, the purple worm bite fell off, so she turned to a finesse creature bait in a bullfrog finish, a lure one of her co-anglers had used. It was about noontime, and she had just two small fish in her livewell.
"On the first cast, I threw to about 4 feet of water, felt it hit, and knew it was a toad," she said. "It came off in the net — I guess I didn't stick it good. My hands were shaking so hard I could hardly tie on again. I threw again to the same spot, and the rod doubled-up again. I know everyone on that 9,000-acre lake heard me yelling after that."
Another cast completed her five-fish limit and she was done for the day.
York worked shallow grass early each day, then moved to an underwater ledge as the sun rose higher. She repeated those two patterns all week.
"I really thought there would be bigger fish deep today," she said. "Yesterday, about every third cast I could catch a fish on my crankbait. I even had several chasing the crankbait at the same time. They just shut down today — there was a full moon last night and I think they fed all last night."
The results of the Maumelle event tightened up the points spread in the Toyota Tundra Women's Bassmaster Tour Angler of the Year race. Pam Martin-Wells of Bainbridge, Ga., still leads, but only by 9 points over Juanita Robinson of Highlands, Texas. Martin-Wells finished eighth in Arkansas to Robinson's fourth-place finish.
The winner of the season-long points competition will get a Toyota Tundra and an entry into the 2010 Bassmaster Classic, Feb. 19-21 on Lay Lake out of Birmingham, Ala.
"I'm eyeing the championship and working hard again this year to get there," Robinson said. "I'm not letting myself hope for AOY and the Classic as much as I did last year. It really dug into me last year and I had a rough winter with medical issues after it was all over. This season, I just decided I'd come out and do the best I can and hopefully it will pay off."
In 2008, Robinson lost out on the AOY title by 60 points. Kim Bain-Moore of Alabaster, Ala., won and became the first woman to compete in a Bassmaster Classic.
In the co-angler division at the Maumelle tournament, Martha Goodfellow of Simpsonville, S.C., won the first-place prize of a $25,000 Triton/Mercury boat rig. Goodfellow, who is fishing the WBT for the first time this season, had 17 pounds, 11 ounces through three days.
A lifelong angler, Goodfellow said she has fished all over the country, and competes in local team tournaments with her husband. Maumelle, though, was a challenge.
"I don't have much experience with lakes with weeds and ledges, so I learned a lot this week," she said.
Day Two leader Diane Smith of Fayetteville, Ga., finished in second place with 15-4. A 2006 WBT co-angler champion, Bonnie Ward of Snohomish, Wash., was third with 11-13.
Next up for the WBT will be Sept. 10-12 at Old Hickory Lake out of Hendersonville, Tenn. After that event, the top 20 pros and top 20 co-anglers in the standings will advance to the Academy Sports + Outdoors WBT Championship, Oct. 16-18 on the Red River out of Shreveport-Bossier City, La. The one Classic qualifier will emerge from the championship.
Photo galleries and results of the three-day Lake Maumelle tournament are available at Bassmaster.com.
Local sponsors of the event included the Little Rock Convention & Visitors Bureau and the Heart of Arkansas .
Sponsors of the Women's Bassmaster Tour Title Sponsor: Academy Sports + Outdoors. Official Sponsors: Toyota Trucks, Berkley, BOOYAH Baits, Mercury, OPTIMA Batteries, Skeeter Boats and Yamaha Marine. Supporting Sponsors: Ramada, Triton Boats, LaserLure and Legend Boats.
2009 WBT #3 – Little Rock, AR 6/4-6/6 Lake Maumelle, Little Rock AR. (BOATER) Standings Day 3
Angler Hometown No./lbs-oz Pts Total $$$
1. Paula Alexander Lincolnton, GA 12 27-05 305 $55,610.00
Day 1: 5 10-00 Day 2: 2 05-09 Day 3: 5 11-12
2. Secret York Benton, KY 15 21-10 300 $3,355.00
Day 1: 5 10-09 Day 2: 5 05-13 Day 3: 5 05-04
3. Lisa Sternard Clarksville, TN 14 21-08 290 $2,745.00
Day 1: 5 08-01 Day 2: 5 06-12 Day 3: 4 06-11
4. Juanita Robinson Highlands, TX 13 21-05 285 $2,440.00
Day 1: 5 07-14 Day 2: 5 08-00 Day 3: 3 05-07
5. Lucy Mize Ben Lomond, AR 15 20-11 280 $2,135.00
Day 1: 5 07-08 Day 2: 5 06-07 Day 3: 5 06-12
6. Dianna Clark Bumpus Mills, TN 14 19-08 276 $1,830.00
Day 1: 5 06-09 Day 2: 4 05-15 Day 3: 5 07-00
7. Janet Parker Little Elm, TX 15 19-05 272 $1,525.00
Day 1: 5 07-05 Day 2: 5 06-01 Day 3: 5 05-15
8. Pam Martin-Wells Bainbridge, GA 14 19-01 268 $1,220.00
Day 1: 5 06-13 Day 2: 5 07-12 Day 3: 4 04-08
9. Marsha Gipson Bigelow, AR 11 18-06 269 $1,068.00
Day 1: 5 06-13 Day 2: 5 10-01 Day 3: 1 01-08
10. Judy Wong Many, LA 13 18-01 260 $915.00
Day 1: 5 04-08 Day 2: 5 09-09 Day 3: 3 04-00
2009 WBT # 3 – Little Rock, AR – WBT #3 – Little Rock, AR Boater Points After Arkansas River, Little Rock, Ark. Ending 06-06-2009, Day 3
——————————————-
Place Name St Pts
——————————————-
1 Pam Martin-Wells Ga. 850
2 Juanita Robinson Texas 841
3 Laura Gober Ga. 807
4 Tammy Richardson Ark. 785
5 Janet Parker Texas 784
6 Sheri Glasgow Okla. 782
7 Debra Petrowski Texas 776
8 Dianna Clark Tenn. 755
9 Paula Alexander Ga. 739
10 Lisa Johnson Ala. 732
For more information, contact BASS Communications at (407) 566-2208 or visit http://www.Bassmaster.com. Visit http://www.ESPNOutdoorsMedia.com for BASS and ESPN Outdoors latest releases, schedules and other news, plus photos and more.
About BASS For more than 40 years, BASS has served as the authority on bass fishing. With its considerable multimedia platforms and expansive tournament trail, BASS is guided by its mission to serve all fishing fans. Through its industry-leading publications Bassmaster Magazine, BASS Times and Fishing Tackle Retailer and comprehensive Web properties in ESPN360.com, ESPN's broadband sports network, Bassmaster.com, BASSInsider.com and ESPNOutdoors.com, the organization is committed to delivering content true to the lifestyle. Additionally, television programming on ESPN2 continues to provide relevant content – from tips and techniques to in-depth tournament coverage – to passionate audiences.
The organization oversees the prestigious Bassmaster tournament trail, which includes the Bassmaster Elite Series, Bassmaster Opens, Academy Sports + Outdoors Women's Bassmaster Tour and the ultimate celebration of competitive fishing, the Bassmaster Classic. Through its grassroots network, the BASS Federation Nation, BASS annually sanctions more than 20,000 events.
BASS also offers an array of services to its more than 500,000 members while spearheading progressive, positive change on issues related to conservation and water access. The organization is headquartered in Celebration, Fla.