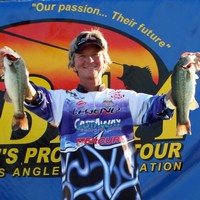 Legendary angler Pam Martin-Wells will get to add another entry into her life resume as she earned a hard earned, run away victory in the inaugural Lady Bass Anglers Association (LBAA) 2011 Lady Bass Classic on Kentucky Lake. Martin-Wells of Bainbridge, Georgia brought four fish weighing in at 8.81 pounds to bring her three-day winning total to 25.60 pounds.
The key to victory for Martin-Wells was persistence and keeping' the faith. "I just kept believing in the spot and I was in and believing in myself — sticking to it, and just casting and casting and casting," she stated. This victory enabled Martin-Wells to win the Triple Crown in the first full year of the LBAA. To win the "Triple Crown" and angler must win a regular season tournament, Angler of the Year (AOY), and the Classic. Martin-Wells won at Guntersville and Old Hickory wrapped up the AOY title on the very last day at Old Hickory, and completed the Triple Crown with the win today.
"I caught some on a spook and a Texas rigged NetBait Trick Worm," Martin-Wells continued. "I was fishing the trick worm really, really slow. There were so many shad back in the area I was fishing I felt there was no need in throwing a fast bait. I could not see them hitting a Rat L Trap or a spinnerbait when there were 9 million shad there."
Second place went to Cheryl Bowden of Plano, Texas whose three-day total was 15.69-pounds. Emily Shaffer of Mt. Juliet, Tennessee finished third with 15.36. Pelham, Alabama's Kim Bain-Moore was fourth with 15.29-pounds. Cheryl Lalumandier of Harvester, Missouri was fifth with 14.93-pounds. Sixth was Susan Gregory from Kiln, Mississippi with 13.18 and Gregory was followed in seventh by Sylva, North Carolina's Heather Broom with 12.82. Positions eight through ten belong to Jennifer Stelly of Sulpher, Louisiana with 12.35, Emory, Texas's Debbie Kemp with 11.84, and Jenny Nevans with 10.18-pounds.
Snohomish, Washington's Bonnie Ward claimed a come from behind victory on the Co-angler side. Ward's three-day total was 13.07-pounds of bass. "It's a huge honor to win this," a smiling Ward commented after the event. "I'm exceptionally excited about this."
Ward used a wacky rigged Senko during the first two days of fishing but due to the wind on Kentucky Lake today, that did not work for her on the final day of competition. "I went to a ten inch Yamamoto worm and I could not catch keepers with that. My pro partner was catching keepers and she shared her successful lures with me," Ward said.
Local favorite Brandi Frasier from Hanson, Kentucky came in a close second with 12.24-pounds and Gallatin, Tennessee's Regina Pierpaoli with 9.88 followed Frasier in third. In fourth was Lebanon, Tennessee's Dianna Montgomery with 9.28 and fifth went to Beaumont, Texas' Renee Key-Johnston with 8.93.
Positions six through ten on the Co-angler side were: 6) Kim Giddens/Alpine, Alabama 7.83, 7) Diane Smith/Fayetteville, Georgia 7.60, 8) Vicki Henderson/Ashdown, Arkansas 4.83, 9) Diana Uebelhack/Mt. Vernon, Indiana 4.72, and 10) Sarah Davis/Livingston, Louisiana 2.98.
Cheryl Bowden caught big bass for the LBAA 2011 Lady Bass Classic on the Pro side and it weighed 5.02-pounds. Brandi Frasier caught big bass on the co-angler side and Frasier's bass weighed 3.25-pounds.
Host lodging and tournament headquarters for the LBAA Lady Bass Classic is Moors Resort and Marina 570 Moors Road Gilbertsville, Kentucky 42044. 1-270-362-8361 or 1-800-626-5472. http://www.moorsresort.com
Fisherman's Headquarters at 2754 US Highway provided 641 N. in Benton, Kentucky 42025 weigh-in facilities for the LBAA 2011 Lady Bass Classic. 1.270-527-5938. http://www.fishermans-headquarters.com/
Sponsors of the 2011 Lady Bass Anglers Association Tour are: Wilkins Brothers Outdoors, Pro Tournament Scales, Reaction Innovations, Todali Tackle, Dawn Outdoors, Red Dirt Bait Company, FINS Superlines, Rayjus Outdoors, Jennifer Sexton/Ameriprises Financial Consulting Services, Bass Kandi, Kick `n Bass, Castaway Graphite Rods, Backwater Custom Baits, Vickie's Threadworks, Necessity Jigs, West Kentucky LED, SureLife, Arkansas Tournament Fishing (ATF), Fleck's Hand Poured Baits, Ray Barga and Associates Inc., Nite Owl Productions, and River Runner Baits.
Also sponsoring the LBAA Lady Bass Classic is Bass Kandi, Santone Lures, The Sportsmen's Edge, Moors Resort & Marina, Fish Guardian, Fisherman's Headquarters, and Kentucky Lake/Marshall County Tourism (www.kentuckylake.org).
The LBAA 2011 Contingency Programs are Phoenix First Flight, Skeeter Real Money, the Legend Advantage Program, BassCat Quest, and Triton Gold. For more information on the LBAA contact co-founder Cheryl Bowden @ 1-214-738-7518, co-founder Secret York @ 1-270-748-9041, or media specialist Larry Morris @ 1-540-239-7902. The LBAA has a presence on the World Wide Web, on Facebook, and at http://www.ladybassanglers.com/