Megabass, makers of Japan Premium Quality products,has announced several new products that will be showcased at ICAST. I got a sneak preview of two that should be real game changers in the bass fishing industry. A crankbait with an adjustable bill allowing you to change presentations between casts, and a squarebill jerkbait that will change the way we bass fish with ripbaits.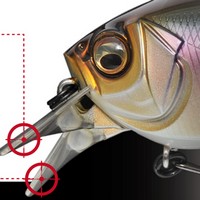 The KNUCKLE60 was developed in pursuit of the ultimate adjustable lure, and is built to exhibit increased effectiveness across a wider range of situations. The KNUCKLE60 incorporates Megabass' unique FX System, utilizing a transformable square-bill lip that can be user-adjusted to target specific depths, in addition to tucking into the body during casts to increase aerodynamics and distance. The rugged bill is anchored by the 'knuckle' mechanism, which firmly holds the bill in each user-adjusted position, thus attaining ultimate stability while in forward motion. Designed to maximize the effectiveness of underwater deflections, the adjustable lip is exceedingly durable, producing an alluring fluttering motion when coming into contact with structure. No matter what speed you retrieve KNUCKLE60, it will reliably produce alluring vibrations and movement. Unlike many other shallow-cranks, which primarily target stationary fish, KNUCKLE60 also goes after the monsters swimming around the mid range. The KNUCKLE60 is a competition crank-bait built to win.
Also being introduced is the square lip model of the immensely successful ONETEN series. By changing the original oval bill to a reinforced square lip, the lure 'bites' into the water more effectively, making the darting and sliding motions from power jerking sharper. The strong vibrations emitted by this movement are great at reaching wandering bass and turning finicky fish into feeders. It makes fast, high-tempo fishing possible. The square lip scatters the flow of water along the belly and tail, suppressing overly wild movements. Primarily designed for shallow water applications, the ONETEN SQUARE BILL also is great for inlets, backwater areas, and targeting river bass.