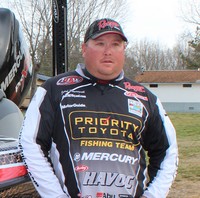 San Antonio, Tex. – Livingston Lures has added two premier FLW Tour anglers to the Livingston Lures pro angler team. Both Jacob Powroznik, who currently sits in the fifth spot in the FLW Angler of the Year Race and Stetson Blaylock, who currently holds down the 19th spot in FLW AOY race are the new additions. With the two new anglers the Livingston Pro Angler Team now has a total of seven national tour anglers.
"Adding Jacob Powroznik to our pro angler team will assist us in reaching a broader demographic. With Jacob's runner-up in the 2012 FLW AOY standings, and his continued tournament success, he has proven he's a angler on the verge of superstar status within the sport," stated Fred Battah CEO of Livingston Lures.
Powroznik stated, "I've seen Livingston all over the place for the last year, and that shows commitment to the sport. It also shows consistency and that impressed me. When I finally got a chance to try a few of their lures and see the fish react to the sound and vibration technology in action, I was sold and wanted to be a part of the rise of Livingston Lures."
Blaylock was introduced to Livingston Lures and their technology by a fellow angler. He explained, "I was fishing with a college angler that was introduced to Livingston Lures on the BASS tournament trail when I heard a noise coming from his bait. I asked him about it, he told me all about Livingston Lures. I cut it off his rod and played with it for the rest of the day. I was impressed with what I saw, and heard, and when the opportunity came along to be a part of their team I jumped at it."
Battah stated, "Stetson was the youngest angler to ever win an FLW Tour event, and we know he'll lead us to the future generation of our sport. We believe that his tournament history shows consistency and excellence, two things we believe in strongly. Stetson is a very welcome addition to our team."
About Livingston Lures: Livingston Lures is a division of parent company SPFM L.P., a San Antonio, Texas-based consumer products distributor with global presence and a 27-year track record of success.
Livingston Lures, a Supporting Sponsor of the 2013 Bassmaster Tournament Trail, is present at all events within all Bassmaster circuits: Bassmaster Elite Series, Bass Pro Shops Bassmaster Opens, Cabela's B.A.S.S. Nation, and the Carhartt Bassmaster College Series. For more information about Livingston Lures please visit LivingstonLures.com.
For more information about Jacob Powroznik please visit JacobPowroznik.com.
For more information about Stetson Blaylock please visit StetsonBlaylockInc.com
Media Contact
Tom Leogrande
True Image Promotions
415-755-8463