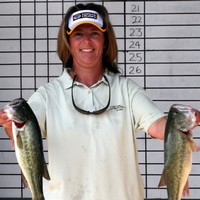 90 degree temperatures and ever-changing condtions on Arkansas's Lake Dardanelle kept the fish count down, but as the old tournament adage goes – someone will always find them — again proved to be true on the opening day of the Lady Bass Anglers Association (LBAA) Lake Dardanelle 2010 Kickoff Tournament.
The Okie from Muskogee, Sheri Glasgow, got-r-done Thursday bringing four fish to the scales to become the leader of this elite field of lady bass anglers with 10.64 pounds of bass that she coaxed from Dardanelle's murky waters.
"It was hotter than Cooter Brown out there," Glasgow quipped as she broke out into laughter. "I thought I was in Louisana today!" "Every day here on Dardanelle has been a little different story," Glasgow continued. "It's been tough to stay up with them (bass). I've got three areas and the majority of my fish came from one of those areas. I'm hoping that the conditions will go back to what we had on the last practice day that I can go to those other two areas and catch `em."
"All three of my areas are holding fish and are relatively big areas, but the water rose today and pushed stained in and the cleaner water I had is pretty much diminished," Glasgow said.
The ProAm event concludes today (09/17) and Glasgow is both confident and uneasy. "I really think I can do (on Friday) what I did today," she confidently stated.
Glasgow is uneasy because of the quality of fish that Lake Dardanelle holds and the quality of the anglers that are behind her in the standings breathing down her neck. "Absolutely no way am I comfortable. For one I know what kind of fish live in Dardanelle, and second, any one of these girls can catch me in a heartbeat. So, I'm going at it like it's a brand new tournament and everybody is setting at zero," Glasgow concluded.
Second place is being held down by veteran angler Emily Shaffer of Mt. Juliet, Tennessee who brought 8.96 pounds of bass to the scales. Rounding out the top ten are: 3) Debbie Warner/Murray, KY. – 7.02 pouunds; 4) Judy Wong, Many, LA. – 6.35 pounds; 5) Laura Moore/Brookeland, TX. – 6.26 pounds; 6) Pam Martin-Wells/Bainbridge, GA. – 5.00 pounds; 7) Cheryl Buelow/Pollock, LA. – 4.89 pounds; 8) Rhonda Usery/Beebe, AR. – 3.32 pounds; 9) Cheryl Bowden/Plano, TX. – 3.06 pounds; 10) Keri Schieber/Cumming, GA. – 2.79 pounds.
Pam Martin-Wells has big bass honors for day one with a 3.42 pound bass.
Bonnie Ward leads the co-angler division at Lake Dardanelle with 4.82 pounds of bass.
A cold front will have swept through the area overnight and day two will have sunny skies with a high temperature of 91 degrees.
Day three (09/18) of the LBAA Lake Dardanelle 2010 Kickoff Tournament will be the LBAA Main Street Mission Team Charity Fishing Tournament with the event proceeds going to support The Main Street Mission in Russellville. Teams may register between 4PM and 6PM at the LBAA weigh-in or between 5AM and 7AM the morning of the event. The Main Street Mission has been feeding the hungry in Pope, Yell, and Johnson Counties in Arkansas for over 15 years. The day three charity event will pay a guaranteed $1,000 first place prize. Also there will be $200 in bonus prize money for both the highest finishing team composed that has one female member, and the team that has a child under 12 as a member of that team.
The field of competitors will launch at "safe light" and weigh-ins will start at 3PM at the Lake Dardanelle State Park Pavilion for both day two of the ProAm event and the day three charity tournament.
Host lodging for the LBAA Lake Dardanelle 2010 Kickoff Tournament will be the Best Western Inn located at 2326 N. Arkansas Avenue, Russellville, Arkansas 72802-2218. Phone 1-479-967-1000/Fax 1-479-967-3586.
Partners with the Lady Bass Anglers Association for the Lake Dardanelle Kickoff Tournament are: Russellville Tourism and Visitor's Center, Sure Life, Kick'n Bass, Rayjus, Dawn Outdoors, Castaway Graphite Rods, West Kentucky LED, Nite Owl Media Productions, River Runner Baits, Moors Resort and Marina, Ray Barga and Associates Inc., Sportsmen's Edge Triton Boat dealership, SHE Outdoor Apparel, Todali Lures, Necessity Jigs, Triton Boats, Dave Stewart's Big Bass Guide Service, North Texas Marine Triton dealership, Legend Boats, Bass Cat Boats, Phoenix Boats, Skeeter Boats, Arkansas Tournament Fishing, and Fleck's Hand Poured Baits.
For more information on the Lady Bass Anglers Association contact: Co-founder Cheryl Bowden @ 1-214-738-7518; Co-founder Secret York @ 1-270-748-9041; or Media Specialist Larry Morris @ 1-540-239-7902.