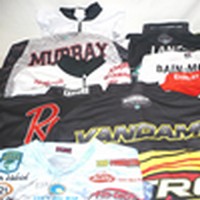 A fundraising drive began on Sunday, January 23 to benefit St. Jude Children's Research Hospital. Named "Jerseys for St. Jude", the effort includes a series of tournament jersey auctions in addition to a drawing for free fishing gear and memorabilia.
Autographed jerseys of many touring pros, including Kevin Van Dam, Mike Iaconelli, Clark Wendlandt, Dave Lefebre, Byron Velvick, Kim Bain-Moore and others, will be auctioned on EBay. A gift certificate for a free Gemini tournament jersey is also among one of the listings. Four to six jerseys will be auctioned each week through mid-February. Prospective bidders should search key words "Jerseys for St. Jude" and/or the name of the angler they are interested in bidding on to locate the appropriate auction.
For those anglers wishing to contribute to St. Jude outside of the EBay auctions, donations will be accepted through: www.mystjudeevent.org/jersy4jude. For every $25 donated, one entry will be placed under the donor's name for a drawing featuring several prizes:
1- Dobyns Savvy Series Rod. 1- American Rodsmiths Rod (donated by Legend Boats). 3- All-Terrain Tackle packs. Several autographed photos / trading card sets of various anglers. Discount coupons for Dobyns Rods.
Several other prizes will be added in the upcoming weeks. The actual date of the drawing will be announced in mid-February.
For auction and donation information in addition to photos of donated prizes and jerseys, visit the Jerseys for St. Jude blog: http://jerseysforstjude.blogspot.com/.
The auctions are anticipated to last until mid-February. On deck for this week are anglers Clark Wendlandt, John Murray, Mike Iaconelli, and Chris Lane.
The mission of St. Jude is to advance cures, and means of prevention, for pediatric catastrophic diseases through research and treatment. Don't miss this opportunity to make a difference in the life of a child today!
For pros, companies, or other individuals wanting to contribute to this rewarding effort, contact: jerseysforstjude@hotmail.com.