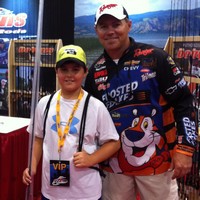 Before each weigh-in, of the Forrest Wood Cup, the Hot Springs Ark. Convention Center was open to the public and full of vendors, sponsor booths, and Professional Anglers meandering though it all. The anglers were extremely friendly, answering questions, signing shirts and hats, and occasionally speaking to the crowds about fishing techniques during mini shows inside the big show. All in all the atmosphere was enough to get you pumped about bass fishing and ready to spend your money on some of the latest and greatest things the vendors had to offer. I stopped in at many booths but can only highlight a few, lets shoot for one from each basic category.
Ranger Boats were everywhere! Being it's the Forest Wood Cup I guess we can expect that there would be a few Ranger Boats there. They did a very good job of representing many different models from the top of the line bass boat, to a fish and ski, to walleye boats. Stratos Boats was there with their new boat line up. It was very interesting to see a boat that looked identical to a Champion Boat, yet have a Stratos decal on the side. To me, they didn't change the boat at all? However, I haven't been in a Champion Boat in quite some time. Skeet Reese said, "She drives and rides just like a Champion, everything you come to expect from the Champion line you can expect from the new Stratos. I love mine!"
The folks at Power Pole were very excited about the new Blade Signature Series line up. I was able to talk extensively with Robert Shamblin, Director of Marketing for Power-Pole, about the shallow water anchor system; and some of the features we will see in the near future. Robert seemed most excited about the new brush-less motor, saying that it has taken months of technology to develop, and it fits well with the new C-Monster control system. C-Monster is amazing; Robert explained a few of the many things that it can do. C-monster is going to allow the user to set many different controls on the system, from how fast the poles raise and lower, to include a ramp up or ramp down system. Think of ramp down like this, when you tell your Power-Pole to deploy the ramp down will send the pole quickly to the water and just before it hits the water it will slow down to prevent a noisy entry. This can be set for going up as well, allowing the poles to slow down right before they hit the stowed position. C-Monster will also allow you to set bottom detection. Depending on the bottom, hard, medium or soft, the poles can be set so they automatically stop when they hit the desired resistance. There is a lot more to the C-Monster Control that is very exciting. They expect a release date at the first of the year for the new Blade Signature Series. As a final note, Power-Pole, is giving a free remote with each purchase until the current remote models are out of stock.
There were several rod manufacturers at the expo, while I did not recognize a couple, many of the popular brands were there. As I rounded one of the corner booths, I could see Richard and Gary Dobyns. I got to speak with both Richard and Gary quite a bit and pick their brains some about the new Micro Guided Savvy Series rods. Both said that getting the Micro Guide line was a necessity for their customers. I've spoke with Gary about this subject on a couple different occasions. Gary said, "Our customers want micro guided rods and we have the ability to supply them. So very soon we will have them available." According to Richard, they may be available as soon as next month. Let's talk about being at the right place at the right time. Dave Lefebre was standing at the Dobyns Rod booth and wanted to give a rod away. He told us, "The next young man or lady that walks up here is getting a rod." A young man, about 10 years old, walked up asking him for an autograph. Dave immediately told him, "go get your father". You can only imagine what his father was thinking as he came back to the booth. I know mine would have been thinking, what did he do now! However, he was pleasantly surprised when Dave handed his son the rod. Congratulations young Mr. York.
Bass fishing weights made out of rocks, actually limestone. This is a great idea. These weights naturally camouflage on a rocky bottom. During a demonstration, they proved to be very resistant to hanging ups, however, if you break one off it's safe for the environment. Everything about them seemed great and definitely could have its applications. However, I found them to be pretty light-weight. It takes a pretty large sinker to reach a 3/8 or 1/2 size. These may be fantastic for drop shot or Carolina rigs though.
Browning has a complete set of eye wear out. The line is very stylish with sizes and shapes to fit anyone's needs. All Browning sunglasses are polarized, and they come in amber or smoke lenses. I picked up a set of the Browning 'fit over' lenses. With two different sizes in the fit over line up, I chose the smaller more narrow of the two. The days of huge glasses are gone. Browning found a way that allows your prescription glasses to fit inside these sunglasses, and they are comfortable to wear while not looking like Blue Blockers! I'm looking forward to actually being able to see while I tie my knots now.
With many fishing guides having booths at the show, one in particular caught my eye. Fishing Trails with Jimmy Mason. Jimmy specializes in something I love, smallmouth fishing. With over 60 smallmouth over 6 pounds to his credit, I am really looking forward to finding the time to have Jimmy teach me a thing or two. Fishing Trails out of Florence Alabama, fishes Pickwick, Wheeler, and Wilson Lakes. After talking with Jimmy some, it was obvious that a guided trip with him will not only be great fishing but will be a great learning experience too. Jimmy has a vast knowledge of fishing current and swimbaits, both something I could use a little help with.
There were nearly a hundred different booths at the show, ranging from tackle dealers, tackle manufacturers to Kellogg's. Several games for the children, pitching contests for adults, and more products than you could take in during a day. The expo closed at 5 PM, and everyone headed over to the arena for the weigh-in. FLW put on a great show and Hank Parker interviewed each angler after they weighed in. When FLW comes to your local area, I highly recommend you visit this event and bring the young anglers in your family as they will have many opportunities to meet the Professional Anglers of our sport.
Get the Net it's a Hawg
Mike Cork
Ultimate Bass
Ultimate Bass
Legend Boats
Mercury Marine
Dobyn's Rods