The simple act of switching to a crankbait is all it took for Emily Shaffer to take the Day One lead by almost 2 pounds…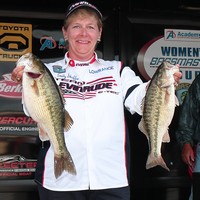 GADSDEN, Ala. — The simple act of switching to a crankbait is all it took for Emily Shaffer of Mount Juliet, Tenn., to take the Day One lead by almost 2 pounds Thursday in the season opener of the Academy Sports + Outdoors Women's Bassmaster Tour on Neely Henry Lake.
Shaffer's 14-pound, 8-ounce bag of spotted bass pushed her ahead of Kim Stapp of Ringgold, Ga., who weighed in 12-10 to put her in second place on the leaderboard.
"If it had not been for my partner, I would not have changed baits as quickly as I did," Shaffer said, speaking about her co-angler. "I kept seeing baitfish under me, and she started throwing a crankbait, and then she caught one. I said, 'That's it.' My gut had been telling me to throw a crankbait, but I was fighting it.
"Then I tied one on, started catching fish, and had a great day."
Stapp was just ounces ahead of Gina Jones of Alexandria, Ala., who had 12-8 in her first WBT entry.
The field squeezed up even more tightly from there. Sharing fourth place with 12-4 were Penny Berryman of Hot Springs, Ark.; Cheryl LaLumandier of St. Charles, Mo.; and defending champion Pam Martin-Wells of Bainbridge, Ga.; who won in 2008 on Neely Henry by an almost 9-pound margin.
The six led the pro field vying for a first-place prize of $1,000 cash and a Skeeter/Yamaha boat rig valued at $55,000.
To find out whether the early leaders hold on, fishing fans can go to Bassmaster.com for live, streaming video and real-time leaderboards of the Friday and Saturday weigh-ins. Also at Bassmaster.com are daily standings and photo galleries.
The start of the fourth WBT season was delayed as tournament officials held anglers back for about an hour Thursday morning until lightning, gusty winds and pelting rain subsided at about 7:30 a.m. CT.
And then the day really got tough.
Many of the pros' challenges stemmed from Neely Henry's dropping water levels and fast current. Alabama Power had drawn down the lake in anticipation of the incoming upstream feeds from heavy rains. Already at winter pool, Neely Henry suddenly was a different fishery from what the anglers saw during practice.
Shaffer, who is looking for her first BASS win, said she didn't let the water level throw her. She stuck to the area she'd planned to fish at the southern end of Neely Henry; her only adjustment was the bait.
Stapp also credited her successful day to confidence in her strategy. "I had a game plan and stuck to it," she said. "I caught nine keepers, so I was culling. The one kicker fish of about 4-8, a largemouth, bumped me up."
Foresight to develop a deep-water pattern didn't hurt either.
"I had some shallow stuff I couldn't get to because of the water level, but I also had some deep enough that the water fluctuation didn't make a difference," she said.
Kim Bain-Moore of Alabaster, Ala., fishing her first BASS event since she made history last month as the first woman to compete in a Bassmaster Classic, settled into 14th place after the first day with 9-11.
"I was really looking forward to Neely Henry," she said. "The Classic was a tremendous experience, but I'm certainly glad to be back with all my buddies on the WBT."
In the co-angler division, Donna Newberry of Van Buren, Ark., brought in 12-2 to take the lead in the contest for $500 cash and a Triton/Mercury rig valued at $25,000. Behind her were Nancy Stumpe of Palatka, Fla., with 10-14 and Lesli Lively of Grapeland, Texas, with 9-9.
Pros and co-anglers are fishing for points as well as for prizes. After the regular season's four tournaments, the top 20 pros and top 20 co-anglers in the standings will advance to the Oct. 16-18 Academy Sports + Outdoors WBT Championship on the Red River out of Shreveport-Bossier City, La. — the same venue as the 2009 Bassmaster Classic.
From the championship, one pro will emerge as the 2009 Toyota Tundra Women's Bassmaster Tour Angler of the Year and become just the second woman to qualify for a Bassmaster Classic. She'll earn a berth in the 2010 Bassmaster Classic, set for Feb. 19-21 on Lay Lake out of Birmingham, Ala.
The WBT season opener continues Friday and wraps up Saturday The pros will launch their boats at 6:30 a.m. both days at Coosa Landing, 200 Lake St. Gadsden. Weigh-ins will begin at 2:45 p.m. at Academy Sports + Outdoors, 200 Albert Rains Blvd., Gadsden.
All events at WBT tournaments are free and open to the public.
The local sponsor of the March 26-28 event in Alabama is the City of Gadsden Parks & Recreation.
Sponsors of the Women's Bassmaster Tour: Academy Sports + Outdoors, Toyota Trucks, Berkley, BOOYAH Baits, Mercury, OPTIMA Batteries, Skeeter Boats, Yamaha Marine, Ramada, Triton Boats, Legend Boats and LaserLure.
For more information, contact BASS Communications at (407) 566-2208 or visit Bassmaster.com. Visit ESPNMediaZone.com for ESPN's latest releases, schedules and other news, plus photos, video, audio clips and more.
2009 WBT #1 – Gadsden, AL 3/26-3/28 Neely Henry Lake, Gadsden AL. (BOATER) Standings Day 1
Angler Hometown No./lbs-oz Pts Total $$$
1. Emily Shaffer Mount Juliet, TN 5 14-08 305 Day 1: 5 14-08
2. Kim Stapp Ringgold, GA 5 12-10 295 Day 1: 5 12-10
3. Gina Jones Alexandria, AL 5 12-08 290 Day 1: 5 12-08
4. Penny Berryman Hot Springs, AR 5 12-04 285 Day 1: 5 12-04
4. Cheryl LaLumandier Saint Charles, MO 5 12-04 285 Day 1: 5 12-04
4. Pam Martin-Wells Bainbridge, GA 5 12-04 285 Day 1: 5 12-04
7. Laura Gober Pendergrass, GA 5 12-03 272 Day 1: 5 12-03
8. Juanita Robinson Highlands, TX 5 11-00 268 Day 1: 5 11-00
9. Lisa Johnson Centre, AL 5 10-11 264 Day 1: 5 10-11
10. Kris McClendon Spicewood, TX 4 10-06 260 Day 1: 4 10-06
11. Heather Broom Sylva, NC 5 10-02 257 Day 1: 5 10-02
11. Robinette Fox Hot Springs, AR 5 10-02 257 Day 1: 5 10-02
13. Lucy Mize Ben Lomond, AR 5 09-11 251 Day 1: 5 09-11
14. Kim Bain-Moore Alabaster, AL 5 09-11 248 Day 1: 5 09-11
15. Pam Bolton Jonesboro, AR 5 09-10 245 Day 1: 5 09-10
15. Mary Croft Bedford, VA 5 09-10 245 Day 1: 5 09-10
15. Melinda Mize Ben Lomond, AR 5 09-10 245 Day 1: 5 09-10
18. Tami Kashiwabara Shelby JAPAN 5 09-08 239 Day 1: 5 09-08
19. Cheryl Bowden Plano, TX 5 08-12 237 Day 1: 5 08-12
20. Sheri Glasgow Muskogee, OK 5 08-11 235 Day 1: 5 08-11
About BASS
For more than 40 years, BASS has served as the authority on bass fishing. With its considerable multimedia platforms and expansive tournament trail, BASS is guided by its mission to serve all fishing fans. Through its industry-leading publications Bassmaster Magazine, BASS Times and Fishing Tackle Retailer and comprehensive Web properties in ESPN360.com, ESPN's broadband sports network, Bassmaster.com, BASSInsider.com and ESPNOutdoors.com, the organization is committed to delivering content true to the lifestyle. Additionally, television programming on ESPN2 continues to provide relevant content – from tips and techniques to in-depth tournament coverage – to passionate audiences.
The organization oversees the prestigious Bassmaster tournament trail, which includes the Bassmaster Elite Series, Bassmaster Opens, Women's Bassmaster Tour and the Bassmaster Classic, the ultimate celebration of competitive fishing. Through its grassroots network, the BASS Federation Nation, BASS sanctions more than 20,000 events annually.
BASS also offers an array of services to its more than 500,000 members while spearheading progressive, positive change on issues related to conservation and water access. The organization is headquartered in Celebration, Fla.