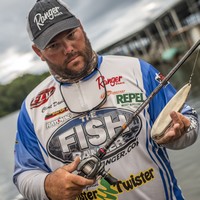 Thomasville, GA – FLW Tour Pro Clent Davis has joined the Nichols Lures Pro Team for the 2015 season. Davis will be fishing and promoting Nichols Lures' hand crafted baits including the popular Nichols spinnerbaits which are widely popular on both major tours.
It was the Nichols Ben Parker Magnum Spoon that made the biggest splash in 2014. At the Kentucky Lake FLW Tour event Davis, along with several pros, used the Nichols Lures Ben Parker Magnum Spoon in route to top ten finishes. Davis said, "The Ben Parker Magnum Spoon is an incredible bait. It's been in my tackle box for a long time, but until Kentucky Lake I was able to keep it a secret. It's worth letting the secret out to finish in 5th, and take home $19,000. I did it mostly that one bait alone. It's big and it takes some mental adjusting for some anglers, but at the right place, at the right time, no other bait can compete with it."
Brooks Woodward, the owner operator at Nichols Lures, looks forward to a long and bright future with Davis. "Clent is a great angler and he loves our products. Nichols Lures is happy to help him in any way we can. Clent fishes with an open mind, which is why he was so willing to tie on an eight-inch spoon for a huge tournament like the FLW Tour event on Kentucky Lake. He's also serious about his tackle and understands the difference in quality between what we create here and what the mass producing manufacturers out there put on tackle store shelves."
Along with the Magnum Spoon, Davis has been using the Nichols Spinnerbaits for as long as he can remember. Davis said, "The Nichols spinnerbaits, the Elite lo-pro double willow, the Hammered Shattered Glass or the Pulsators have been the only spinnerbaits I have used for years. The quality and workmanship Brooks puts into every bait is unmatched."
One of Davis' new favorite baits is the Nichols Bulldozer. "The Bulldozer is something I've been getting familiar with for a few months now. It's a great utility bait that allows me to fish it in a number of ways. I can slow roll it with a Mister Twister Sassy Shad or Magnum Sin-Sation or I can flip it into grass with a Mister Twister Poc'It Craw. It's a mix between a jig head and a crank bait alternative. I am pretty sure I will have a Bulldozer tied on for every event in 2015."
Davis continued, "Nichols' really thinks about making better lures, not just more of the same stuff. A perfect example of that is the Toothpick Touthhead Jig. At first glance it might look like a simple swimbait head, but when you look close you'll see a hole in the lead. By inserting a toothpick into that hole you can save yourself a lot of swim baits because the swimbait won't slide down the hook and ball up. More importantly, the bait won't ball up and interfere with the hook set. It's small things like that, that really set Nichols apart from the competition and I will be proud to wear the Nichols Logo on my shirt in 2015 and promote their products."
For more information on Nichols Lures please visit the website at NicholsLures.com or find their products at fine retailers around the country.
PHOTOS CREDIT: FLW Outdoors, Garrick Dixon & FLW Outdoors, Rob Newell