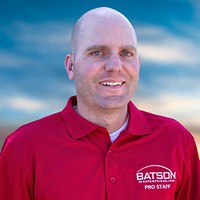 Sequim, WA – Batson Enterprises, a fishing rod blank and component innovator and supplier with several brand names under its belt: RainShadow, North Fork Composites, ALPS, ForeCast and Jaguar Design has made a key addition to its talented staff. In a bold move Batson Enterprises adds Geoff Staples, formerly from Pacific Bay International, to their team.
Being very involved in the fishing industry for over 6 years, Geoff Staples comes into an already impressive group of highly skilled and knowledgeable staff.
"I couldn't be more excited to join the Batson organization. I am looking forward to absorbing the vast array of products we offer and helping rod builders of every kind experience the high level of form, function, and quality offered by the Batson family of brands. The Batson legacy is a large one and I plan on giving a hundred and ten percent to help ensure the continued success of the organization." Says Geoff Staples. "I can't thank the folks at Batson enough for giving me a shot."
Geoff Staples' background is extensive and will add immediate value to the Batson Enterprises organization. Having worked in the product development and sales department from his previous employer and spearheading their main product lines; his experience will help in expanding Batson Enterprises' reach within the industry.
"We are excited to bring Geoff on to the Batson TEAM. I have been watching his progress within the industry and feel he will be a big part of the growth we have planned." Says Bill Batson, CEO. "Having another dedicated professional on the TEAM will help us to achieve all of our goals for the industry. We have built the finest TEAM of professional in our sector of the industry and this only enhances it."
About Batson Enterprises:
Batson Enterprises is one of the leading innovators of fishing-related products. Our diverse product portfolio is full of quality-trusted brands that are respected worldwide. Our products are distributed globally through a number of our well-recognized brands, including:
RainShadow • North Fork Composites • ALPS • ForeCast • Jaguar Design • Team Rainshadow
Contact:
Batson Enterprises, Inc
Ryan McIntosh, VP of Marketing
130 Harrison St STE 8
Sequim, WA 983802
877-875-2381
ryan@batsonenterprises.com
www.batsonenterprises.com