Bassmaster Classic 2017 Expo Day One – 2017 Bassmaster Classic Expo is being hosted at the George R. Brown Convention Center in Houston, March 24-26. There was a sneak peek preview for Bass Nation, Bass Life Members, DICK'S Scorecard members and credentialed Media members today from 10:30 until noon. Following the behind the scenes look article, click here, today everything was running like a well-oiled machine. Those privileged early entry were welcomed with not only VIP badges but first dibs on all the sales being offered.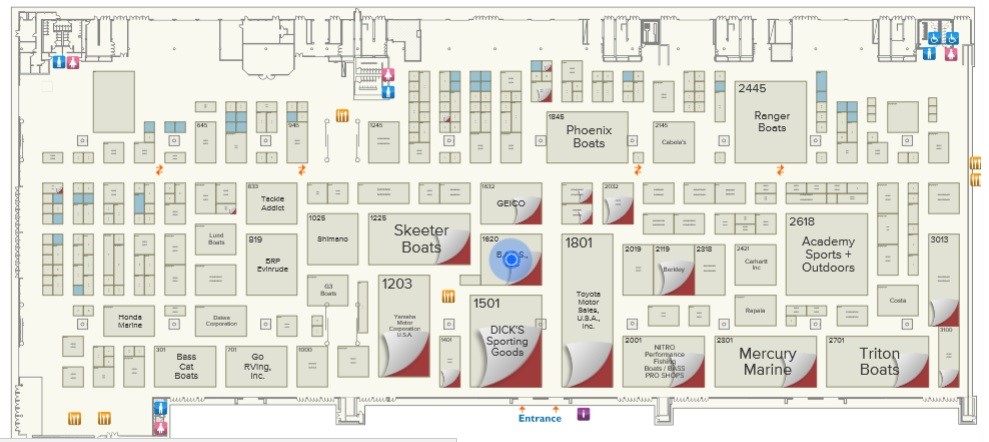 The Outdoors Expo is presented by DICK'S Sporting Goods for the ninth year. With longer hours than years past, the goal is to allow fans the opportunity to attend after each day's weigh-in. The hours of operation are 12 p.m. to 8 p.m. today "Friday", Saturday 10 a.m. to 7 p.m. and Sunday 10 a.m. to 4 p.m.
I've not found many new unknown items yet. With two more days to explore I'm sure to have a few things of interest. For now, I'm looking at creating a history time line of the creation of Impulse Rods. The Dick's own brand name line "Field & Stream" covering fishing accessories, line & apparel has some new and exciting quality items. Of course, I'm always looking for the new or at least new to me cool thing I just got to have. A couple unique things I have found so far: A line cutter worn as a ring, some interesting rod wrap grips, and of course the Expo sales.
My personal top pick today was the Mustang Deluxe auto inflate life jacket. Retailing for $249.99, it is on sale at the Academy Zone for $99.00. D said to get two and well who am I to argue!
See You on the Water!
Ronald S. "Fogy" Fogelson, MSgt USAF (Ret)
Administrator Ultimatebass.com
Impulse Fishing Rods/Okuma Reels/El Grande Lures