2017 Bassmaster Classic Final Day Intro – Heading back to the Media room there was a buzz in the air about who was going to win, who has a real shot, and who not to count out. The biggest thing talked about was the hit or miss action the anglers seemed to be having day-to-day on the water. Some catching them good on day one and just making the cut to fish day 3, others struggled day one and then just hammered the fish on day two. The final day everyone was guessing on who would come out on top.
The day kicked off with the College Classic, this was something special for me to watch because Dillon Harrell of Sam Houston State was part of the champion team. Now I'm not down playing Colby Bryant being the other half of the winning team, but I had the pleasure to meet and spend time with Dillon a while back on the Red River. He was, and I'm happy to say still, a fine young man. The short time I got to visit with Colby it seems the two are a good fit in personality and respectfulness. I will have more on this team and their win in the future. Letting them settle down a bit, I'll do a follow up interview at a later time. For now, I would like to congratulate them both on the win and big bass as well. I will share this, the 7+ lb. pig was caught on a shakyhead. Congratulations guys, I'll be watching for you both in future events.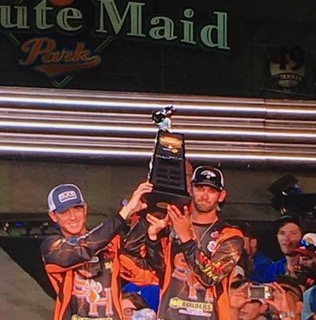 Next there was talk about Gerald Swindle and how he grew out his facial hair for breast cancer. He took on this venture after his close friend, Luke Dunkin, mother was diagnosed with breast cancer. During yesterday's day two weigh-in they spoke about the $8,000 raised so far. The host offered to add an additional $2,000.00 to shave off the "squirrel".  As you can see from the picture, the "squirrel" is gone. The event was broadcast live on his Facebook page. Over $23,000 was raised before Swindle shaved off his beard.
Finally, before the weigh-in got kicked off B.A.S.S., as well as the anglers highlighted the continuing tradition of fish care on the tournament waters. The anglers, along with Texas Wildlife and fisheries, did an outstanding job and only one fish was lost during the event, all others were returned to lake Conroe.
For more Bassmaster Classic coverage on Lake Conroe visit the Ultimate Bass News Pages
See You On the Water!
Ronald S. "Fogy" Fogelson, MSgt USAF (Ret)
Administrator Ultimatebass.com
Impulse Fishing Rods/Okuma Reels/El Grande Lures