The 2012 American Fishing Tour Angler of the Year bass tournament is finally in the books. Held on Lake Hudson in Pryor, Oklahoma, 40 anglers battled out a one day competition for a winner take all boat package. Anglers from districts across the nation converged on Lake Hudson on Friday the 19th of October for the only day of prefishing, and again on Saturday the 20th of October to put it all together and show their bass fishing skills.
I arrived at the lake at daybreak on the 19th for prefishing. With a couple of months of map study, depending on water temperature, I had already decided where I wanted to start exploring Lake Hudson. With water temperatures in the low 60's, I was pretty confident that there would be a solid shad migration. Using seasonal patterns, I headed up river looking for migrating shad. Lake Hudson doesn't have many larger arms, so I stuck with the major river channel that fills the lake from the dam of Grand Lake. My first location was about three quarters of the way up the lake at the mouth of a feeder creek that was about two miles long.
My first goal in prefishing was to find the shad. In the fall if you can find the shad migration you will find bass. This first stop produced shad, and large balls of them. With the trolling motor on high, I used reaction baits to cover water and pinpoint isolated cover and points that would be good ambush locations for feeding bass. My initial point revealed that spotted bass and white bass would chase shad up on points, and largemouth bass would reap the rewards.
Not satisfied that the majority of shad would still be at the mouths of these feeder creeks, I worked my way to the back of this arm. About halfway back it was easy to discover that the shad had not moved back past about a quarter of the way. Water temperatures were cold enough to have shad in the backs of the arms, however Oklahoma is in the grip of a drought, and there is no water flow into the lake except the Grand Lake Damn, and only when they decide to generate. Grand Lake is already down seven feet, and the generation is very limited. I have seen lack of water flow prevent a full migration to the backs of creeks on reservoirs, and I think this was a problem here.
Within the first two hours of prefishing, I was able to determine the shad pattern. Next is to determine the fastest way to catch the bass within the shad locations. Skipping from creek to creek, I used various baits to determine what would generate strikes. Par for course this time of year, basically everything worked to some degree. Typically you have to be prepared for anything during a fall bite. So now the game plan changed to how to generate the largest strikes the fastest. Unfortunately, I'm running out of time at this point, and this will have to be managed the day of the tournament.
I've used up 4 hours of my 6 hours of prefishing time. I've looked at a lot of the upper ends of the lake; however, I haven't looked any further south than where I originally started. Since I found shad and bass on my starting location, to eliminate this southern water could be a mistake. With my last two hours of prefishing, I worked south until I ran out of shad. This gave me a zone to concentrate on.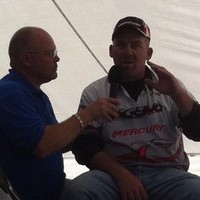 In these Angler of the Year tournaments, the "local district angler" has the advantage as this angler fishes the lake regularly and knows it. This can work for or against the local angler. A local angler that runs spots and doesn't try to pattern the fish can end up with a zero at the end of the day; however, a local angler that looks at the lake as a new one can perform well and maybe even learn himself. This particular event had three local anglers. Two from local divisions around the area and a third that had left the area recently and qualified through a different states district. I totally believe the local anglers can be beat in events like this because of home lake pressure. However, to do it, a visiting angler better have a limit and a kicker fish of four pounds or so to do it. The locals, putting on the head games, made sure to advertise that it would take 15 pounds to win. Well, of course, no one in prefishing saw anywhere near that. After my one day of prefishing, I had only caught two keepers, yet from what I had seen, I was pretty confident that twelve to thirteen pounds would be very competitive.
Blast Off:
I drew out number twelve. With my first run being about 20 miles, I was able to lap all but two boats that were headed north. During the drive to my number one spot, I'm thinking about how lucky I am to be Angler of the Year for my district for the second year in a row, how cool it is that my parents are close enough that they will be at weigh-in, and how I love the way my boat performs in the crisp, cool air. The first of the two boats continued north towards the Grand Lake Dam, and the second one peeled off pad right where I was going to start. Concerned, I dropped off pad right behind him and watched him idle past my point. This point was the same one I started on during prefishing. I knew there were bait and bass on this point, and my goal was to catch a quick fish to get the livewells wet. Bait Choices:
I've had six hours on the lake, and know the shad are plentiful in the right areas. With the water temperatures in the low 60's, a big bass bait choice for me would normally be a buzz bait. Big bass love a buzzbait and you can cover some serious water with it, during the fall covering water, hunting for the bigger bass is a great idea. However, unless very large, spotted bass have a difficult time with a buzzbait and this lake has a large population of spotted bass. I'm only going to get a few shots at boating quality fish and don't want to risk them on problems associated with a buzzbait. Zara Spooks are another great choice for larger bass. However, again, I'm cautious of missed strikes. Also, a Zara Spook is more about maintaining contact with a strike zone and not a great choice when you know you have to cover water. My personal solution was the Rico, a medium sized popper style bait. It's small enough that bass can suck it into their mouth easily ensuring a solid hook up. You can also work it quickly across the surface, spitting water similar to a buzzbait, yet you can pause it and draw vicious strikes from followers or suspended bass.
Next in the lineup I need a bait to work the subsurface water. Because it's fall, I want a bait to draw strikes in the 2-6 foot depths. The water clarity on Hudson was nearly 3 feet in places. I'm a spinnerbait fisherman, through and through; however, in water this clear I'll opt for a crankbait. Using various squarebills, I found that the sexy shad drew the most strikes. Most of these were from white bass; however, that gave me the confidence that it imitated the shad well enough and the black bass would eat it too.
Finally, I needed the mop up bait. With the clear water, a shakey head was an obvious choice for me. I could easily skip it up under floating docks to catch the wary bass that were hiding from fishing pressure or the sun.
The First Cast:
As the boat in front of me at my first location idled towards the back of the creek, I killed the big motor and coasted towards my point. With my Rico in hand, I made a long cast to an adjacent point. This was one, to clear my reel. Two, to prevent catching a bass on my first cast on my number one hole. And three, it lets me get the adrenalin out before I go to work. As I work it back to the boat quickly, I'm thinking about my father who's going to be at weigh in, how I want to put on a good show for him. The only thing I don't want to do is zero. Dad taught me a lot about the sport, from catching bass, to being a quality and fair competitor. This is the first time he's been able to watch me at a national event, and I've put a lot of pressure on myself to do well, so much so that I'm getting sick to my stomach just thinking about it.
First Bass:
The boat is in position; I can see shad flipping the surface and smaller bass chasing them towards the point. I made a cast down the left side of the point, worked it out perfectly and nothing. I make a cast down the right side of the small point, and still nothing. I'm relaxed now and know that it's just a matter of time before the spotted bass move in and I can catch a few keepers. I had approached the point in such a way that I slipped quietly past it at a good distance and didn't even need to bump the trolling motor. I lined up a cast across the point, three pops, and I get my first strike. A solid two and half pound largemouth is in the boat. Then, here come the spots. In the next five casts, I caught five spotted bass and two were solid keepers.
I've been on this spot ten minutes, and I'm thinking a limit is completely possible. That is until a local angler, not in the tournament, pulls up on the point and starts fishing with me. Once he realizes that I have an observer just sitting in the boat he asks if I'm in a tournament. "Yes sir I am", I continued and explained that I was fishing for a 50 thousand dollar bass boat. He was kind enough to say, "Well I'll give you some space. You take one side of the point, and I'll take the other, and I'll let you pick." My observer quickly hollers, "We want both!" It's funny now, but quite frustrating at the time. I shrugged and told my observer, "that's part of the game; we don't own the lake."
The shad in this particular creek arm were from the mouth into the arm about 200 yards. There are some good brush tops, laydowns, and boat docks along this stretch. So, I decided to proceed down the bank with my topwater and squarebill. To my dismay it was actually quite fruitless. I turned the boat around and worked out with my shakey head, being a little more deliberate with my presentation in those key areas. I did finish my limit by the time I got back to the original point.
I have a lot of time left, and upgrading is on my mind. Sticking with my game plan that I mapped out last night on the graph, I started skipping point to point, channel swing to channel swing, fishing larger baits trying to catch kicker fish. Slowly I'm upgrading, an ounce here, two ounces there. But I'm not making any major jumps and I figure I only have seven pounds in the livewell. It's 1:30 and we have to be checked in at 3:00. I make a move to another creek that has a deep channel swing in the back of it. This channel swing drops from 3 foot to about 14 foot in the bottom. It's also about a 15 minute idle from the main lake to get there. As I'm idling in, my observer is puzzled and asks why I've made a time consuming decision such as this. "It's the perfect storm; the suns been out for a while, and the wind is blowing just right, they'll be there"; he chuckled and commented on how often he's seen the perfect location, and it didn't quite pan out.
Once we got back there, I was correct. Bass had shad pushed up on the drop off and were destroying them. In a matter of 15 minutes, I put three bass at two pounds each in the boat, and upgraded to almost eleven pounds (remember I said it would take twelve to thirteen to win). To add to the excitement, there was a bass in the school that was the four to five pound caliber that I wanted. This bass looked like a great white shark attacking seals on a beach. Slashing at the surface, you could see his jaw. Bait fish jumping out of the white foam he created with swipes across the surface scooping shad like a pelican skimming them from the air. It was an incredible situation that we as anglers dream about. The last couple minutes of a tournament, you have a winning bass in your sites, and it's hungry. I had eight rods on deck, with eight different presentations and try as I might I couldn't get this bass to strike. As I circled the area, I found a few strategically placed stumps. Once back out in the drop off I made repeated casts to these stumps hoping to catch this larger bass off guard. Finally, as I work my Rico over the shadow of one of these stumps, this bass explodes on my Rico. Shaking, I lift slowly to make sure she's got it, only to have the bait float to the surface. That bass never showed again, and I had to leave with my 5 solid two pounders.
Back at boat check in, I'm talking with everyone and angler after angler are talking about how tough it is. Two of the local anglers only have four bass, and no one has heard from the other local. But limits are impossible according to everyone there. We get our boats loaded and our bass checked. It's an hour and fifteen minute drive back to Tera Miranda on Grand Lake where the weigh-in will be.
Because this is a winner take all tournament, the first guy to weigh in gets to sit in the boat that the eventual winner will take home. As anglers best each other they replace the previous angler. When I got to the scales, a good friend of mine from years gone by is sitting in the hot seat. He already knows I have a limit, but he didn't know for sure if his four bass would be strong enough to prevent me from taking his seat.
As I step up on the stage, I can see my parents have a great seat and are there to cheer me on. Randy, the emcee, announces that I have the first limit brought to the scale, and a full crowd gets loud for me. Randy can really put on the WWE kind of announcing, and was doing it up big time as I bumped my good friend out of the hot seat. This few minutes alone made my trip; the smiles on my parent's faces were priceless, and I was proud to have been able to put on a show for them. However, it didn't end there, turns out I sat in the hot seat for quite awhile, catching jokes, cracks, and side bets from the tournament officials the whole time.
I'm pretty good about speaking with a crowd, so Randy and I had a good time with it. Randy gave me a few seconds to talk about my sponsors; he interviewed me, asked about my strategy, and picked on me every time the next angler would come to the scales.
When I came through the staging line, there were two anglers that the tournament officials had held back and were making them wait to weigh-in. Since they didn't hold me up, I figured they had me beat, and I was set up for the show. After several anglers had passed across the stage that were unable to bump me out of the seat, it was time for me to go, or so I thought. Here comes the first angler that was sitting in the back. Randy made a huge deal on stage, but when his bass hit the scale he was short of my weight by only a couple ounces. More anglers weigh-in that have 2 or 3 fish, and finally here comes the other angler that was held in the back. As they bump his fish, they are hiding them from me. Up until this point, I could watch as anglers presented their bass to the weighmaster for measuring, so it was easy to know if they were close or not. But, Randy and the weighmaster were hiding them from me now. Time for the scale, I figure I'm toast. After a long drawn out show, he is also short of my weight.
That was it for me though. The last two anglers to weigh-in, both from local districts, did have me beat, and I finished up third place. Extremely proud of my performance and the show my parents got to see, while I still have empty pockets, this was the best weigh-in I've had in a long time. My total weight was only 10.86; second place was right at 12 pounds, and first place was only tenths of a pound ahead of second.
I executed well; I fished clean, and had a great time. I prefished a lake I've never been on before for six hours and put an extremely competitive stringer of bass together. Had I convinced that great white on the channel swing to get into the livewell, I may have had a brand new boat for sale. It didn't work out, but I have no regrets!
Get the Net it's a Hawg
Mike Cork
Ultimate Bass
Legend Boats
Mercury Marine
Dobyn's Rods
Power Pole
Elite Tungsten
Learn More about Mike Cork