While I hate the term "secrets", there are a few. This one, for some reason, has been lost in this modern era of bass fishing–The Secret Early Spring Spinnerbait.
I've talked about "short arm" spinnerbaits in the Ultimate Bass Forum before, and a few of the older guys get it. However, many of today's younger anglers still don't understand the advantages of a short arm spinnerbait. I would like to review the short-armed spinnerbaits, the colors and the techniques I've used to catch 20 plus pound limits of bass in five states in early spring. This bait and technique has worked well for me, and I hope everyone will also have success with it.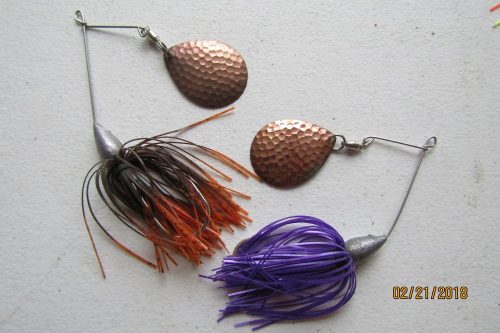 Secret Early Spring Spinnerbait – The Bait
There are two colors I prefer in the early spring. Both baits are 1/2 oz., with a #6 hammered copper Colorado blade. In truth, the purple bait can have a nickel blade, but copper is what I have available now.
The "crawdad" color spinnerbait is a killer in the early pre-spawn, especially when everyone else in casting crankbaits. Although, I seldom see this particular "crawdad" color anymore. The copper blade is the perfect addition to this bait.
The purple spinnerbait is one of those weird deals working in cold, and clearer water. While I'm not a freak about colors, this one is the real deal, and again who else is throwing a purple spinnerbait?
Secret Early Spring Spinnerbait – Where and How
As far as location, I throw early spring spinnerbaits in the same places anglers are casting crawdad crankbaits. In my part of the country, these places are mostly steeper banks. I've had a few spectacular days fishing these baits on the flats when those cold girls first move up to eat.
The short arm spinnerbait works best this time of year with a slow retrieve, basically dragging the bottom up to ten feet deep or so. I also fish these baits with a lift and drop retrieve, or slowly hopping them. The short arm spinnerbait is specifically made for the lift and drop presentation. I'll lift the bait slowly until my rod is maybe at ten o'clock, then stop it, and follow the bait back down with the rod tip. It's important to note a vertical drop, for me, isn't always the best. Having the bait fall slightly forward has worked well in the past, and I think my hook-up ratio is better than with the bait just "free-falling". I generally use 12 to 15-pound line for this technique, and a medium heavy rod to handle those 1/2 oz. baits nicely.
This is not a technique for heavy cover, although I have used it near pole timber and brush piles. Throw a short arm spinnerbait into a mess of crud, let it fall, and it will stick wherever it lands. By nature of the short arm, the hook is not protected by the spinner bait blade as well as a standard arm spinnerbait.
This is a limited technique for sure, but it has been a killer one for me enough times to always have one tied on until the water temperature gets into the lower to-mid-fifties. I've caught a 33-pound, seven bass limit with it on Truman Lake, several 24-25 pound limits of bass on Lake of the Ozarks, and twenty-plus pound bass limits on Grand Lake of the Cherokees, Bull Shoals Lake, Kentucky Lake, and Lake Dardanelle. Give it a shot-it truly has been one of my "secrets" over the years.
Living the Dream
D.W. Verts
Look for me in the Ultimate Bass forums I love to talk bass fishing!!!