I had some pretty great years in my career as a bass fisherman and a guide. I won many smaller tournaments and had some reasonable success in more prominent events. Although the "dream" was sidelined a few times, I always figured it was just part of the deal. Nothing worth having should come easy; struggles and adversity always made me a little stronger. Now it's All About the Dream Part Two!
From 1994-'96 I did well enough with my fishing I started to receive some sponsorship, a necessity for a budding pro fisherman. And I had some GREAT ones, culminating in 1998 with a local marine dealership putting me in a free boat. Totally free. They even paid for the insurance and kept me in outboard oil. I've always joked if I could have found a fuel and motel sponsorship I would still be in the game! To supplement the boat deal, I also gained sponsorship from Mercury Marine and Mercury Propeller Company, and Minn Kota trolling motors. Pretty fine times.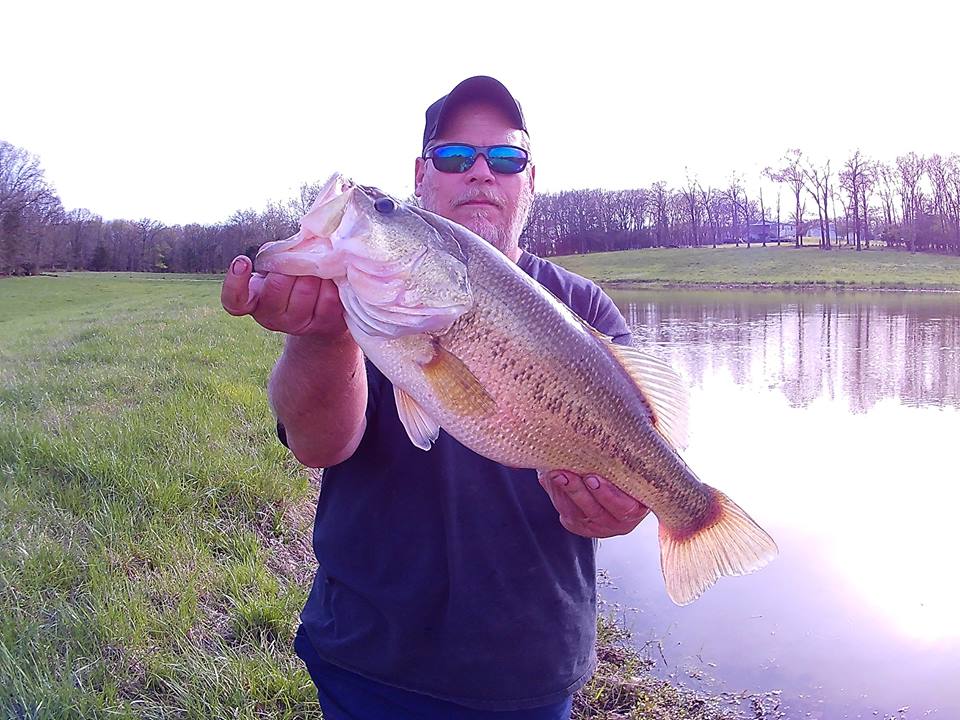 Our first child was born in October of 1998, and definitely changed our life. I was making plans to try to do some big things in the next season, and my wife was (as she ALWAYS was) fully behind me. We discussed family issues and how they could affect my career and agreed my fishing would stay on track.
I fished my first major tournament of 1999 in Arkansas. I did reasonably well and arrived home about 10:30 on a Sunday evening feeling pretty good about the check in my pocket after a rewarding weekend. I entered the living room of my home, only to find my wife crying on one couch, and my croupy infant son crying on the other one. He had been sick all weekend, and my wife was just flat wore out.
Looking back, I see this moment was the beginnings of the end. Oh, I fished plenty more, but my competitive edge diminished. I've known many great anglers who enjoyed tremendous careers while raising a family. And I've known my share of divorced fisherman, too. I decided I wasn't going to be either one. I didn't give up all at once- too many years were invested, but my fishing, time on the water, and tournament participation dwindled over the next two years. In 2000 I fished six Pro-Am tournaments with one organization, and only fished nine days all year. An angler doesn't do well in competition if he cannot put in the time on the water, and my finishes reflected it.
Then in February of 2001, we found out we were expecting once again. To top it off we found out it would be TWINS. That was it, enough was enough. At the first event in March, I had a decent limit, a nice finish, and I announced at the weigh-in that I was done. And I was.
I guess tournament bass fishing was the ONLY reason I fished because when I quit, I pretty much stopped fishing entirely. I participated in two more derbies in 2002 and 2003. Oh, I fished a few ponds over the years, but less and less every season. It culminated with me not even buying a fishing license in 2015. I never made a cast in 2015. And it bothered me.
And it almost happened the next year again. Until one day in late August, when one of my daughters said she wanted to go fishing. When a teenage daughter wants to do something with her old man, you had better do it. So, we saddled up and went to a pond just down the road, and on my very first cast, I caught a three-and-a-half pound bass. Wow. It was like a light clicked on.
And I've been fishing ever since.
Now the question is- "Can I do it again?" Can I, in my mid-fifties with all of my mid-fifty issues and pains, carry on in my quest as a tournament angler. I THINK I can. I am a better fisherman fundamentally than I was when I quit in '01. I am most definitely more mature. But it is a brave new world out there, with new names and faces and tournament circuits.
But the bass are still the same. I figured this out pretty quickly.
This is where I'm at, and the name of my blog reflects it. Even if I never fish another tournament, the DREAM remains. Trying to become a better angler is directly akin to becoming a better person, something to which I've always tried to be. We'll see.
Stay tuned,
Dale Verts
For tips, tricks, lessons and more great stories from Dale check out his blog The Dream Part II