In the last few years the bass fishing community has grown a lot. Youth angling is where bass fishing is growing the most. High school bass teams are popping up all over the United States, Canada, and even South America.
B.A.S.S. has high school teams in all 48 states. As an example of growth, the Michigan B.A.S.S. Nation has grown their youth division from just 60 anglers to having 264 anglers registered for the state tournament on Lake Hubbard. B.A.S.S. describes what they are doing as, "Helping shape the future of the sport, one high school club at a time. The high school club members enjoy camaraderie and competition, as well as education and conservation programs."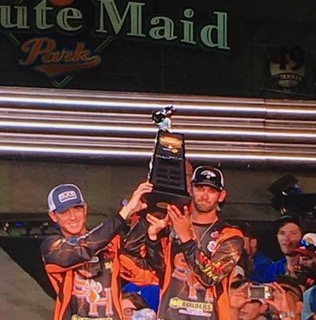 Starting a high school bass club is a great way to get our youth involved and is very easy to do.
High School Bass Teams – What's needed to start a club
According to B.A.S.S. the minimums to start a club are:
1. A desire and commitment to encouraging youth fishing.
2. A minimum of two (2) interested students grades 9-12,
3. A club advisor.
Once established, a B.A.S.S. high school club needs to begin holding regular meetings and activities. Clubs should acquire guest speakers for meetings to help educate the club members. Topics for guest speakers should include everything from conservation to bass fishing techniques. Clubs should also schedule competitions and team tournaments. Club advisors should set up community service and conservation projects to help get the students involved in improving the local fisheries.
High School Bass Teams – Tournaments
Bass tournaments must be fished from a boat. Boats must meet state requirements along with tournament director rules and standards. Typically, boats are difficult for our youth to obtain for a tournament. Places to look are neighbors, family members and friends. Some high school clubs obtain the support of local bass clubs to assist with supplying boats. It's helpful to obtain the local clubs schedules and de-conflict youth events and their dates. Boaters, normally called boat captains, are responsible for driving the youth anglers to fishing locations on the lake during the tournament hours.
For more rules please visit:
https://www.bassmaster.com/sites/default/files/attachments/2016/01/2016_hs_rules.pdf
High School Bass Teams – Funding
As a high school club grows (which it will undoubtedly will) young anglers will need funds to help pay for jerseys and tournament expenses. There are a lot of ways to obtain funding; some include local sponsors, raffles, or fundraisers like car washes.
High School Bass Teams – Opportunities
There are so many opportunities for youth anglers in bass fishing. These opportunities expand as a member of a high school bass team.
Many tackle and bass fishing related companies support youth angling because they see it as an investment in future anglers. Most support will be in deep discounts on products which can help tremendously when youth anglers are just starting out. An example of team benefits is the Berkley and Gemini2 Sports program. Members of the Berkley High School Fishing Club, save over $60 on Gemini2 Sports team jerseys.
https://g2gemini.com/ps/berkley-hs/
Finding these discounts is a matter of digging and asking. Being creative in offering advertisement opportunities to companies can equate to large benefits for a youth club.
High School Bass Teams – Skills
High school bass team members will learn many real-world skills. Personally, I have learned many non-fishing related skills in my few years on a bass team. For example, tournament bass fishing is a business. Knowing how to talk to company owners, professional anglers, and store owners is a very important skill, best learned through experience. In talking with these people I've learned what's important to them as far as advertising coverage, what they expect from a staff member, and how to present myself professionally to the public.
If you have a desire to be a tournament angler, start a club and see where it leads you!
Beau Turnblom