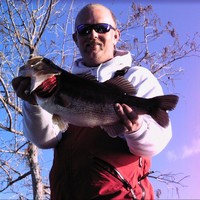 Preparing to go fishing on the moon is exactly how a felt in the weeks leading up to our first Tournament of the year, which was held at Black Bayou reservoir in Hosston, Louisiana. This was going to be a completely new experience for me. In my 30 years of bass fishing, I had never even seen a cypress tree lake except in a photo. So to say I was at a loss as to where to start is an understatement.
I started my preparation about a month in advance of ever seeing the lake. Traditionally the very first thing I would do to prepare for a new lake is order all the maps I can get my hands on. This was the first stumbling block. There are zero maps available for Black Bayou. This was almost a moment of panic, because you see, I am an absolute map hound and will spend countless hours poring over all available maps for a body of water looking for subtle structure that a lot of anglers might miss. In the past this approach has put me way ahead in a tourney field before I ever got on the water. Now that I have overcame the panic, I decide that Satellite maps are going to have to be the maps that I use. That was stumbling block number two. The satellite pictures had been taken while a bank of clouds were passing over the lake so I could only see half of the lake clearly. However I was able to see that the Creek channel was also the boat lane and that it did make a few turns in the main part of the lake as well as had some visible places to start looking for fish.
Now it was time for Step 2, Internet research. I knew this was going to go a little smoother, because Ultimate Bass is absolutely the best site on the web when it comes to Louisiana fishing Info. I did a Search on Black Bayou Hosston fishing reports and from this I could see a common theme developing.
It looked like the common wining pattern on that lake was Flipping Jigs and soft plastics in dark colors, mostly black and blue. I also learned that this lake was a sea of grass with very little open water except around the cypress trees. The next thing I learned was that this lake is full of Chain Pickerel and that if you try to fish traps or spinnerbaits in the grass you need to be prepared to lose quite a few to the toothy critters. I sent a few messages and made a few phone calls to my friends on Ultimate Bass to see if they could tell me anything specific as to hazards or patterns to look for. This is where I gained a ton of knowledge and though I was still going to the moon, I felt a little better about my trip.
The night before I hit the Lake to prefish I readied my tackle. I had a 3/8 oz Karu football head jig in Purple Haze rigged on a 7'3″ MH Kistler ZBone with 25lb Lake fork trophy lures Flourohybrid Pro line. A LFT Hyperfreak in blue bruiser rigged on a 7'3″ MH Kistler Micromag with braid and 1/2 oz Eco Pro tungsten weight and a Trokar 5/0 flipping hook. My wife was fishing an El Grande Gila Monster in the El Salto Bruise color on a Kistler Micromag with braid.
Now the day has arrived!! I finally get to see the lake! Feeling fairly good about all I have learned I leave the ramp and run the boat row all the way up into the bayou so I would have it marked on my GPS. At first I was taking in the beauty of the water and then the thought hit me. There are ten thousand trees on this lake how will I ever narrow down a pattern? I tell myself to take a few deep breaths and decide that the only way I am going to get anywhere is put the trolling motor down and start fishing and cover water. The first difference in cover I see is laydowns versus live trees. After 5 minutes of pitching my wife has a bite and misses it on the Gila Monster and I spun the boat around and pitched the jig into the laydown, felt the little tick as it fell, set the hook and put the first fish in the boat. It was a nice little 2.5 lb chunk. We fished our way down the lake and she sets the hook on another nice little 2lb chunk. This time it was off a standing tree in 4 ft of water. These two fish had one thing in common, they were near the main channel. We make a short move to some duck blinds with scattered single trees around them. Picked up a couple more nice little chunks all in 4 foot and all had floating vegetation around the tree, laydown or duck blind. I think I am starting to put together a pattern. As we are fishing along I notice a Cypress tree that looks a little rattier than the rest and troll over and make a pitch with the jig. I feel the tap as it is falling and set the hook. WHOA!! this is a better fish!! After some heavy pressure I was able to pull her out of the hole in the grass around the edge of the tree and realize this is a NICE fish. Tab put down her rod and lipped the fish before she could make another run. Funny how you can have mixed emotions, my first thought was man this is a nice fish! Followed by….. Dang!! I really needed that fish in the tourney tomorrow!! We put her on the scale and it said just a little over five pounds? NO WAY! So I zero the scale and this time it says a little over 8 1/2, zeroed one more time and it said 7.44? So I decided to take a few measurements, she was 23 inches long and 19 inches in girth! Took a few pictures and turned her loose. We made another little move and were able to duplicate the pattern on a couple more little chunks. So now I am feeling fairly good about my pattern. We made the run to the launch and spent a little time visiting with Mike and Laurie, Wayne and Jon and Fogy and Damon while the sun went down.
Tourney Day is finally here!! It was a COLD! 19-20 degrees at blast off and I was definitely having thoughts of being in a warm bed!! The early morning bite was nonexistent for us, with only a swing and a miss to show for our first 3 hours of fishing. I am thinking "no problem our bite will get better as it warms up". WRONGGGG!! We finished the day with only one more bite and no fish to take to weigh in. At weigh in we found out the bite was tough for everyone and there were no limits weighed. I guess that's why they call it fishing and not catching!
Even though the tournament went bad for us, I still feel like a learned a ton. All thanks to some great friends and adopted family I have made through the Ultimate Bass Forums! The main thing I learned through this experience is that I love fishing Cypress tree lakes and can't wait for my next trip to the moon!!
See you on the water!!! Shawn