I must admit that I was not an early adopter of the shakey head technique. Shakey head fishing seemed slow, boring and uninteresting. I just didn't think it would catch any more fish than a Texas rig would; I could have never been more wrong! Catching bass on a shakey head is just as exciting. Once I started using the shakey head, I quickly realized that I was missing out on an outstanding technique that can be dynamite during many situations. The shakey head is not just another technique in my tackle box; it's a staple, and my go-to method in many instances. I always have one rigged on the deck and ready to go!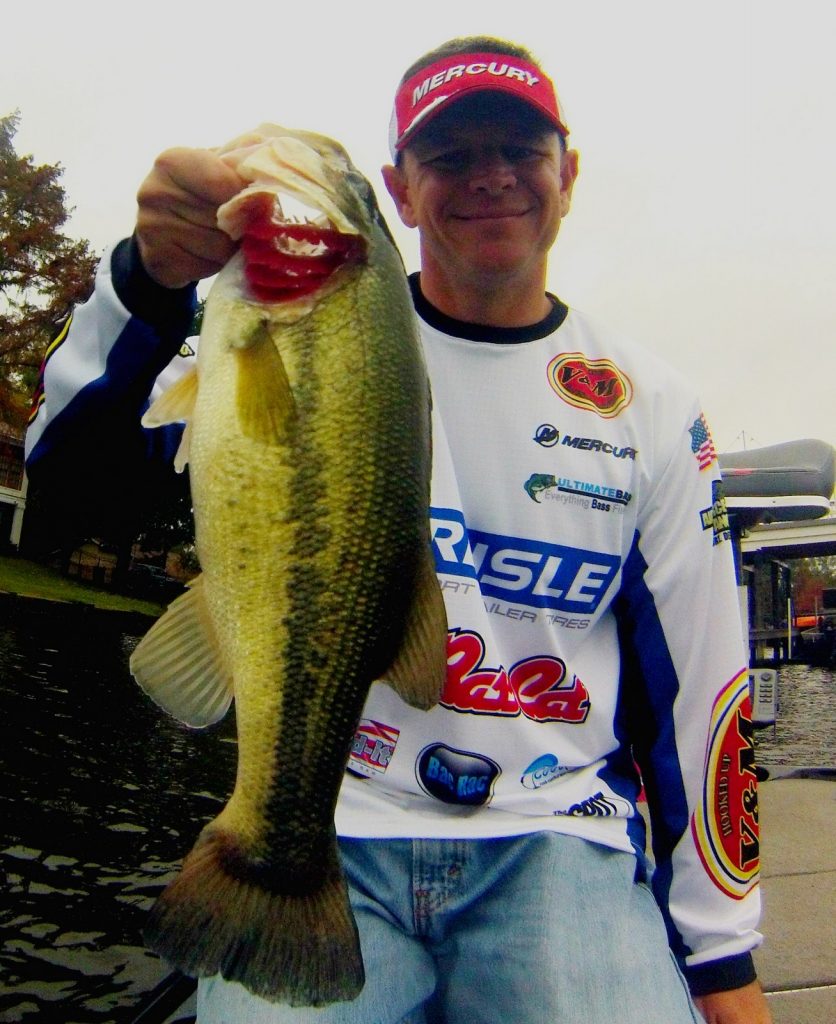 The shakey head really shines and is at its best under tough fishing conditions when the fish are in a negative feeding mood. I believe it works so well during these conditions because of its natural looking appearance and smaller profile. To the bass, it looks like a creature (shad, worm, etc) with its nose down feeding on the bottom of the lake.
During tough fishing conditions, I always feel confident that I can throw a shakey head and still put a few fish in the boat. I have finished well during several tough tournaments using a shakey head when other anglers struggled to put together a limit. However, the shakey head is not just for catching bass during tough fishing conditions.
The shakey head is more versatile than many people believe. You can fish it fast or slow, you can drag it like a Texas rig, or you can give it sharp pops to really make it stand up straight. Of course the standard method is to cast it out and give it subtle shakes on semi-slack line, which is how I use it on most occasions. You can fish it around woody cover, docks, and trees, pitch it into brush, around grass and even fish it around rocks. Most anglers fish it with a finesse worm like the V&M Trickster, which is an outstanding presentation; however, don't limit yourself to just finesse worms. I've had success with several different soft plastics, like stickbaits, soft plastic jerk baits, beaver-style baits or the V&M Swamp Hog. You can also use over-sized shakey head hooks to fish larger plastics like 10-inch worms. The possibilities are really endless.
I also use the shakey head as a follow-up bait. For instance, if I miss a fish with another type of bait, I will throw a shakey head and catch that fish in many cases. The shakey head is also an effective 'mop up' presentation. After catching aggressive bass on a faster presentation, I will use a shakey head to give them a different look and pick up a few more.
Most anglers fish the technique on a spincast set up with 8-12 pound test fluorocarbon line. I fish the shakey head more aggressively and around more cover than most. I opt for a Lew's Speed Spool baitcast reel with 14-15 pound test fluorocarbon line. I want the confidence to pull bass out of the cover. I use a 6 ½ foot Falcon Bucoo, medium heavy rod. In my opinion this is the perfect set up and I very rarely miss fish with it. The majority of the time I use a ¼ ounce Spot Remover hook and V&M Trickster worm.
A common misconception is that the shakey head method only catches small fish. While it does catch smaller fish on average, it is definitely capable of catching larger fish. This past summer, I caught a 6-pounder on a shakey head on a submerged rockpile with a V&M Trickster worm. Bryan Thrift, runner-up in the 2013 Forrest Wood Cup on the Red River, caught his biggest fish of the tournament, a 7 pound bass, on a submerged brush pile with a shakey head.
One thing I've learned is that when anglers start talking a lot about a hot new technique, there is a reason for it–it works! If you are not using the shakey head technique, you are missing out on a technique that will put a lot more fish in your boat, especially when the fishing gets tough. Don't wait like I did, start using it now and you will catch more fish!
Here is a video of me using a shakey head on the Red River in Louisiana:
See you on the water. Go Vols!
Cass
YouTube Channel: http://www.youtube.com/user/casscaldwellfishing
Facebook: https://www.facebook.com/cassidy.caldwell1
Blog: http://casscaldwellfishing.blogspot.com/
Email: cassidycaldwell2@gmail.com