It's downright scary how shallow anglers can catch bass out of a kayak. Truth is as long as a bass has water over its back they could be up in little or no water. For kayak anglers in hot pursue of shallow bass nothing is better than a crankbait. Wesley Strader has mastered shallow cranking kayak fishing and the following are some of his favorite tips to catch bass in skinny water.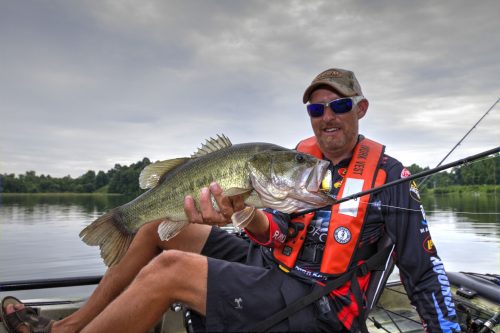 One angler not afraid to get in skinny water and fish shallow diving crankbaits is Wesley Strader. "Everyone knows I love to fish shallow water and getting in those hard to reach places where bass thrive. Some of those bass never see a lure," said Strader.
Shallow Cranking Kayak Fishing – Which Crankbait
Strader loves fishing a balsa wood plug. His favorite style is a squarebill crankbait or the new PH Flat P by PH Hunt Custom Lures (www. Phcustomlures.com). Even though it's a flat sided balsa wood crankbait, the PH Flat P has a round bill Strader believes it deflects as well as a squarebill crankbait with its 3/8-inch wide body.
Shallow Cranking Kayak Fishing – When and Where
Deflecting a crankbait off the stumps or laydowns and a wide wobble entices strikes from bass when fishing shallow. Of course, Strader believes there is a time to fish stumps and a time when to fish laydowns.
"I like to fish stumps early in the year on a flat. Bass like to pull out of the deeper water and get next to a stump where they will warm and sun. I talk about it all the time where a dog likes to get out in the sun and warm up on a cold day; bass are no different, they are pulling out of the deeper water and get up shallow next to a stump radiating heat to warm up," said Strader.
"Later in the spring and summer, bass like to be around laydowns more. However, I go back to fishing stumps during the fall in creeks where bass use them to ambush baitfish. Many of the reservoirs or rivers the laydowns will be out of the water as the water level drops, but stumps are still underwater," said Strader.
Shallow Cranking Kayak Fishing – Which Kayak
When in a kayak, Strader can quietly approach stumps or laydowns in even the shallowest of water. He owns a Jackson Kayak Coosa HD (www.jacksonkayak.com) designed by anglers to fish comfortably and silently even in shallow water.  It also features an elevated comfortable seat for sitting and fishing or a stable platform when standing up to fish.
Other  features of the Coosa HD Jackson Kayak include hinged hatches, elite Seat 3.0, removable center console, rod tip protector, underseat tackle pockets with Plano boxes included, rod stagers, drag chain chute, Goal Zero Ready, Yakattack Gear Tracks, Power-Pole Micro Anchor ready, Tackle Management and Plano Boxes, RAM Rod Holders, Therm-a-Rest Lumbar Support, transducer scupper, two-layer standing pad, heavy duty seat attachment buckle, hull storage, GoPro Gooseneck, flush mount rod holders, tankwell, removable skid plate, rod butt stager, adjustable ergonomic foot pegs, day hatch, ergonomic handles, Fish Grips, Line Cutterz and Sealline Seat Pouch.
Shallow Cranking Kayak Fishing – What Colors Work Best
As for color patterns when shallow diving crankbaits, Strader keeps his lure colors simple. "I like to use four different color patterns. I like red or chartreuse early in the year; if the water is muddy I will fish a brown back/chartreuse body or black back/chartreuse body. If there is any shad around, I like fishing a shad pattern crankbait like PH Custom Lures color called Something Special and it just mimics a shad," said Strader.
For Strader fishing out of a kayak takes him back to his younger days of fishing shallow and ponds. Back then he would fish eveyr rock or stump from the shore or boat with his brother. Now with his kayak, Strader enjoys a shallow drafting kayak that's comfortable and even stable enough allowing him to stand up and fish, however, it's only has one seat so there is no fighting over who has to paddle.
Brad Wiegmann