Fishing with my grandchildren has provided some of the most memorable experiences I've had on a lake. The best part is they often have trouble ending saying just one more worm. Recently my six-year-old granddaughter started taking an interest in my constant fishing activities. From sitting with me in the boat while I prepare for the next day's tournament, to coming to tournament weigh-ins to cheer me on; she involved herself as much as she could. The buzz and excitement at weigh-in during my resent tournament win was the nail in the coffin; she demanded I take her fishing. I don't need another excuse to go fishing! However, it's a great kitchen pass!!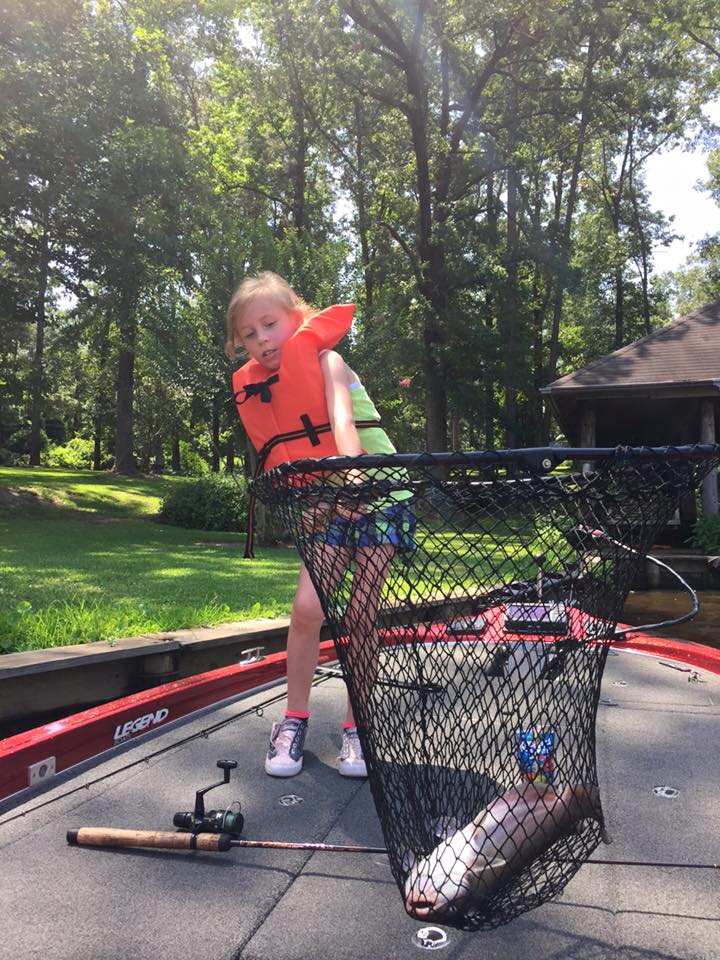 Experience has taught me when children are involved it's best to plan for a long trip. Children may wear out or lose interest quickly, however if everyone is having fun, they will not want to leave. There can never be too many drinks or snacks when fishing with a young angler. Loaded with enough to last a month, my granddaughter and I headed to a local lake for her first fishing adventure. We stopped by the local tackle shop to pick up some additional necessities, cracker jacks, strawberry soda, a candy bar, and our original reason for stopping – red worms.
Once at the lake, she was a little nervous. She'd never been fishing before and to leave shore in the big scary bass boat was just that – big and scary. Everything from launching the boat to walking along the dock turned out to be an adventure. She still swears she saw an alligator swim under the dock!
We discussed some safety rules, put on our life jackets and headed out. Remember she's never been on a boat before, so the idle away from the dock was like a Disney ride for her. We are nearing the end of the 'no wake' zone, she looks at me and smiles, "can we go faster?" Smiling back at her, I reply, "Yes ma'am, hang on!" The roar of the motor and the bow lifting surprised her. As we settle onto the pad, she has a look of amazement and hollers at me, "Papa, you're crazy!" It didn't take long and just being on the pad wasn't fast enough. Soon she wanted to go faster. After settling in at mid throttle, she relaxed and had her hands in the air as if she was riding a roller coaster.
The lake is small, and we quickly arrived at a place to fish. Idling into the first prospective location, I was watching my fishfinder. With a six-year-old, this generated a laundry list of questions. After some very quick instruction, my granddaughter developed a keen eye for what a fish looked like on the electronics. The fishfinder became a very important tool the rest of the day. Anytime the fish catching would slow down, she would run to the fishfinder and verify fish were still under the boat. She thought the fishfinder was the neatest thing in the world, and no wonder Papa always caught the big ones. After scanning for a couple minutes, she finally decided there were enough fish in the area for us to catch. While it wasn't the location I was thinking about; it was her pick and who am I to tell her it won't work. Besides, we have 'beginners luck' on our side.
I set the power poles down and locked the boat into a position free of casting obstructions. She helped me tie on a hook. Then after much discussion on how deep to fish, we placed a bobber at the magic depth. Baiting the hook with red worms turned out to be a 'Papa' job; apparently little girls defer baiting responsibilities. As she explains, she's not scared, or they are gross, it's just Papa needs something to be in charge of. Of course I gladly accepted.
We used a short rod and a spinning reel. Casting lessons involved how to hold the rod and line at the same time, back slow, forward fast, and let go of the line. Casting has been a challenge with previous kids in my life, but she did great. Three casts and she had it. An hour later I had to teach her how to stop the line because she was casting too far!
The catching started instantly. However, I hedged my bets by picking this particular lake – it's full of bluegill. This lake has a tremendous number of fish holding docks. In addition, about every sixth dock, the owner has set up a fish feeder to feed the resident catfish. If the bluegill stopped biting, I knew we could catch some of these pet catfish.
The bluegill were hungry. They were small but size didn't matter. From cast to catch, each was a great experience. Even though she and I discussed (and agreed) these bluegill were too small to filet for eating, she wanted to put them in the livewell anyway. Experience has taught me young anglers can get bored waiting on a bobber and often pass the time by playing with the fish in the livewell. Plus, it's easier to see exactly how many they caught this way. It's very exciting for the kids to count them as they are let go. The only problem is catching these spine filled creatures in the livewell. I highly recommend a little net that fits in the livewell for this task.
As the morning advanced into midday, the heat was getting extreme. At my granddaughter's request, we needed to take a ride to cool off and find a fishing spot with bigger fish. This time the "go faster" requests continued until the boat was wide open throttle nearing 70 mph. Little did I know, immediately upon arriving home I would get into trouble with grandma for racing around the lake at one hundred miles per hour. A word to the wise, part of teaching a young angler about fishing is the do's and do not's of telling a fish story.
Arriving at a new location, I positioned the boat based on casting obstacles and shade. With her bait in the water, my granddaughter decided it was snack time. However, like a true angler she wasn't going to put her rod down. While cramming a brownie in her mouth, the bobber goes under in one swift strike. Thanks to all the bluegill she's already caught, she is setting the hook like a professional. She hooks up, her pole starts bending quickly to the water and the drag on the small spinning reel starts screaming. With a look of sheer terror, she cranks and pulls. She gains some line, only to lose it again. The fight for the line went on for two or three minutes. I was very proud as she never gave up or asked for help. Knowing it's probably one of the many 4-pound catfish in the lake, I dug out the landing net. After a very exciting fight, lasting an hour according to her story, she finally guided the catfish to the net.
While the twenty or so bluegill she already caught had been the highlight of the day, they were all but forgotten at this moment. She caught a giant fish. Not wanting to hold it, she lifted the net so we could take a picture to send to Grandma.
Finally, I'm thinking, a fish worthy of the fillet knife. However, after much discussion she explained to me how this fish was too big to keep, and we should let it go for someone else to catch. It was just too much fun, and she wanted every kid to have a chance to catch it.
We caught a couple more catfish, but the bite slowed down. Being spoiled with fast action, my granddaughter wanted to find a new spot. However, she wanted to do it slowly so she could listen for more catfish. I had never listened for catfish before and this caught me off guard, but I played along. As I trolled between docks, she finally said, "Right here Papa, I can hear them."
As I put the power poles down to lock us into place I figured out what was happening. As I was unhooking the previous catfish, she could hear them croak. As we moved along the docks, she was listening for the croaking noise. The spot she selected had a boat in the stall that was rubbing on the dock and creating a very similar noise. Who was I to ruin her theory? Besides, it worked. Her selected location turned out to have shade and a large school of hungry catfish.
Just One More Worm
As the day wore on, the temperature climbed. We were both hot, and I was pouring water on her to cool her off. She was catching fish, so it was hard to convince her to stop for the day. Finally, I made a deal with her, one more worm and we should go. With a smile she agreed. In true angler fashion, one more turned into another and yet another. Come to find out, she was "double" playing Papa. She knew she could catch at least two fish on one worm. So one more worm also meant two more fish…
Finally, we were out of drinking water, and nothing left to use to cool down. With a boat ride around the lake, we called it a day. The stories she tells about the number and size of fish she caught are quite amazing. I learned my boat could travel one hundred miles per hour, which apparently is way faster than Grandma's car. I also learned one worm equals two fish. Taking children and grandchildren fishing is an experience I highly recommend. Don't miss out on these precious moments that will be remembered forever.
Get the Net it's a Hawg
Mike Cork
Ultimate Bass
Legend Boats
Mercury Marine
Dobyn's Rods
Monster Fishing Tackle
Mike Cork Google +
Learn More about Mike Cork