Introduction
I've been bass fishing now for almost 50 years. Man where did the years go?  I've caught bass just about every way you can catch them.  Soft plastics, jigs, spoons, spinner baits, crank baits, buzz baits, inline spinners, top water, live bait and more. I have many fond memories of fish being caught on each of these types of lures that I hope will stay with me forever. I admit that I'm still like a kid when it comes to chasing and catching bass. Honestly, bass fishing today is still as exciting for me as it was 50 years ago and I make no apologies for it. One great thing about bass fishing is that each type of lure that you use provides it's own measure of excitement. From the "Tap" on a worm to the bone jarring jolt on a crank bait they are all hard to beat. But when it come right down to it, seeing a bass explode on a top water bait has to rank right up there at number one hands down.
Have you ever tossed a top water bait right up on the edge of a grass or weed line, let it sit for a moment, twitch it and watch a bass come out and inhale it? Or maybe you have been working one slowly around lay down timber or cypress knees and all of a sudden from no where a bass attacks your bait like it's the only thing left in the lake to eat. Or maybe you were on a ultra clear lake and actually saw a smallmouth coming up from 20 feet deep to smash the top water offering? Wow, makes me want to stop writing and go back to the pond right now! The visual enjoyment that fishing top water baits provides can be  fantastic.
So my goal in writing this product review is to introduce you to a company that produces "World Class" top water baits. The type of baits that you can depend on to help you become a better top water fisherman in quest of your own trophy bass. The type of baits that can help you build your own "Fond Memories" that you can share with others through the years. That company is High Roller Fishing Lures located in Crestview Florida.
One of the first things that you will notice about High Roller is the quality that is built into each bait. Friends this ISN'T  a bait that you will find in a bargain bin at a sell everything discount store.  You know the baits I'm talking about. The ones that on the first or second trip the paint has already flaked off just by casting it.  Or the propellers won't turn correctly or the hooks straighten out on a two pound fish. Have you been there before? Believe me I have. No these are high caliber custom lures that are meticulously crafted from solid wood. Each bait is individually hand painted with a durable gel coat paint and look so good that you could hang them up in your family room as decorations if you could get passed the little lady. Not a chance, Right?
The truth is these baits wouldn't do you any good inside any way. They are designed and crafted to help you enjoy what we were talking about earlier. The thrill of an explosive top water strike. And when that strike happens your not going to have to worry if the hooks are sharp enough or strong enough to hold your trophy. High Roller only uses VMC "X" razor sharp hooks to ensure solid hook sets. From the solid wood body to the gel coat paint to the hooks and hardware, every step of the manufacturing process is designed with one purpose in mind and that is to deliver to you the highest quality top water baits possible.
To barrow a phrase from a major car manufacturer "Quality Is Job One! at High Roller Lures. By paying attention to the details,  High Roller produces a variety of world class baits. Let's take a look at the freshwater baits one at a time.
The 3.25″ HighRoller in the picture on the left is a very versatile lure. One of the features that I particularly like is the ability to cast this bait long distances. I guide two lakes full time here in Middle Tennessee. One is Old Hickory Lake where the water will stay some what dingy most of the year. Casting long distances isn't really needed here because you can almost get right on top of the bass without spooking them. On the other hand I also guide a lake named Tim's Ford which is a totally different situation. Tim's is very clear almost year around. Having a top water bait like the HighRoller that is only 3.25″ long but will cast long distances like a bullet can be very valuable when the Smallmouth are holding shallow on points. After I cast this bait out I pause just a few seconds and then start walking the dog back across the point. This technique is easy to do with the HighRoller due to the shape and weight in the rear end. This bait has a very active motion the resembles the feeding activity of baitfish splashing as it darts from side to side. The increased action of this bait can be attributed right back to it's solid wood design. Because of it's cast ability it is also fantastic when you find fish schooling fish that seems to be just out of reach. The HighRoller comes in  17 different colors is 4/10 ounce in weight has custom lacquer paint with a brilliant 2 part epoxy coating, stainless steel hardware, #4 VMC "X" Strong Saltwater Hooks and is a must for all serious top water fishermen.
The 3.25″ RipRoller is a solid wood 4/10 of an ounce surface prop bait that is a little package of dynamite.
The attention to quality and detail at HighRoller Lures sure paid off with this bait. The spinner or prop on the tail of this bait revolves smoother than any bait of this type that I have ever used. I really like using a prop bait on the edges of the weed lines on Old Hickory Lake. When I approach a weed line I always try to make my first cast to the corners of the weed line where you can see darker water. Many times largemouth will be holding right in these key ambush areas. If bass are there it will only take a jerk or two to find out. The RipRoller is produced in 15 brilliant colors, coated with epoxy for lasting durability and fitted with the same VMC "X" hooks.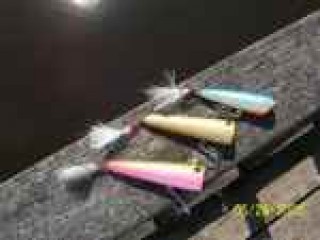 The 2.75″ PopRoller also weighs 4/10 of a ounce and is one fantastic spitting surface popper. This little bait sure makes allot  of noise and is deadly on Largemouth-Smallmouth and Spotted bass because of it's schooling baitfish sound  characteristics.  From big impoundments to rivers and ponds this is a must for your tackle box. The PopRoller is available in 14 different brilliant epoxy finished colors to meet just about every water color situation that you will encounter. Many times I will use a popper as a search bait in the backs of creeks and coves.  Because of it's action these baits will draw bass to it from long distances and create a vicious strike. Custom paint, VMC "X" hooks are also standard equipment on the PopRoller.
Conclusion
HighRoller Lures are some of the highest quality most durable lures that I have ever had it my boat. If you are a seasoned top water fisherman, or if you want to become a good top water fisherman I would urge you to take a good long look at these baits. You can view these baits at www.highrollerlures.com All three of these baits cover a different need when fishing top water. From the side to side motion of the HighRoller to the revolving prop sound of the RipRoller to the spitting sound of the PopRoller these baits are manufactured to help you to catch more bass and experience the excitement of seeing a bass inhale your bait right before your eyes…..Man it just doesn't get much better than that!
Written By: Rick McFerrin
June 2005
www.tennesseebassguides.com