It was 15 degrees as I loaded my boat and truck last week to head for my first tournament of the year in southern Illinois. I reside in Tennessee…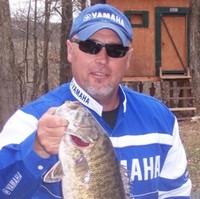 It was 15 degrees as I loaded my boat and truck last week to head for my first tournament of the year in southern Illinois. I reside in Tennessee and I was questioning my decision to chase the fishing dream this particular morning three more hours north…where it was even colder. The forecast showed a warming trend for the next few days leading up to the tournament but also included strong winds up to thirty miles an hour. As cold as it was I was still excited like a child at Christmas time.
I arrived in the area around noon and took care of the usual preparations; check into the hotel room and unload what I did not want to leave in the truck, purchase a state fishing license, food, drinks, and ice for the cooler…hot coffee for the thermos, pay the ramp fee, dress up like the Michelin man, and hit the lake in 38 degree weather and about twenty miles per hour winds at approximately 1pm. My plan for the day was to check out water temperatures around the lake and look at some deep water brush piles I had fished here about nine years ago. I would look at things with my electronics to see if there was still brush on the areas and if I could see any activity such as baitfish or bass. As I ran through the blistering cold gasping each time I was hit in the face with wave spray I was suddenly surprised by a thin layer of ice a few miles down the lake. I took the positive look on things and simply considered from that point south as "eliminated water".
Eliminating water should be one of the key goals of your practice. I swung around and headed back north to look at some locations I had marked on my Navionics Hotmaps computer program and made mental notes of water temperatures near the ice at 39 degrees, half way back to the dam at 42 degrees, and near the dam at 44-46 degrees. I expected each of these readings to rise over the next few days. The fish should definitely be catchable. I should mention there is a power plant near the dam that does generate some warm water. It is not as prevalent as in some power plant lakes, but it does have an effect on a very small portion of the north end of the lake. This usually results in crowded waters and a ton of fishing pressure…things I usually try to avoid.
I located a steep drop off on the main lake that fell from 6 foot to 26 foot rapidly and started my search there. Backing off I tossed a big jig and a heavy Carolina rigged worm at the drop. The wind made it quite difficult but I was able to locate some good brush on the edge of the drop with the heavy baits. I felt good and I was sure it would hold fish so I punched in the waypoint on my GPS unit and left it alone. I spent the rest of the afternoon graphing and marking several other locations…however, I had not been bit once and I had not seen any baitfish or other activity on my electronics. It is not uncommon to see much fewer baitfish this time of year as many have died off, but I was beginning to question the settings on my sonar and made adjustments and still had not picked up anything where I had expected to. I had noticed several crappie fisherman and a few bass boats in a particular cove that obviously had the warmest water in the lake in it due to its proximity to the power plant and the help of wind pushed warmer water blowing into the area. It was crowded but I motored in and located a secondary point that was not occupied. I made about seven casts onto the rocky point in about eight foot of water and hooked up with a nice three pounder. It was nearly 5pm and I called it a day and headed for the hotel.
The next morning I was up with the cold sunshine and more strong winds. After a quick breakfast and a steady layering of clothing I was back on the water with a renewed determination to locate some good fish in these bad conditions. I spent the first couple hours watching the sonar and marking some deep water locations. The wind was still blowing too hard to effectively fish the open water. At this point I still believed the deepwater locations I was marking would produce some fish on tournament day if the water and air temperatures continued to rise…and especially if the winds would lay down enough for me to stay on these locations. I spent the remainder of practice day two "eliminating" shallower water, near deep water, that was out of the wind. I was alternately throwing a suspending jerk bait and a jig and pig. I returned to the boat ramp at the end of the day having not had a single bite. I was still not discouraged though, keeping faith in my deep water plan of attack and a positive weather forecast for tourney day.
Practice day number three began with similar conditions. Although the high winds were quite frustrating, my approach to this day was to spend the majority of my time on the electronics and very little time behind the rod and reel. I wanted to be sure I had a good mental picture of the deep locations I had selected as my primary spots and be sure my approach and angle to the structure and brush was just right. According to the local weather channel…tomorrow, tournament day would be in the low fifty's, overcast, and "light" winds. The water temperature had steadily risen a couple degrees each day since my arrival. The high winds had kept me from throwing at my open water locations. Because of this I had not technically located any deep fish but believed I could take some quality fish there under the projected conditions based on past experiences on this lake. In addition, the high winds and waves had eliminated a great amount of surface ice opening the way for me to reach other past productive locations. However, a quick check of these spots on day three revealed the water temps in that portion of the lake had barely topped forty degrees.
I headed back up the lake to explore a little bit more before going to the boat ramp to watch the weigh in of a local tournament going on this day. I had seen very few boats down the lake but as usual, the crowded warmer water cove near the dam was full of boats…both crappie fishermen and tournament fisherman. It was around noon and my theory was that this location had been pummeled by fishermen for a few days now…most likely over pressuring the fish and proving an unproductive location, even with the warmer water. In the past I would never have even considered this as a potential tournament day primary location. I nuzzled my boat amongst the others on a secondary point and began tossing a Carolina rig. I just wanted to fish, get the feel of my equipment, and maybe get very lucky and experience a confidence bite before going into the first tournament of the season the next day.
It is hard to explain in writing what I witnessed and experienced over the next half hour. After determining the bass fishermen from the crappie fishermen, I proceeded to watch a few bass boats hook up and land some fish…but I watched two particular boats catch several quality bass. I was somewhat startled by my first bite but managed to pull it together and swing a nice two and a half pounder into my boat taken from some brush I had located in about eleven foot of water…and right smack dab in the middle of approximately fourteen other boats in a very confined area that I had seen slammed by fishing pressure over the last few days. I managed two more nice fish and located some more brush, then backed away from things and just observed as the other fishermen continued to catch some more fish. This entire experience discredited my past beliefs, approaches, and philosophies on fishing crowded waters. This experience also threw a gigantic monkey wrench into my previous tournament day strategy. I headed for the boat ramp to ponder my plan and to watch the local tournament weigh in, hoping to glean some information while there. It was no surprise to me when the fishermen from one of the boats I had watched boat several fish came to the scales with a nice bag of fish and took home the winning check. However, the most valuable information I got from observing the weigh in was the lack of fish brought in by any boats other than those I had seen in or near the warmer water cove. I would learn the following morning before takeoff that the other boat I had seen catch so many fish was in a college fish off out of another location on the lake and they too had taken first place in their competition.
Back in my room that night before the tournament I analyzed all I had done and seen over the last few days and decided to commit to the warm water area no matter how crowded it became. Because of the success I'd had in such a short time and under unbelievable fishing pressure I was sure I could go into the area and catch a limit of fish and then possibly go to some of my untouched deeper holes to search for a kicker.
The area was saturated with boats from another tournament by the time I arrived there on tournament morning but I was able to squeeze into one of my brush piles without being unethical. The water temperature was now in the middle fifty's and the winds were light. I alternated between a Carolina rig, a jig and pig, and a shaky head jig all day long. I caught all of my fish on the Carolina rig. I never left the area and did not even start my big motor until time to check in. I caught eleven good fish throughout the day up until noon. After noon I did not catch another fish but never made the decision to move to the deep water locations I had marked earlier in the week. I never lost confidence during the entire day and simply went back and forth between about five different brush piles. I had a decent day of execution, losing only one fish to frayed line…a silly mistake a successful angler cannot afford to make. My final bag was good enough to take fourth place…a good start to my year and my journey to the pros. I do second guess somewhat my decision to stay put all day simply because the winning stringer did not come from that area. Although I was surrounded and crowded by other anglers all day, I never saw the boat that won. This leads me to believe the fish might very well have been catchable on my deep spots in spite of the cooler water in those areas…especially with the lesser winds that day.
I am a big believer in doing pre tournament homework, preparation, and attention to detail. I learned I can go into a pressured area and still catch a good stringer under the right conditions which may prove to be a valuable option in the future which I have not used in the past. I spent a solid two and one half days practicing and planned my strategy based upon the quick successes I had in that particular area, the lack of success I had in other areas, and water temperatures. Had I not located those fish in the final hours of practice day three I would have most likely spent the day methodically picking away at my deep holes with a jig and Carolina rig. I can't speculate what success I might or might not have had because I never had a chance to effectively fish those locations leading up to the tournament due to high winds. I will chalk the week up as a good learning experience and a success. I am already excited, studying, and preparing for the next test on my schedule in middle Tennessee on Old Hickory Lake. Stay tuned for the account of that one and my upcoming write up on seeking sponsorship.
John Emery